minute reading time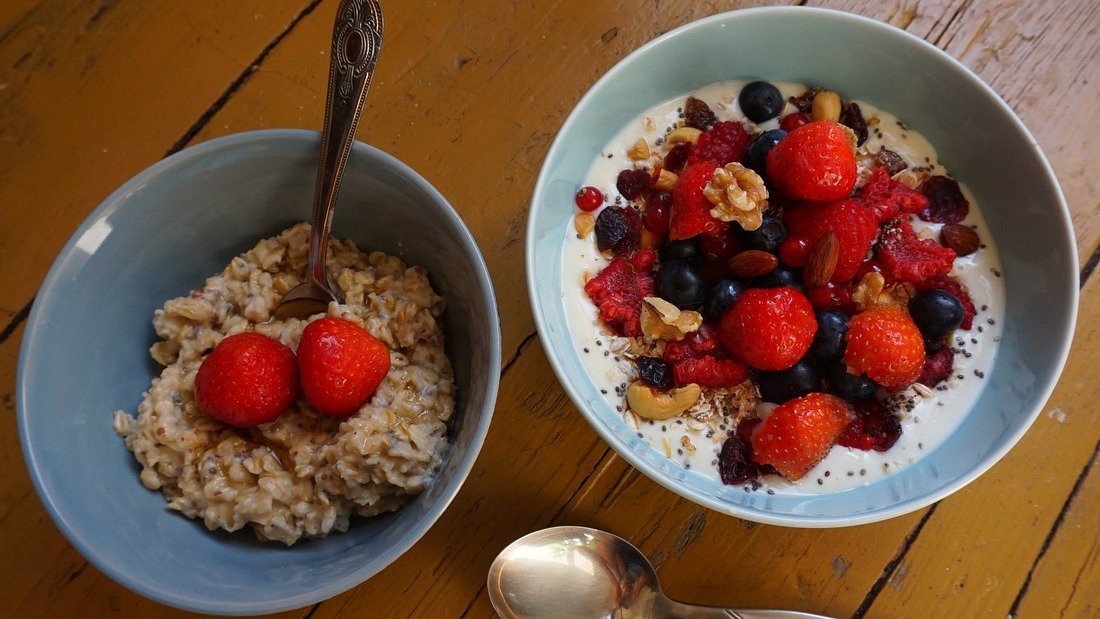 FILLING your plate with a delicious vegetarian breakfast is one way of ensuring you get a fantastic balanced and healthy start to the day – according to leading health charity, the Vegetarian & Vegan Foundation (VVF).
The benefits of developing a healthy breakfast habit are being celebrated by the group as part of Farmhouse Breakfast Week this month (January 24-30). The traditional fried breakfast can load you up with more than your day's allowance of fat and cholesterol, however if you switch to the veggie version you're more likely to meet the minimum recommended daily allowance of five portions of fruit and veg!
There are many meat-free sausages available from health food stores and supermarkets. Serve these up with veggie bacon, scrambled tofu, fried mushrooms, grilled tomatoes, hash browns and wholemeal toast! Alternatively you could dish up some homemade muesli or a fresh fruit smoothie. The VVF has launched a special veggie breakfast page with further information and inspiration www.vegetarian.org.uk/campaigns/veggiebreakfast.
Dr Justine Butler, VVF senior health campaigner says: "Substituting a traditional meat-based breakfast for a veggie one is a great way to start your day on a healthy foot. Cutting down on your meat consumption is one of the best things anyone can do to improve their health, lose weight, lower blood pressure and reduce their chances of developing diabetes, heart disease and some cancers. Why not check out our easy-to-follow recipes and give your new and improved breakfast a go!"
For more information about how going veggie or vegan can do wonders for your health, visit www.vegetarian.org.uk or call 0117 970 5190 or email info@vegetarian.org.uk For more information about this media release, please call VVF press officer Helen Rossiter on 0117 970 51 90 or email press@vegetarian.org.uk or Dr Butler on the same contact number or by emailing justine@vegetarian.org.uk. Visit www.vegetarian.org.uk/veggiebreakfast for more recipes, images available upon request.
Scrambled Tofu
Serves 2: 10-15 minutes
This is a great alternative to scrambled eggs. One block of tofu (approx 250g) is enough for two people. It's good on its own on toast – or add it to a big cooked breakfast!
1 block plain firm tofu (eg Cauldron from supermarkets or other brands from health stores)
1 tbsp oil
1 small onion, finely chopped
¼ tsp turmeric
Salt and black pepper
4 slices wholemeal bread for toast
Optional: pinch of chilli powder
chopped spring onion
1. Remove the tofu from its wrapper and drain all the water out.
2. Pat dry using a clean tea towel and then squash it between two plates so that the excess water drains out.
3. Add one tbsp of oil to a frying pan and heat gently.
4. Add chopped onion.
5. Sauté the onion for about 5 minutes, or until it starts to soften and brown.
6. Crumble in the tofu – it should be in small pieces about the size of peas.
7. Gently fry for a couple more minutes and add the turmeric (plus optional chilli and spring onion.
8. Season.
9. Make the toast and keep warm until tofu ready to serve.
10. Heap on toast and eat immediately.
Switching to scrambled tofu instead of the egg equivalent will immediately cut cholesterol and unhealthy fat levels.