Shopping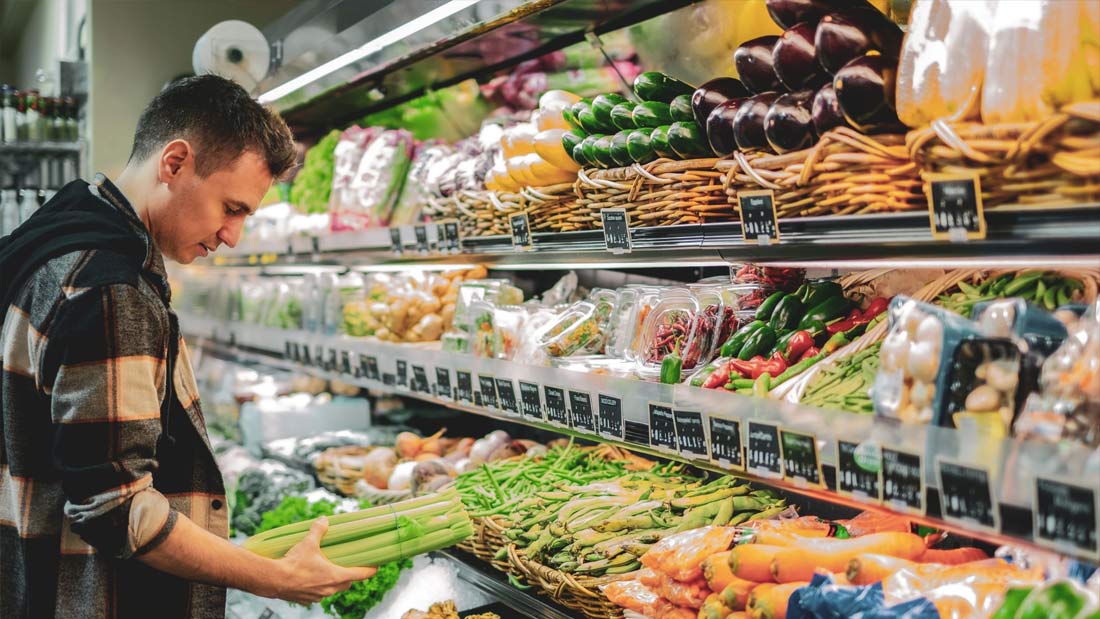 As an athlete, you need to eat well and also more than the average person. Shopping can be a little challenging if you've just decided to go vegan but don't worry, we've got you covered with our shopping hacks! It's not just about supercharged, healthy foods – we'll also tell you how to save money.
Stock up on cupboard essentials you will need on a regular basis:
Brown rice
Wholemeal bread, wholemeal pitta bread or wholemeal tortilla wraps – buy an extra pack and freeze it
Whole wheat pasta
Quinoa, barley, buckwheat and/or other grains
Red lentils
Canned beans, chickpeas, lentils
Pasta sauce
Chopped tomatoes (canned)
Soya sauce
Tahini
Nut butters
Oat cakes or crackers
Rye crispbread
Nuts and seeds – although you may be better off ordering those online – see point 7
Fruit and nut/seed energy bars
Healthy treats – oat biscuits, dark chocolate or cashew ice cream
Plant milks – if there's a special offer, get a few so you don't have to re-stock every few days
Spices and seasonings
It's best to buy local, or at least from the same country or continent, and seasonal fruit and vegetables but there are also a few other tips:
Reach to the back of the shelf – that's where you find the freshest produce because shops move fruit and veg near their expiry date to the front
Bananas – great for a snack and an excellent thickener for smoothies, choose Fair Trade whenever possible. If you buy too many, cut them into chunks and freeze to use in smoothies or to turn into ice cream
Fresh is not always best – frozen fruit is often cheaper and retains its nutritional value because it's flash frozen immediately after harvesting, frozen berries or mango and pineapple chunks are usually the best bet and so are frozen green beans
Some fruit and veg absorb more pesticides than others so it's best to buy these organic when possible: strawberries, apples, pears, grapes, nectarines, peaches, cherries, spinach, tomatoes, celery, potatoes, peppers
Other fruit and veg don't absorb so much pesticides or we peel them/discard the outer layers so there's no need to splurge on organic with: avocados, cabbage, broccoli, cauliflower, aubergines, onions, peas, sweet corn, kiwi fruit, melons, papaya, pineapple, mango, sweet potatoes
Freezers offer a lot of healthy staples that will help to fuel your performance:
Frozen fruit and vegetables
Edamame beans
Peas – they deserve a special mention because frozen is better than canned or even fresh (unless you eat them right in the field)
Bean-burgers, other veggie burgers, veggie sausages, falafels
Some shops have frozen vegan ready meals, burritos, veggie spring rolls etc.
Cashew or almond ice cream for special occasions
This varies shop by shop so you'll have to investigate a little. Some shops have 'free from' or vegan fridge sections but there are other healthy vegan products in the chilled aisles so make sure you don't miss:
Hummus
Sandwich spreads, bean dips and similar
Falafels
Tofu – go for smoked or marinated to use in savoury dishes
Mock meats – check the ingredients for nutritional value, these products vary a lot
Soups
Salad pots
Lentil dhal
Vegan sushi
Plant yoghurts
Margarine
This section tends to offer a lot of gluten-free products but there are also some vegan gems to be found:
Healthy energy bars – made with nuts and dried fruit
Dairy-free chocolate – for special occasions!
Pesto without cheese
Lentil, quinoa and chickpea crisps
Rice and oat cakes
Vegan mayo and salad dressings (use sparingly as they can be high in fat)
Again, this will vary by shop but here are some reliable favourites:
Soya sauce
Sriracha – spicy chilli sauce
Silken tofu – perfect for blending with melted dark chocolate for a healthy chocolate mousse
Nori seaweed sheets for making sushi
Miso paste – for seasoning and making soups
Tahini – sesame seed paste
Whole wheat and soba noodles
Chickpea (gram) flour – great for healthy frittatas, omelettes or brownies
Curry sauces and bases
Big packs of nuts – only some shops have these
When you eat a lot of foods that are normally only sold in small packs, it pays to order online, save some money and packaging:
Nuts
Seeds
Dried fruit – the non-sweetened natural variety, think apricots, figs, dates, prunes, mango etc. They are not just for snacking but you can blend them into smoothies for added sweetness or make your own energy bars with them
Brown rice
Oats
Quinoa
Nut butters – unless you have a good shop nearby!
Almost everything is available in supermarkets or online but don't shun the good old health food shops. They are great for discovering new things or stocking up on hard-to-find products:
Nutritional yeast flakes – they add a savoury, slightly cheesy flavour to your dishes
Snack bars
Chilled foods – tofu, tempeh, seitan, plant yoghurts
Healthy ice cream and a variety of frozen foods
Sandwiches
Spreads
Many varieties of healthy pasta
Tea
Supplements – see Essential Food Groups for detailed information
You might also like...
Scroll up