minute reading time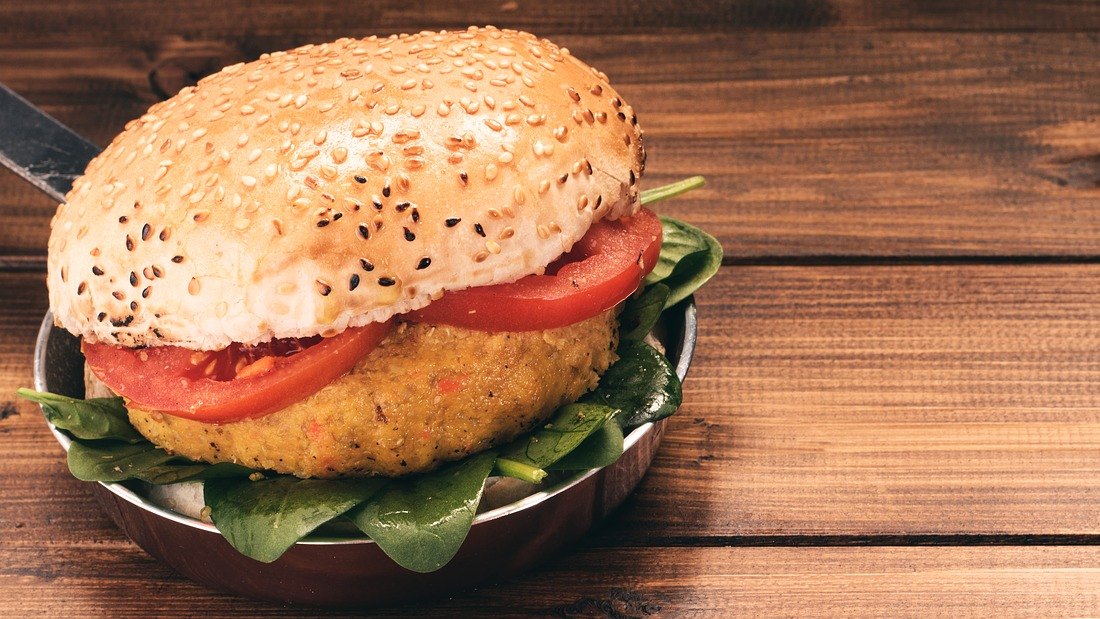 You can enjoy quick, tasty and filling TV super-style treats which won't wrack up your calorie count as you're totting up England's goals, by knocking up these special British themed veggie recipes from leading health charity the Vegetarian &;Vegan Foundation (VVF).
VVF cookery writer, Helen Rossiter, says: "There's no need to do without during the World Cup if you're trying to stay trim for the summer. Just tuck into one of our satisfying snacks instead. Opting for veggie foods will not only benefit your health, but will also help you do your bit to reduce your carbon footprint."
For free help and advice on meat-reducing, or going vegetarian or vegan and more recipes, visit www.vegetarian.org.uk, call
0117 970 5190 or email info@vegetarian.org.uk.
Mini Veggie Burgers
Serves 4
Preparation/cooking time 15-20 mins
Handy finger food for everyone to share – should be a real crowd pleaser with only 1.65g of fat compared to 2.5g which you would find in the meaty equivalent.
8 small wholemeal burger buns
8 mini veggie burgers (see recipe below or buy from your supermarket or health store and cut in half)
Lettuce, shredded
Beef tomato, sliced
Egg-free mayonnaise (available in special diets section in supermarkets)
Cocktail sticks
Slice the buns in half.
Lightly fry the burgers in olive oil (or cook according to packet instructions if purchased from a shop).
Place in buns and top with lettuce, a slice of tomato and a teaspoon of mayonnaise.
Put the lid on the buns and secure the burgers by skewering a cocktail stick down through the centre of each one.
Super Sub VLT
Serves 2
Preparation/cooking time 10 mins
A couple of these bad boys are guaranteed to satisfy even the most demanding of appetites – and they are much healthier than a traditional BLT sandwich.
2 wholemeal sub rolls
Vegan margarine
4 Redwoods Streaky Style Vegetarian Rashers
Lettuce
1 beef tomato
2 homemade veggie sausages (see recipe or buy from your supermarket or health store)
Tomato sauce
Slice the rolls length ways and spread lightly with margarine.
Line the rolls with small pieces of lettuce.
Thinly slice the tomato and distribute pieces between each roll.
Cook the Redwoods Rashers according to packet instructions, placing two rashers along each roll.
Make the sausages according to the recipe below (or for package sausages, follow package instructions). Slice them length ways in half and add to the roll.
Top each one with 2 tsp of tomato sauce.
St Georges' 'Cheese' Cake
Serves 6-8
Preparation/cooking time 30-40 mins plus chilling time
Ditch the fatty cream cheese for this flag-flying desert, which uses silken tofu for a delicious option much kinder to the waistline.
200g/7oz vegan biscuits*
75g/3oz vegan margarine, eg Pure
50ml/2fl oz soya milk
1 pack silken tofu (eg Morinu, sold in tetrapacks), firm or soft
200g/7oz vegan cream cheese
(eg Pure or Tofutti. Pure is available in large supermarkets; Tofutti from health food shops)
1 tbsp vegetable oil
1-2 tbsp golden syrup
1 tsp vanilla essence
½ tsp lemon or orange essence (optional)
2 tsp arrowroot
150g/5oz fruit topping (eg fresh or defrosted frozen raspberries or strawberries)
Preheat the oven to 350F/180C/Gas Mark 4.
Grind the biscuits (which will be used as the base for the cheesecake) until there are no large lumps left.
Melt the margarine and mix in the biscuit crumbs.
Spread in a greased flat tin and bake in the oven for 5 minutes.
Blend all the other ingredients (except the fruit) thoroughly until smooth.
Remove the crumb mixture from the oven and pour the filling over the base.
Bake in the oven at the same temperature for 20 minutes. Remove and leave to cool.
Top with fruit topping in a cross shape and chill before serving.
Veggie sausage or burger mix
Makes about 8 sausages or mini burgers
250g firm tofu, drained and crumbled (like Cauldron for example)
150g wholemeal bread crumbs
½ onion
2 tsp Dijon mustard
1 tsp dried rosemary
1 tsp dried parsley
1 tsp mixed herbs
1 tsp balsamic vinegar
Blend all ingredients together in a food processor.
Spoon mixture into a bowl and allow to chill in the fridge for 10 mins.
Take a tablespoon of the mixture at a time and make into either sausage or small burger shapes.
If the mixture is not firm enough, stir in a couple of teaspoons of flour.
Fry the sausages or burgers lightly in olive oil in a frying pan until golden.
For more information about this media release, please contact Helen by emailing vvfpress@vvf.org.uk or calling 0117 970
5190. Hi resolution images of the recipes are available upon request.