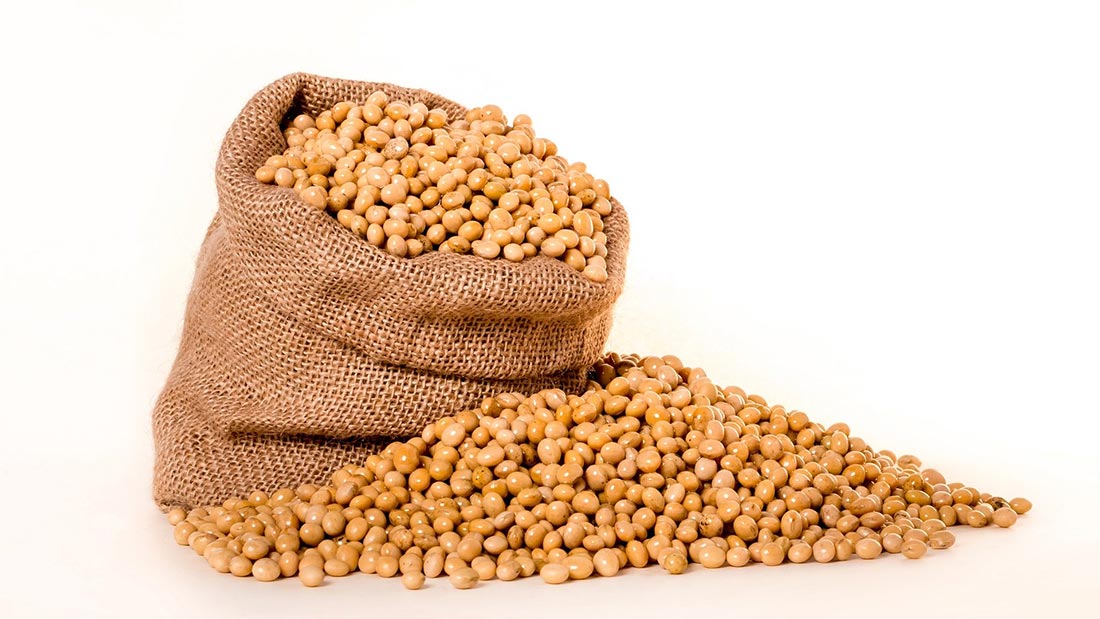 There is a huge amount of misinformation and downright daftness about soya which is why Viva! Health has launched this website dedicated to informing and myth-busting.
Viva! Health get more nutritional enquiries about soya than any other subject! Nearly every day someone emails or telephones Viva! Health to ask if soya is safe, can it harm children? Will it feminise boys? Does it contain hormones? Our soya fact sheets are used for health food shop staff training and have been requested by a leading soya milk manufacturer to hand out at public talks.
Describes the nutritional benefits of soya foods, the wide range of health benefits and the environmental impact of soya farming. Also features a wide range of tasty, inventive recipes from miso soup to chocolate mousse. Contains useful information about soya foods that will both inform and reassure you that soya is a healthy, nutritious and safe food for people of all ages. Click here to read it.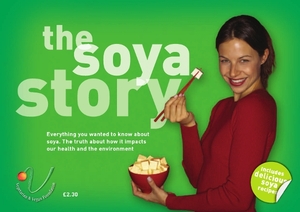 Viva! Health examines the latest science on soya. We give you the facts on the wealth of health benefits and the supposed risks of the humble soya bean
By Dr Justine Butler & Veronika Powell MSc, Viva! Health Senior Health Campaigners
Over the last few years we have heard how soya is a very good source of nutrients and can protect against heart disease, certain cancers and may reduce the risk of osteoporosis and menopausal symptoms; it might even help to boost brain power. However, not all reports on soya are favourable; the health benefits have been questioned by some while others have gone even further, launching a vigorous anti-soya crusade. The result is confusion – people don't know who to believe. Viva! Health has looked at the research in its entirety and sets the record straight. Click here to download it.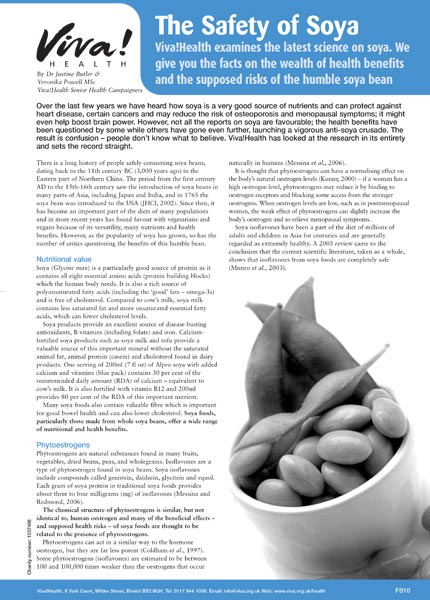 Safe alternatives to cow's milk-based infant formulas
by Veronika Charvátová, MSc 
Breast is best but not always possible – fed is best! Soya and other plant-based formulas are a safe and
nutritious alternative to cow's milk formulas. Click here to download it.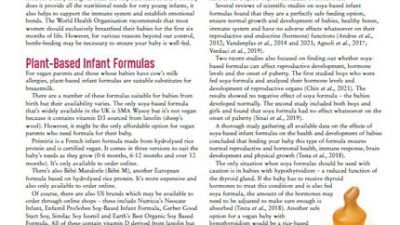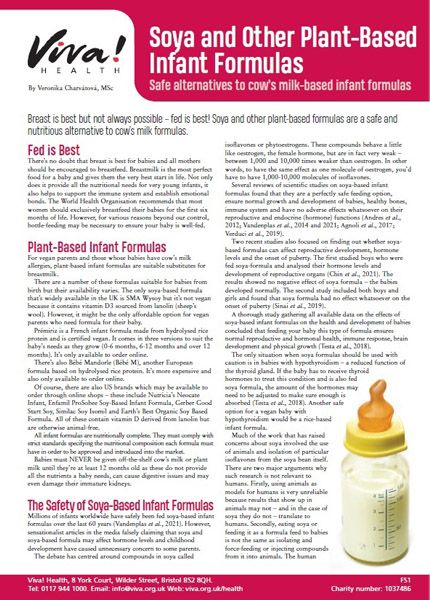 Soya farming is devastating the Amazon and other lands, but where does all the soya go? It's not for human consumption…
Soya has been the victim of its versatility, good nutrition value and relatively easy cultivation. Native to Asia, it's been a part of the human diet for millennia but since the boom of large scale animal farming, people discovered it's cheaper to raise livestock on soya-based feed as it's high in protein and contributes to faster growth than other types of feed. But this ever increasing hunger of the animal farming industry is destroying the planet.
On the other hand, soya grown for human consumption is only a small fraction of global soya produce and many companies now have clear policies in place assuring consumers that their soya is non-GM and in many cases, grown sustainably and comes from countries with stricter legislation.
Soya for animal feed
The vast majority of the world's soya – around 75 per cent – is destined for the production of protein-rich animal feed for livestock, especially poultry and pigs (WWF, 2014). Between 1967 and 2007 pork production increased globally by nearly 300 per cent, egg production by over 350 per cent and poultry by more than 700 per cent. As a result, demand for soya-based feed has sky-rocketed too – at the expense of some of the world's most vital forests, grasslands and savannahs being cleared for soya fields. Approximately 80 per cent of the world's soya is now genetically modified (GM) (WWF, 2014).
More than 30 million tonnes of soya are imported into Europe every year purely for livestock from areas totalling around 18 million hectares across the Americas. Almost all this soya is genetically modified because 90–99 per cent of the soya cultivated in the main producing countries consists of GM varieties (GMO Compass, 2014).
Soya for human consumption
On the other hand, only around 6 per cent of soya beans are eaten directly as whole beans or in soya products like tofu, soya milk and soya sauce. Soya oil is also used as an ingredient in many baked and fried foods and in other products (eg toiletries, cosmetics). Soya derivatives, such as the emulsifier lecithin, are a key ingredient in many processed foods, from chocolate to ice cream (WWF, 2014). However, the production of soya for human consumption and use in other products constitutes only a small fraction of the global soya market and even if it increased considerably, it wouldn't reach the levels of soya production 'required' by the animal farming industry.
In winter 2014-2015 we carried out a survey (in the UK) and found out that almost all manufacturers using soya as an ingredient have a strict non-GM soya policy (see below). On the other hand, almost all soya grown and used for animal feed and responsible for environmental destruction is GM. Added to the above, this highlights that indeed growing soya for human consumption is not damaging the planet and is actually a sustainable way to feed the growing population. It is the soya grown for billions of animals that are then used for 'animal products' that's driving the bad reputation. Hence, if we all went vegan, we still wouldn't need as much soya as is now fed to livestock. Or in other words – eating a steak means eating far more soya beans than if you have a soya latte.
PS How about deforestation claims?
Whilst some companies have made 'no deforestation' commitments (relevant mostly to South America where soya for animal feed is grown), these do not necessarily protect other biomes like savannahs and grasslands which are being cleared for soya, and they do not address other important issues related to responsible soya production such as social or other environmental impacts (WWF, 2014). Many companies also support Brazil's Soya Moratorium – a voluntary zero-deforestation agreement – vowing not to purchase soya grown on lands deforested after July 2006 in the Brazilian Amazon. It has significantly reduced deforestation over the years, however, soya production on the existing fields has intensified and land is still being cleared – just not to produce soya. Large areas of land are now used for cattle farming as the fast growing grass on deforested land is ideal food for grazing cattle and the industry is booming. Hand in hand with this beef industry expansion comes further environmental destruction, worker's rights abuse and invasion of Indigenous Lands.
Both the rainforests and our health would benefit tremendously if people went vegan. Even if we all ate soya daily, the demand on soya production would be smaller than it is now when we feed it to billions of animals.
| Company | Soya origin and policies |
| --- | --- |
| Aldi | We have a 'No GM' policy that requires all of our own label products to be free from GM ingredients. |
| Alpro | We source our beans directly from farms where soya beans have been grown for many years, mainly France and subject to usual crop rotations. None of these farms are on land that has been reclaimed or deforested. In the past where we did source our beans from Brazil, they were also not from rainforest or deforested areas and were in line with a strict code of conduct set out in the Basel criteria, which ensures beans are cultivated with respect for the environment, people and responsible use of raw materials and agricultural products. We only buy from farmers that we have direct contact with and never on the open market to ensure a full traceability system from the harvesting of the bean through to the final finished product.We use a traceability system to ensure that all our products and ingredients avoid contamination with genetically modified organisms (GM). The system is approved and monitored by independent auditors Cert ID, an independent auditing group recommended by the British Retail Consortium. To avoid contamination by genetically manipulated organisms (GMOs), Alpro has implemented its own control system. Together with the outside control body Cert ID, Alpro controls every step of the soya bean production process: from the farmer all the way to the shop. To ensure absolute, foolproof control, the system is constantly evaluated and updated. |
| ASDA | No policy on soya sourcing |
| Blue Dragon | No reply |
| Bonsoy | No reply |
| Bute Island Foods (Sheese) | It is our policy that the soya beans we use, are all from an IP source (Identity Preserved). As you probably know the IP system is used to trace the soya, from seed, all the way through the production process, and it is used to ensure that the soya is GMO-free as well as very good quality. Our product can only be made from the best quality, clean, dehulled soybean seeds.All the ingredients we use are sourced as non GMO and this is something that suppliers have to state (in writing) before we proceed with an order. |
| Cauldron | We believe that "it's what you put in that counts" and that what you leave out is equally important. That's why all our products use only non-GM ingredients. We don't believe that ingredients should be genetically modified. Why tamper with nature? |
| Clearspring | We never use GM products or any artificial ingredients. We source only the best ingredients and are currently working on having a 100% organic range. Our Soya is sourced from various countries; for example our Soya Oil is sourced from Italy and Romania. The Soya beans for our Soya Sauce is sourced from Canada and our Tofu soya beans are from the US. We also test our products regularly to make sure our products remain at the very high quality we expect. |
| Co-op | All of the soya and soya derivatives used in own brand products, just like all other ingredients, is non-GM. We do not source soya from any specific country.Since 1999 the use of genetically modified (GM) crops, ingredients or additives in Co-operative brand products has been prohibited. |
| Fry's | All our Soya is GMO Free and it comes from Asia, USA and South America. GMO come from more than just soya, and we make sure all ingredients are free from GMO. We randomly test batches that we receive to independently verify the non GM status. We also carry the Best Buy label for company ethics and the Vegan endorsement. |
| Granovita | I can confirm that the policy of granoVita' is that none of its products contain GMOs. We have a number of manufacturers that use soya in their products which is sourced from a number of countries. |
| Holland and Barrett | All products sold by Holland and Barrett products are certified GMO-free. Under our Plan-It Green environmental policy, we insist that all of our products are free from genetically modified organisms. This policy is outlined in our Customer Charter, a copy of which is displayed in Holland and Barrett stores. Furthermore, all of our products comply with current requirements for the labelling of GMO ingredients. |
| Lidl | We have agreed with our suppliers that genetically modified foods or products that contain genetically modified ingredients are not to be supplied to us. In relation to this the regulatory standards for food state that it must state on the label whether a food product that has been genetically modified , contains genetically modified ingredients or the product is manufactured from genetically modified materials. This is monitored by the company and an external body. |
| Linda McCartney | We have kept all our recipes as simple and natural as possible avoiding the use of genetically modified ingredients. All are non GM (Made with no genetically modified Soya). |
| Marks & Spencer | The Soya beans we use in our products are sourced from Austria and non-GM. |
| Morrisons | We do not use GM ingredients in any of our own brand products. We have a comprehensive and continuous product sampling programme in place to help monitor this.We have joined the Roundtable on Responsible Soy (RTRS), a certification scheme which is supported by the WWF, to help prevent the environmental impact of unsustainable soya production, such as deforestation and habitat loss. We plan to introduce certified soya into our supply chain as it comes onto the market in the coming years providing the system works effectively. This sends a signal to soya producers and will help make a positive difference to some of the world's most important biodiversity. This approach balances two key priorities – holding down costs in the supply chain for the benefit of our customers and protecting the natural environment upon which we depend to carry out our business. |
| Provamel | We source our soya beans where they NATURALLY GROW such as France, Italy, China and Canada. 40% of our soya beans are sourced from Europe, and we have plans to increase that to TWO THIRDS within three years' time. Our non-European soya beans are sourced from Canada and North-East China and transported mainly via ocean and river all the way to the factory, in a drive to reduce its carbon footprint.We know our soya beans and prefer to work with SMALL soya FARMERS rather than buying our soya beans on the world market. We also work with the iBd ECOSOCIAL PROGRAMME to support local community projects in the regions where its soya beans are grown.The EcoSocial programme sets economic, ecological and social standards for all stages in the supply chain – from the farmer to the consumer. A product carrying the EcoSocial label satisfies all these criteria. Our products are 100% ORGANIC and - have not been treated with pesticides or artificial fertilisers. - stimulate BIODIVERSITY. - respect the environment (e.g. no soya beans are grown in rainforest). - are Non-GM. |
| Sojade | All the soya grown for our products is cultivated in the South West and East of France. We have a long standing partnership with our producers of organic soya, which guarantees its quality, origin, and traceability, all in accordance with strict specifications. Every product in the Sojade range comes from organic farming and carries the "Ecocert" and "AB" (organic certification) labels. The management of our soya and rice supplying networks ensures we produce GMO free product. |
| Plamil | Plamil are against the use of genetically modified ingredients so we use only selected organic soya beans certified by Ecocert. This certification ensures the use of non genetically modified soya beans. The soya in our milk is from France and the soya in the chocolate and mayonnaise is from Austria |
| Sainsbury's | We're currently in the process of reviewing the usage of soya in our supply chains to understand how we can approach this complex issue in order to ensure that the soya we use doesn't adversely impact the environment.We're a member of the Roundtable on Responsible Soy (RTRS) to help influence how this initiative develops. At present no RTRS certified soya is available in the UK. We plan to work closely with the RTRS, and other retailer members, in order to ensure that the development of the RTRS is appropriate for the UK market.It's clear we need to build a multi-faceted approach to soya and we can assure you that we're dedicating time and resource to finding an appropriate solution. We've learnt a lot from our work on sustainable sourcing of commodities such as timber and palm oil and are proud of what we've achieved in these areas.We'll source all of our key raw materials and commodities sustainably to an independent standard by 2020. |
| Silk | When you drink our soymilk, you can rest assured that you're enjoying the goodness of 100% North American soybeans in every glass. Our beans are sourced across the United States, from sunny Texas to the rich, fertile grounds of Ohio. We also source further north from our Canadian friends in Ontario, where top-quality soybeans thrive. It's shocking that 93% of all soybeans grown in the United States are genetically modified.1 But we think there's a better way to do things—that's why all of our soybeans are tested and verified to the Non-GMO Project standard. This means that our beans are tested by a third party to ensure they meet the project's high standards for non-GMO foods. |
| Soyatoo! & Viana (Tofutown) | The soya we use mostly comes from organic farms in Austria, to a lesser extent from Italy and China. All the soya beans we process are certified organic in accordance with Regulation 834/2007 and is non-GMO. We not only rely on the statements provided by our suppliers but also have all shipments tested by independent institutes to ensure there is no unintended and undesired cross-contamination. We stopped using soya from the Americas years ago because the trace contamination was not controllable. The soya we use mostly comes from organic farms in Austria, to a lesser extent from Italy and China. All the soya beans we process are certified organic in accordance with Regulation 834/2007 and is non-GMO. We not only rely on the statements provided by our suppliers but also have all shipments tested by independent institutes to ensure there is no unintended and undesired cross-contamination. We stopped using soya from the Americas years ago because the trace contamination was not controllable. |
| Sunrise | We source our soybeans from Canada (as we are a Canadian company), and all our soybeans are non-GMO. We have been certified by the non-GMO Project and the Canadian government. For more information about how this process works, please see nongmoproject.org. |
| Tofutti | We only use non-GMO soy protein grown and produced in the United States.Anything that we buy as a single ingredient direct from an original source of supply, like soy protein, sugar, oil, maltodextrin, gums, etc., is certified non-GMO by our supplier. To ensure that our products are non-GMO, we periodically send a sample product from each production run of all our products to an outside lab for independent testing. These test results show that all our products are non-GMO 99% +, which is the standard error of the test. We continually test our products on an on-going basis to ensure that they are always non-GMO. |
| Taifun | We solely manufacture soya beans that are free of genetic modification (GM) and that come from certified organic farming. Nowadays, we receive excellent tofu soya beans with an especially high protein content, not only from the Upper Rhine region but also from the German regions of Palatine and the Saale Valley, from Austria (Carnuntum) as well as the French regions of Alsace, Burgundy and Franche-Comté.We are proud of the diversity of the small and medium entreprises that collaborate with us. An overall of 100 farmers plant Taifun Tofu in Central Europe along the 48th latitude in an area of over 1.400 hectares. Hereby, we ensure that over 70 percent of our soya beans originate in Central Europe. In 2012, we even beat this goal with a share of 86 percent. The remaining percentage of our soya bean supply comes from Canada and South Brazil, where Life Food has long been collaborating with selected organic farmers. Currently, the areal growth is strongest in Austria. |
| Tesco | We source Soya for our products from a number of different countries, should you wish us to check a specific product for the origin of the Soya then please let me know the product details so I can look into this for you.We know that some of our customers are concerned about the use of GM ingredients and so we have a strong GM policy which is rigorously enforced by a comprehensive traceability system. We do not stock any own-brand GM foods, and any non-Tesco branded products which contain GM material are clearly labelled as such. On the question of labelling, because we operate a non-GM policy for all our own brand products, we do not have a non-GM label. |
| V-Bites | All soya ingredients we use are non-GMO and are currently sourced from China and Denmark. |
| Vive Soy | The soybeans we use are grown mainly in Europe, which helps us cut down on transport costs and reduces our carbon footprint further. Furthermore we always ensure the soybeans we use to produce our drinks are GM free. |
| Waitrose | We don't allow GM crops or food ingredients derived from GM crops to be used in our own-brand food. We source soya from China, France and Canada. |
Soya and health?
If you're worried about soya in terms of its impact on human health, rest assured, we've got it covered. See our Soya Story and The Safety of Soya fact sheet.
References:
Gibbs HK et al., 2015. Brazil's Soy Moratorium. Science. 347(6220): 377-378
GMO Compass, 2014: Importing GM soybeans or expanding European cultivation of grain legumes: which is more sustainable? Available online:http://www.gmo-compass.org/eng/news/572.eu_imports_gm_soy_sustainable.html [accessed 26/1/2015]
WWF. 2014. The Growth of Soy: Impacts and Solutions. WWF International, Gland, Switzerland
Viva! Health examines the soya scare-mongering stories and investigates what, if any, scientific basis there is behind them.
Soya disrupts thyroid function
For the vast majority of people, soya does not disrupt thyroid function. If you're basically healthy, your thyroid is functioning properly and you get enough iodine in your diet, you are extremely unlikely to be affected.
The thyroid is a small gland found in the front of the neck which produces a hormone called thyroxine, which helps to control how fast the body makes and uses energy from food.  The thyroid gland needs iodine to make thyroxine and a lack of iodine can cause it to enlarge, forming a goitre.
The concerns about soya and thyroid are based on two issues – the presence of goitrogens and soya isoflavones or plant hormones.
Goitrogens occur naturally in soya, broccoli, kale, cabbage, turnips, millet, peanuts and pine nuts and can interfere with the uptake of iodine, which in turn can lead to the formation of a goitre. This only becomes a problem if the diet fails to provide enough iodine.
How soya isoflavones act on the thyroid – if at all – isn't clear. A recent review of 14 studies found that there was little evidence that soya foods or their isoflavones adversely affect thyroid function in healthy people whose diets contain enough iodine.
As a precautionary measure, health practitioners are warned that people whose thyroid isn't fully functional, and/or whose iodine intake is marginal, may require higher doses of thyroid medication and that soya foods may predispose these susceptible individuals to hypothyroidism (underactive thyroid).
Given the lack of clinical evidence, these concerns are mostly theoretical but the general consensus is that everyone, soya consumers or not, should ensure they get an adequate intake of iodine. One of the simplest ways is to use iodised salt.
The government recommends 140 micrograms of iodine per day for adults and good sources include seaweed such as nori and kelp, Vecon vegetable stock or iodised salt.  Iodine can also be found in cereals and grains but levels vary depending on the amount of iodine in the soil.
Too much iodine because can be harmful and the Food Standards Agency reckon that 500 micrograms or less a day is unlikely to cause harm.
Processed soya foods are bad for you
Generally speaking, the more processed a food becomes, the less nutritional value it has. For example, there is significantly less fibre, vitamins and minerals in white bread than wholemeal bread. It's also true that traditional Asian soya foods such as tofu, miso, tempeh, soya sauce, tamari and soya milk, made using fermentation or precipitation methods, contain a wider range of nutrients than modern soya protein isolates such as textured vegetable protein (TVP) used in mock meats.
The soya antis claim that Western soya products are so highly-processed that they lose valuable nutrients and the plant hormone content (isoflavones) may be increased.
The truth is that 'mock meats' still provide a valuable, low-fat and cholesterol-free source of good protein and so remain a healthier option than their meaty equivalents, which contain saturated animal fat, animal protein and cholesterol. They are also a source of hormones such as oestrogen and animal hormones are far more potent than plant hormones, having been linked to certain cancers.
Despite this, the Viva!Health do not recommend the excessive consumption of highly-processed foods of any kind – soya or not – as they tend to contain high levels of fat, often including hydrogenated fat, salt, sugar and artificial additives.  The key to good health is to eat a wide range of foods, including plenty of whole grains such as wholemeal bread, brown pasta and brown rice, pulses such as peas, beans and lentils, fruit and vegetables, nuts and seeds.
Soya makes you get man boobs
This myth is solely based on animal experiments which suggest that phytoestrogens (plant hormones in soya) can affect sexual development and reproductive function.
These experiments are fundamentally flawed on many levels. Firstly, phytoestrogens behave differently in different species so animal studies bear no relevance to humans. Secondly, artificially boosting levels in animals by injection has no relevance. Finally, many of these experiments have exposed animals to phytoestrogen levels many, many times higher than those absorbed by humans eating soya.
More and more scientists and doctors are acknowledging that the results of animal experiments bear little or no relevance to human health. Use a bit of common sense here; millions of infants have been raised on soya formulas in the UK and US, (25% of US infants are raised on soya formula) many of whom are now well into their late 30s and early 40s.
What's more, there are no reports from Japan and China that the use of soya has affected fertility rates.
Viva! Health are far more concerned about the effects of consuming the animal hormone oestrogen in cow's milk.
See the White Lies report.
Soya milk is a new Western invention
Soya milk originated in China where the beans have been used as food far longer than the existence of written records. Soya milk is reputed to have been discovered and developed by Liu An of the Han Dynasty in China about 164 BC. That's over 2,000 years ago. So you can see, it is not a new invention by any means.
Scroll up