minute reading time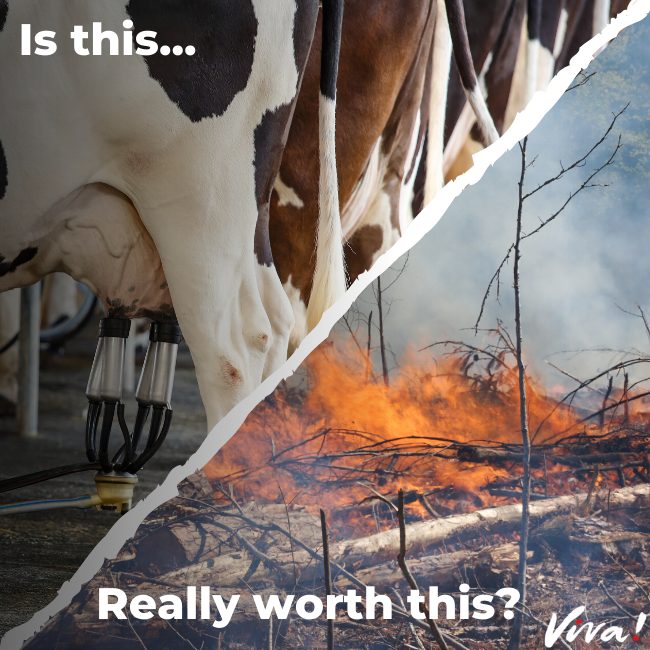 A common misconception is that soya-eating vegans are responsible for the destruction of rainforests. This couldn't be further from the truth. Meat, fish, eggs and dairy are fuelling the destruction of the Amazon as the vast majority of soya grown there is used for animal feed.
Previously, the focus has been on meat. However, a new exposé, by the Bureau of Investigative Journalism (BIJ), Greenpeace Unearthed and ITV News reveals that UK farms supplying milk and dairy products for Cathedral City Cheddar, Anchor butter and Cadbury chocolate feed their cattle soya from a company accused of widespread deforestation in Brazil.
The list of foods linked to deforestation include: Cadbury's chocolate, Cathedral City cheddar, Anchor butter, Country Life butter, Clover dairy spread, Davidstow cheddar, Arla's Cravendale milk and Asda's Farmers Milk.
We know that Britain's leading supermarkets and fast food outlets are selling chicken fed on soya that has been linked to vast deforestation. This new exposé directly links British dairy products to the environmental devastation happening in Brazil's Amazon and Cerrado regions. Both areas are critical for biodiversity and tackling the climate crisis.
The investigation uncovered how farms that sell milk to Cadbury, Saputo (the largest manufacturer of branded cheeses in the UK), and Arla (which makes Anchor Butter and supplies milk to Asda), source animal feed from companies buying Brazilian soya exported by the US grain giant Cargill. This company dominates the soya trade into the UK, controlling about 70 per cent of the market and shipping more than 100,000 tonnes of soya beans to the UK every year from the Cerrado region alone.
The British dairy industry used an estimated 360,000 tonnes of soya from countries including Brazil, Argentina and the US as animal feed in 2019. The poultry sector used even more! Kerry McCarthy, shadow minister for green transport and MP for Bristol East, said: "These revelations are yet more proof that overseas deforestation is deeply embedded in UK supply chains and in everyday supermarket products."
Cruel and destructive
The dairy industry is also inherently cruel. Male dairy calves are considered useless to the industry and are separated from their mothers only hours after birth and disposed of. Viva! have filmed the shocking fate of male Cadbury calves. We witnessed a baby male calf callously shot in the head, his body (along with others) piled on the back of a trailer to be transported to the local hunt for hound food. Shooting them in the head is no longer allowed under Red Tractor guidelines and farms have until the end of the year to comply with the new rules. Around 60,000 calves end up in slaughterhouses though, which is equally as upsetting. This will be the fate of numerous Cadbury calves. Others may be sold into the cruel veal industry or slaughtered for pet food.
The killing of male calves is not an exception, it's a common practice in the dairy industry and other brands of dairy milk chocolate are not the answer. Choose dairy-free chocolate instead – it's a much kinder and healthier choice!
Previously, the BIJ tracked a shipment of soya from the Cerrado to Liverpool docks and then onto Avara chicken farms in Gloucestershire and Herefordshire. According to the BIJ, soya was mixed with wheat and other ingredients at feed mills before being taken to Avara Foods' chicken farms – such as Haywood Poultry Unit in Herefordshire, where Viva! exposed horrific cruelty earlier this year. Haywood Poultry Unit is one of around 300 farms contracted to Avara Foods and supplies Tesco, Asda, Lidl and Nando's.
Footage captured by our investigators there showed around 30,000 birds crammed into one of 15 sheds, scrambling over each other and desperate for space. Abnormally large birds, at 38-days old, were seen collapsing, their legs too weak to hold their grotesquely overweight bodies. Birds which collapse like this are often unable to access food or water points, and as a result die from starvation or dehydration.
Again, this is not unusual, there are farms just like this all around the country. Choose vegan chocolate, cheese and chicken options – there is so much choice now – it's kinder for the animals, the environment and your health too!
You might also like...