minute reading time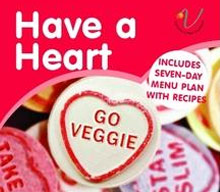 The charity Viva! Health are offering free nutrition advice on Monday, 29 September, to celebrate World Heart Day.
As good nutrition is the key to a healthy heart, the charity have produced various resources to help people get on the right track. When it comes to heart health, plant-based diets have consistently shown the best results and people all over the world are discovering the benefits.
Viva! Health nutrition adviser, Veronika Powell, says: "With a little help, everyone can make changes in their diet that will improve their heart health and overall quality of life. And that's why we're here, to help people make those changes and give them confidence at every step."
Sadly, many people are simply prescribed medication as soon as their tests show high cholesterol, raised heart pressure, or both, but they're not given any lifestyle advice. With the right diet, the need for medication can be reduced or eliminated completely. Viva! Health offer free nutrition resources and advice. For personal advice email health@viva.org.uk or call 0117 944 1000.
And to read more or download free heart health guide, go to: http://www.viva.org.uk/heart-guide.