Dr Justine Butler
Post published at May 22, 2018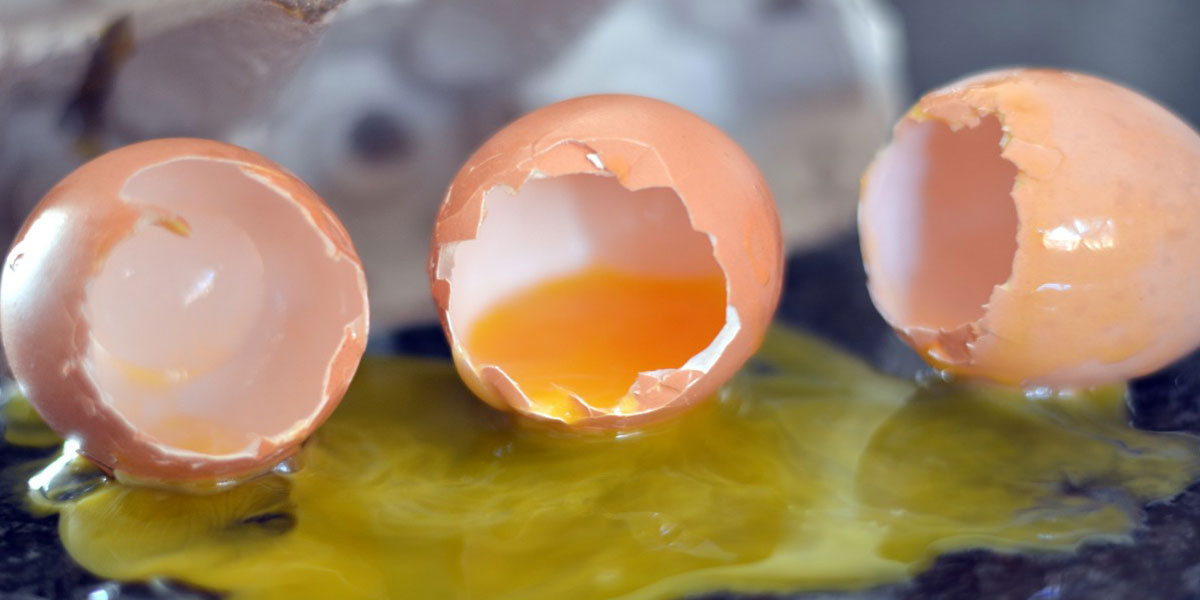 The study found that those who ate up to one egg a day had a lower risk of stroke, heart disease and death from cardiovascular disease than those who never, or hardly ever, ate eggs. Compared with those who never or rarely consumed eggs, daily consumers were more likely to have a higher level of education and household income, to have a new affluence dietary pattern (including a larger fruit intake) and to take multivitamin supplements. They were also less likely to have high blood pressure.
It's not very clear from the study what the people who hardly ever ate eggs were eating instead but if it was lots of meat (eg pork) then it might stand to reason that eggs could be a slightly healthier option. Of course, tofu or beans would be best.
Eggs have more cholesterol than practically any other food – far more than than a Big Mac! While the link between cholesterol in food and cholesterol in our arteries has been questioned, it is not a required part of the diet and many scientists still think it is problematic.
One medium-sized egg contains over 200 milligrams of cholesterol, over five grams of fat (over a third of which is saturated) most of the remaining unsaturated fat is the omega-6 type, linked to inflammation. So not health-promoting fats.
Eggs contain a substance called choline – they are by far the richest dietary source. Too much choline has been linked to ovarian and prostate cancer as well as heart disease.
Many studies have linked eggs to heart disease and diabetes. They clearly show, the more eggs you eat, the higher your risk.
There is no need for eggs in the diet. You can replace eggs with a wide variety of plant-based foods and still make delicious cakes, pancakes, scrambled tofu, vegan omelette and even egg-free meringue! See our Egg Replacer wallchart.
Want to know more?
Here are some of the studies on eggs that Viva! Health have reported on
Eggs strike again
The European Food Safety Authority was forced rapidly to investigate a multi-country outbreak of salmonella food poisoning last summer. Cases were reported from Austria, France, Germany, Luxembourg and the UK. Imported eggs (or egg products) were probably responsible for salmonella infection in 250 people in the UK alone. The particular strain of salmonella involved was linked to an egg packaging centre in Germany. The fact that these eggs were able to reach the market despite strict regulations shows that, with production on such a massive scale, not every safety aspect can be controlled all the time.
European Centre for Disease Prevention and Control, European Food Safety Authority, 2014. Multi-country outbreak of Salmonella Enteritidis infections associated with consumption of eggs from Germany – 25 August 2014.
Men's health
A recently published research examining the link between the consumption of eggs, red meat, poultry and prostate cancer revealed that by consuming 2.5 eggs per week, men increased their risk for a deadly form of prostate cancer by 81 per cent, compared with men who consumed less than half an egg per week. These results were obtained from following dietary habits of 27,607 men for 14 years. Eating poultry and processed red meat also increased the risk of death for men who already had prostate cancer.
Richman E.L., Kenfield S.A., Stampfer M.J., et al., 2011. Egg, red meat, and poultry intake and risk of lethal prostate cancer in the prostate specific antigen-era: incidence and survival. Cancer Prevention Research. 4 (12) 2110-2121.
Eggceptionally fatty
Are eggs really that high in cholesterol or are they actually a healthy food? The authors of an article published in the Canadian Journal of Cardiology warn that the amount of cholesterol in one egg (a single large egg yolk contains approximately 275 milligrams) exceeds the maximum recommended daily amount. The amount is 200 milligrams for people at risk of cardiovascular disease but as the article says cutting down on cholesterol when you already have health problems might be too late. The researchers also found that people who consumed as much as one egg a day had doubled the risk of developing diabetes compared to people consuming less that one egg a week. If you think it doesn't seem right, bear in mind that it normally takes 21 days for an embryo to turn into a chick inside an egg so the egg needs to be packed with all the nutrients for this energy demanding process!
Spence et al., 2010. Dietary cholesterol and egg yolks: not for patients at risk of vascular disease. Canadian Journal of Cardiology. 26 (9) e336-9.
It's no yolk!
According to new research, people who eat eggs for breakfast every day could face a greater risk of developing type 2 diabetes. This study of 57,000 adults in the US found that those who ate eggs daily were between 58-77 per cent more likely than those who did not eat eggs to develop type 2 diabetes.
Djoussé et al., 2009. Egg consumption and risk of type 2 diabetes in men and women. Diabetes Care. 32 (2) 295-300.
Dying for egg
A huge study of over 21,000 men in the US called the Physicians' Health Study, revealed that people who eat seven or more eggs a week had an almost 25 percent increased risk of earlier death than those with the lowest egg consumption. Those with diabetes had an even higher risk of death compared to those who consumed the least. Eggs contain cholesterol, for which we have no nutritional requirement. High cholesterol levels in our blood increases our risk of heart disease.
Djoussé, L., Gaziano, J.M. 2008. Egg consumption in relation to cardiovascular disease and mortality: the Physicians' Health Study. American Journal of Clinical Nutrition. 87, 964-969.
---
Find out more here including our Cracked guide and Egg on Your Face fact sheet: www.vivahealth.org.uk/eggs

The author
This post was written by Dr Justine Butler
I joined Viva! as a health campaigner in 2005 after graduating from Bristol University with a PhD in molecular biology. My scientific training helped me research and write numerous reports, guides and fact sheets for Viva! including Meat the Truth, Fish-Free for Life, One in Nine (breast cancer and diet) and the substantial report on the detrimental health effects of consuming dairy; White Lies. This accompanied Viva!'s report The Dark Side of Dairy which spelt out the inherent cruelty of dairy farming. We were the first UK group to take on the dairy industry in this way, and many of our supporters go vegan after reading these reports.