Ditch Animals, Eat Plants
Cardiovascular disease (CVD), hypertension (high blood pressure), obesity, diabetes, cancer, smoking, kidney disease and COPD are the main underlying causes making Covid-19 more likely to result in severe, life-threatening disease.* A vegan diet can help you lose weight, reverse diabetes, lower your blood pressure and cholesterol, reducing your risk of severe Covid-19.
Having a healthy vegan diet also means you're 73 per cent less likely to suffer severe symptoms if you get infected with Covid-19 according to a ground-breaking study!**
The ZOE COVID Symptom Study, the largest to date looking at diet and Covid-19, agrees that plant-based diets lower your risk of severe Covid-19 but adds that they may reduce your risk of getting it by 10 per cent.
*Emami et al., 2020; Finer et al., 2020; Yang et al., 2020; Wang et al., 2020; Zheng et al., 2020; Zhou et al., 2020
**
Kim et al., 2021, available here
*** Merino 
et al.
, 2021, available
here
.
Try Vegan with V7
Try eating vegan for one week with our curated 7 day meal plan, complete shopping list and all the tips you need to make your vegan journey a success. V7 has been lovingly created by Viva!'s Vegan Recipe Club, a team of foodies passionate about creating awesome vegan dishes. Our daily emails show you how incredibly easy and delicious vegan food can be.
Switching from animal products to plant-based ingredients can have huge benefits for the planet and your health. A vegan diet can help you lose weight, reverse diabetes, lower your blood pressure and cholesterol, reducing your risk of severe Covid-19. So there's no better time to try V7.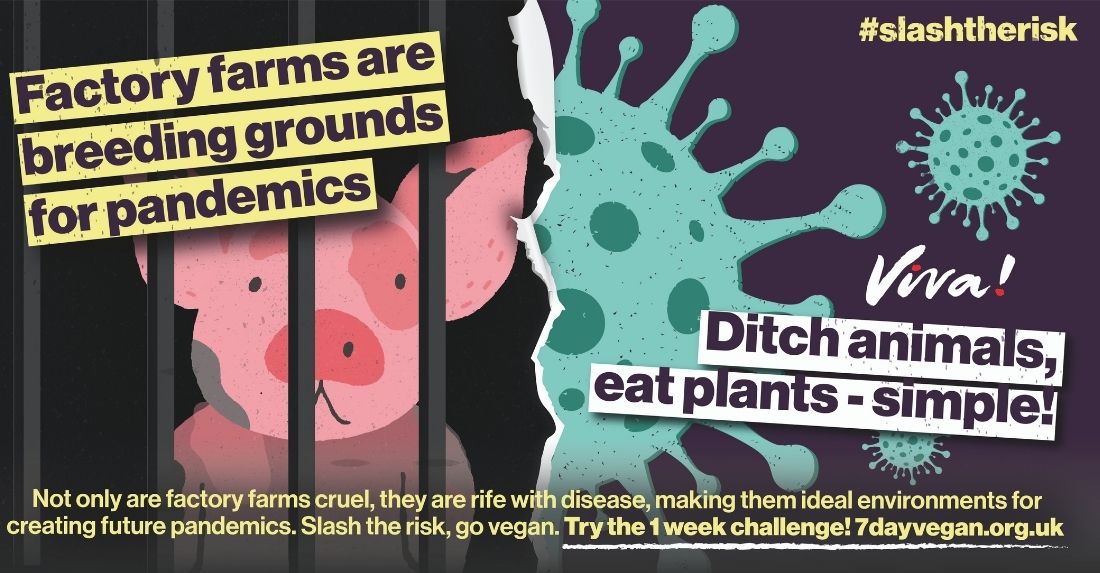 Factory farms breed pandemics
As factory farms spread across the globe, diseases follow, spreading through densely populated sheds. Stressed animals, confined in filthy surroundings, are more susceptible to disease. Bred for fast growth, their immunity is low. It's an ideal environment for a mutating virus.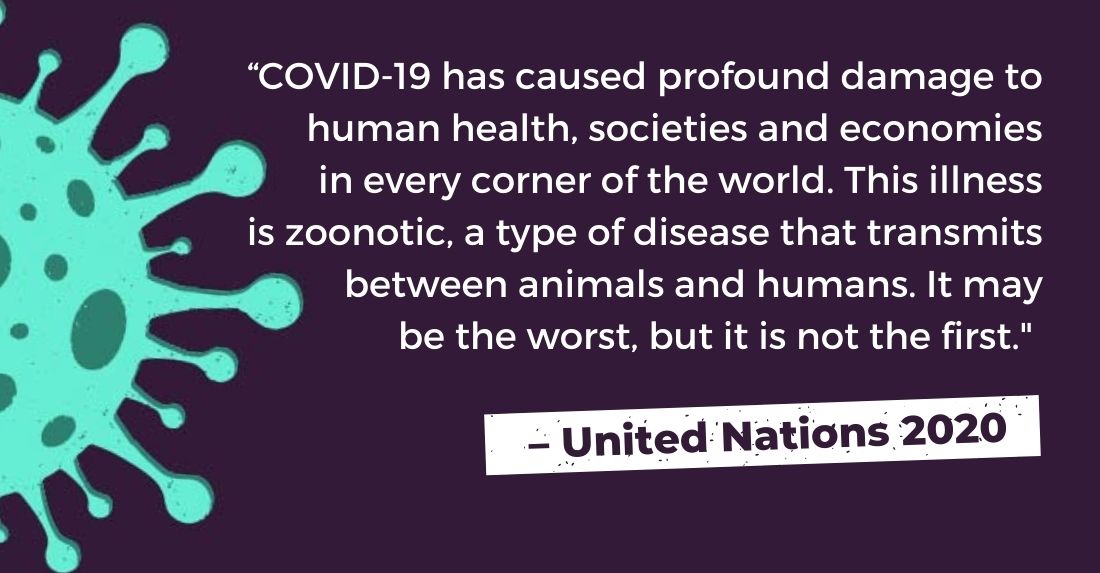 A classic example of a zoonotic disease (that spreads from animals to humans), is the bird flu H5N1 virus, which has been infecting poultry and other birds since the 1950s. In 1996, a highly pathogenic strain killed more than 40 per cent of birds infected. The virus has become deadlier directly due to factory farming where conditions enable viruses to mutate and spread. Commercial poultry and pig farms, wet markets, slaughtering facilities, human dietary habits and the global trade in exotic animals are all implicated in the spread of zoonotic diseases.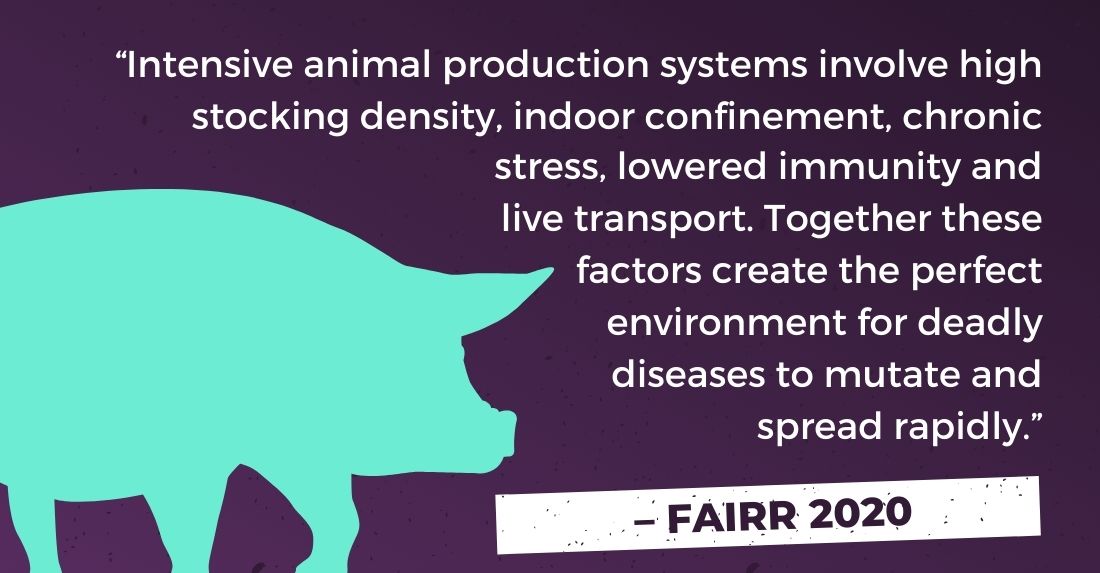 Several strains of bird flu have infected humans – H5N1, H7N9 and H9N2. H5N1 is a particular concern as the death rate in humans is a terrifying 60 per cent – seasonal flu kills about 0.1 per cent of those infected. Globally, more than 15,000 outbreaks with H5N1 were reported in domestic birds such as chickens, ducks, turkeys and geese between 2005 and 2018. Since 2006, more than 240 million poultry either died or were slaughtered to prevent the spread. Since 2003, over 800 people have been infected with H5N1 and over 450 have died. Most infections involved individuals handling, slaughtering or consuming infected poultry but if the virus changes to become more easily spread between humans, like in Covid-19, we could be facing a deadly pandemic the likes of which we have never seen.
WATCH: Our Live Q&A About Slash the Risk
Find out how vegan diets help protect you with the latest science simply explained! Exclusive talk by Juliet Gellatley – Viva! founder and director, (BSc Zoology & Psychology; nutritional therapist, DIP CNM;Dip DM) and health expert Veronika Charvátová (MSc) on how to slash your risk of severe Covid-19.
WATCH: How A Healthy Vegan Diet Can Slash Your Risk of Severe Covid-19 Symptoms.
Find out in just 20 minutes how a healthy vegan diet slashes your risk of severe Covid-19 symptoms with health expert Veronika Charvátová (MSc).
Hypertension, heart disease and stroke
Scroll up