minute reading time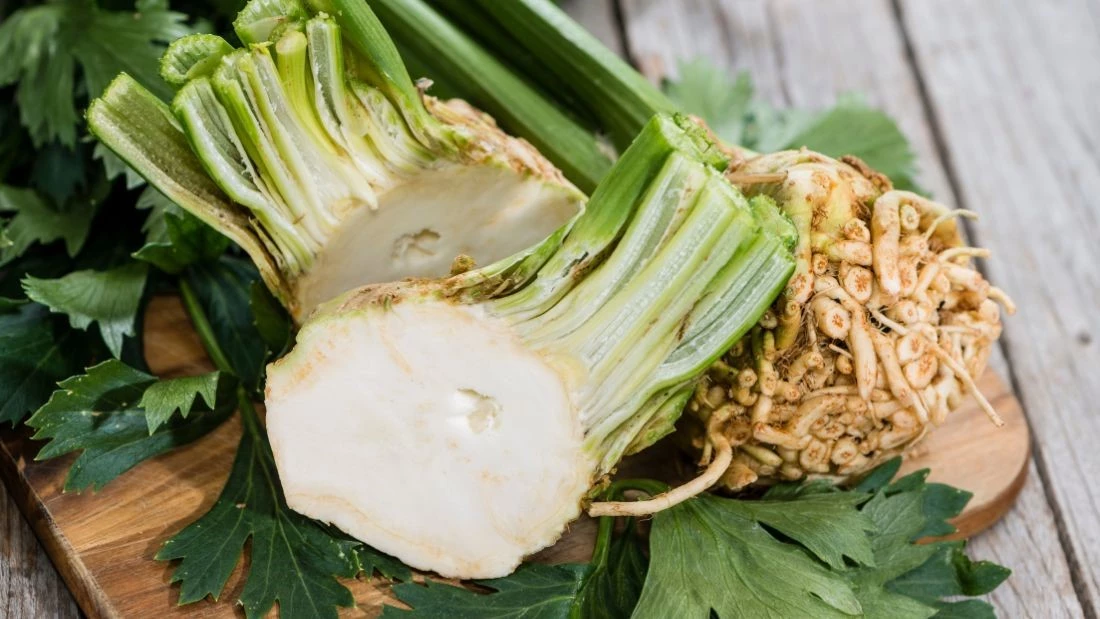 Celeriac (Apium graveolens var. rapaceum) is a root vegetable closely related to celery – both are bred from the same wild plant but celeriac has a far more intense flavour than celery and a different texture. It serves as a great stand-in for potatoes (either mash or chips), is great roasted and can add body and flavour to winter stews. It can also be grated raw into salads and coleslaws.
Celeriac root is bulbous, hairy and quite unattractive, but what it lacks in looks, it makes up for in flavour and health benefits. It is packed with important vitamins and minerals, including vitamins B6, C and K and phosphorous, potassium and manganese. For a root vegetable, it is also remarkably low in carbohydrates and like celery, it is also very low in fat and calories. Loaded with fibre and antioxidants, eating celeriac is good for your health in many ways. Like celery, its antioxidants make it an anti-inflammatory food that may protect against heart disease, cancer and Alzheimer's.
Celeriac is a rich source of vitamin K which, along with phosphorus, is important for healthy bones and may also have anticancer properties. A word of warning – vitamin K can affect blood clotting so people taking blood-thinning medication should avoid eating too much of it. It is high vitamin C content – especially when eaten raw – which means it can support your immune system. Compared to celery, celeriac has less folate but more phosphorus, vitamins K and C.
Although celery and celeriac both offer great nutritional and health benefits, they differ in a number of ways. To get the best from your diet – good nutrition plus protection from disease – variety is the key! So, enjoy celery and celeriac, along with all the other wonderful, healthy vegetables available throughout the year. Eat the rainbow!