Boris the Pig
Meet Boris: an inquisitive and playful pig with a heart of gold. Boris enjoys having cuddles, running around, and of course eating lots of food! He also loves nothing more than rolling in mud and will run over to you when you call his name, just like a dog!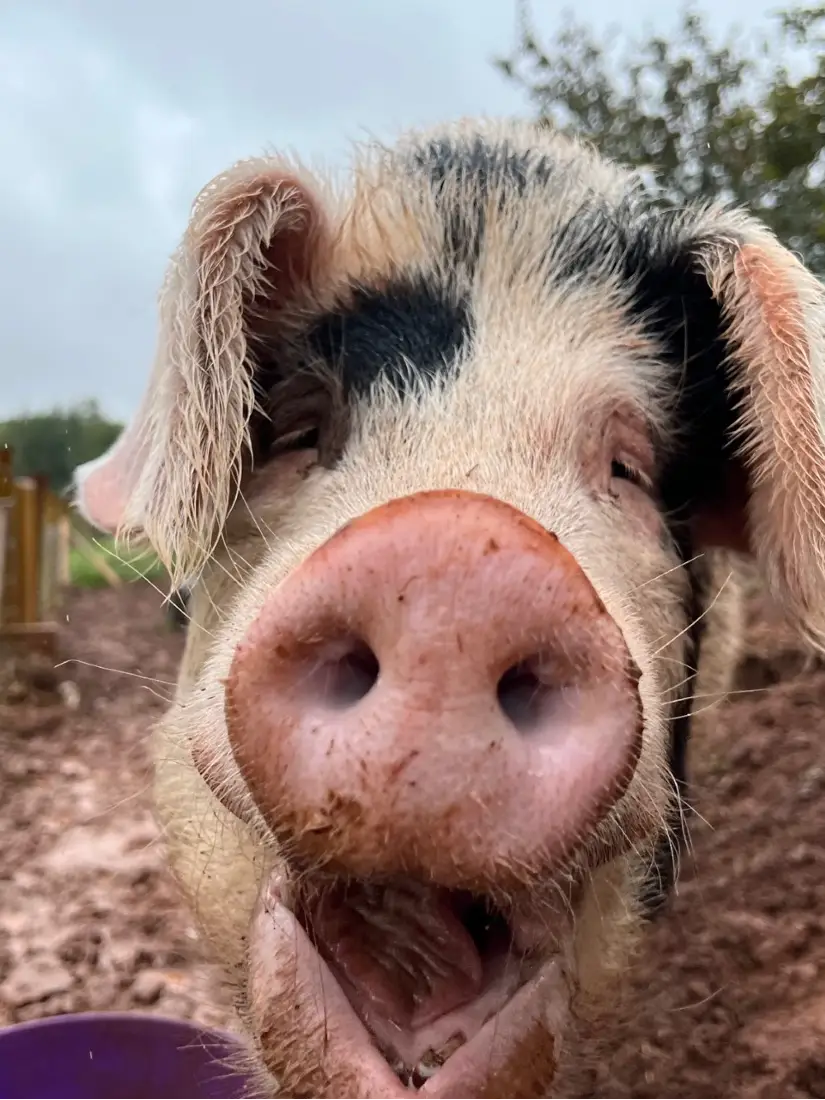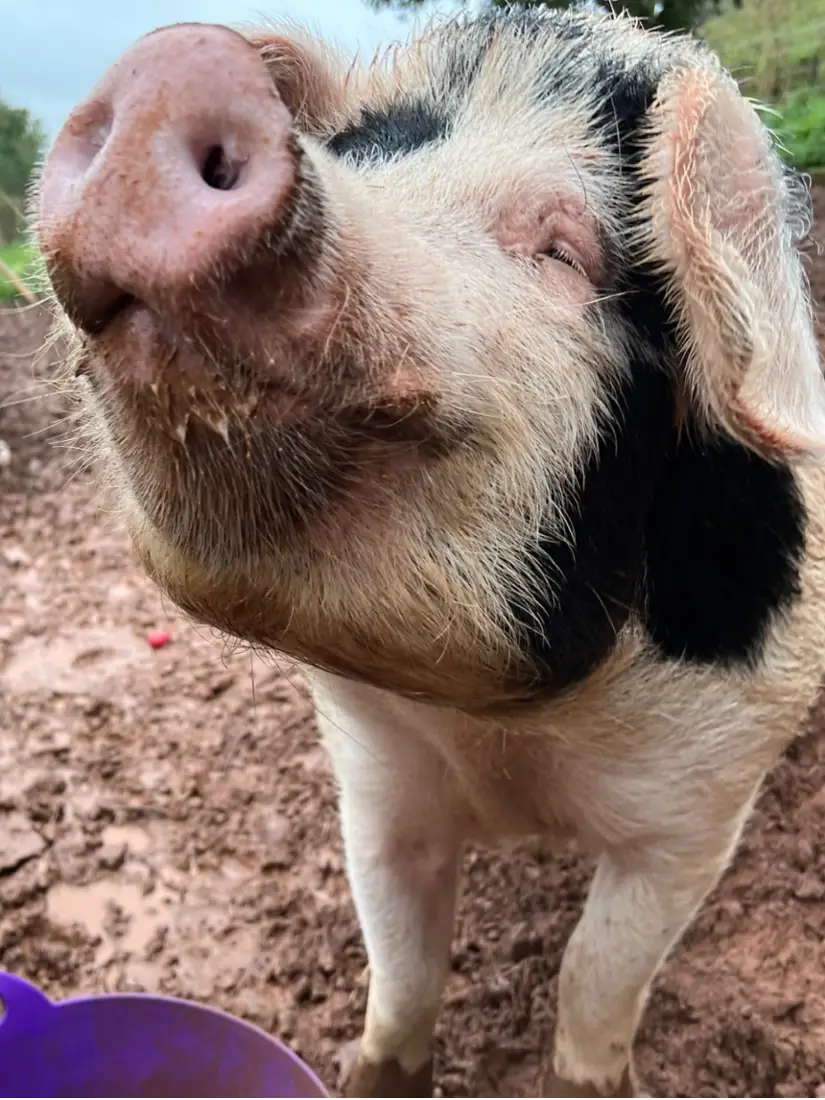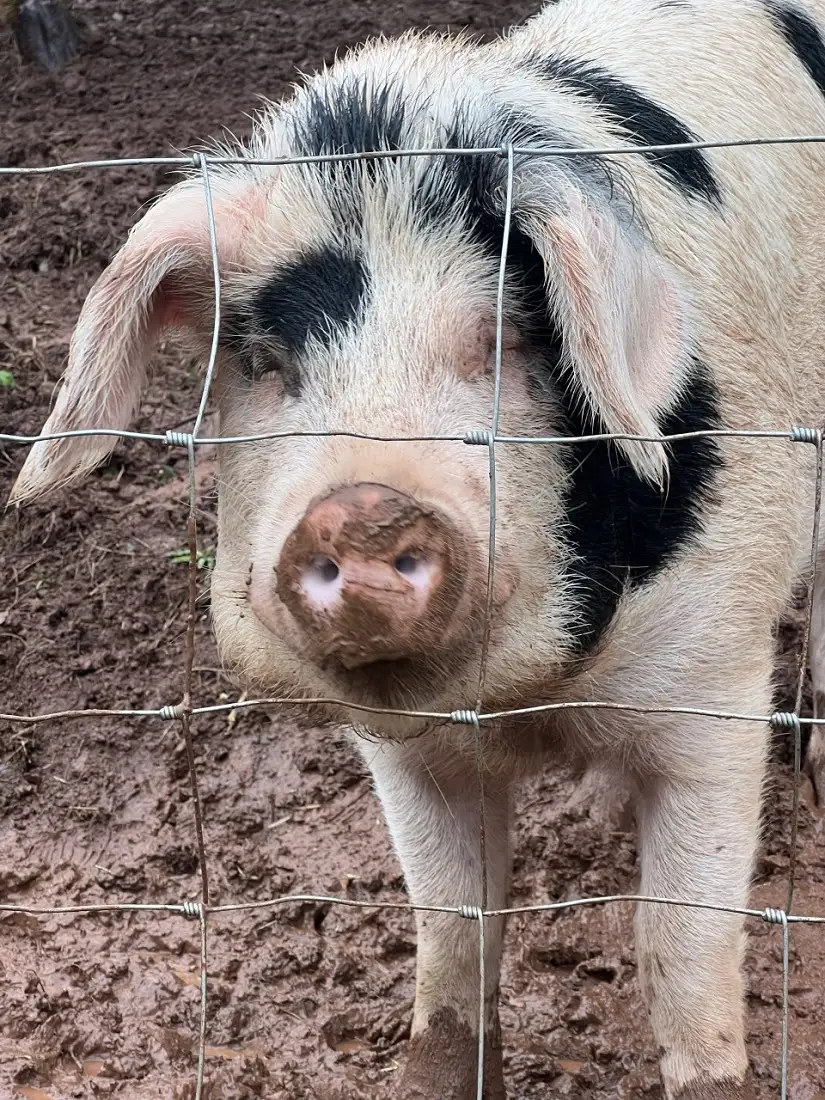 Seeing Boris roll over for a belly rub or gorging on his favourite snacks, it's hard to imagine him doing anything other than bringing joy to everyone he meets.
However, Boris's story nearly had a heart-breaking ending. Despite his charming nature, trust in people and enthusiasm for life, he was almost killed at the hands of the very people that once raised him.
How did this happen?
In September 2021 when he was just a piglet, Boris arrived at Kingsmead School near Taunton.
The school bought Boris so that he could be raised by its pupils, and they could 'learn about where meat comes from'. A very misleading exercise as 85 per cent of farmed animals in the UK live out their short lives in factory farms!
Over the coming months, dozens of the school's students helped care for Boris, forming bonds similar to those shared between children and their companion animals at home. Boris was fed, sheltered and loved by the children, who even got involved with the less fun parts of caring for a pig – cleaning out his pen!
However, some of the schoolchildren were left devastated when the school revealed they were going to send Boris to an abattoir in June 2022, so he could be killed and turned into meat.
Some parents of the pupils who attend Kingsmead School were equally horrified to discover the school's plan. News spread to Taunton-based vegan activist Paul Youd, who immediately launched a campaign to save Boris.
Working with fellow vegan activist Kevin Doherty, Paul raised £500 and the school's headmaster Mark Williams agreed to sell Boris for this price – saving him from the slaughterhouse at the eleventh hour.
Unfortunately, Boris hadn't yet found his happy ending: he was saved from death, but housing a pig is no mean feat, and finding somewhere to take him in proved tricky.
Thankfully, local Taunton couple Rhi and Matt Swain took Boris in. They created a temporary home for him in their garden, allowing him to run freely and frolic in fresh mud.
Friends of the couple spent three nights erecting fencing paid for by a fundraiser organised by Viva!, and Rhi and Matt paid for his food and medical bills, and ensured he received round-the-clock love and attention.
Boris will soon be moving on to an animal sanctuary where he can live the rest of his life surrounded by other pigs, experiencing an endless supply of love, affection and companionship.
It's so wonderful to see a pig given the freedom to roam around and be cherished, instead of trapped inside a factory farm, effectively living on death row.
We are now petitioning to stop schools from farming animals, and to instead teach schoolchildren to farm fruits, vegetables, herbs, flowers and pulses.
To help save the lives of animals and create a kinder world for all its inhabitants, become a member of Viva! today.
Scroll up