minute reading time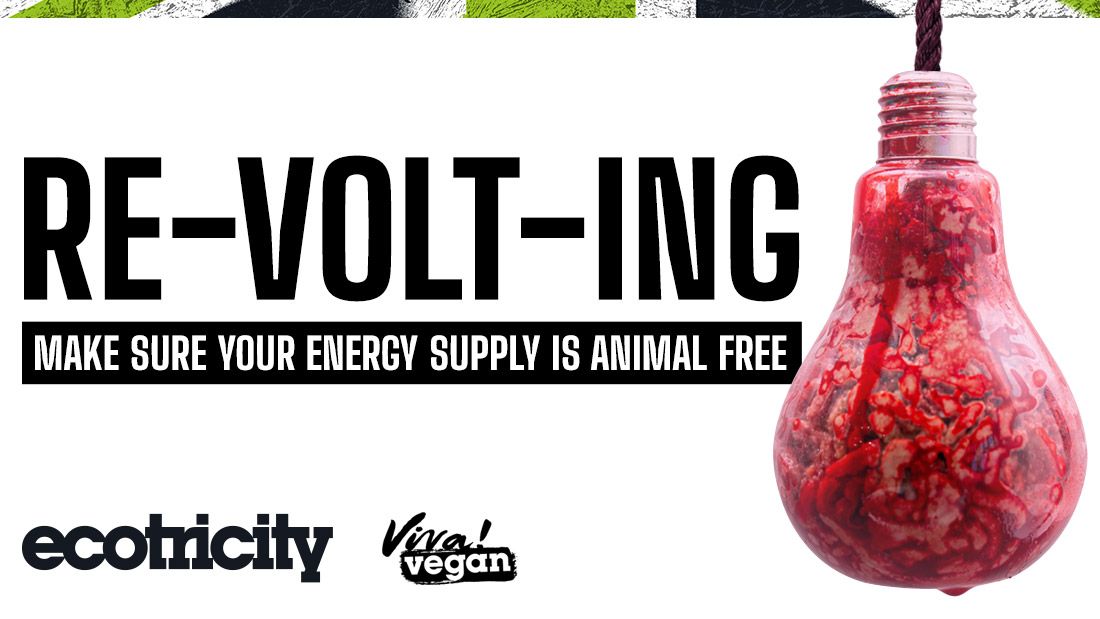 Switch to Ecotricity in November 2020 and they will donate up to £60 to Viva!
There's a lot to celebrate this World Vegan Month but so much of it is also about building awareness. It's easy to assume that some things are vegan when actually they're nowhere near. For instance, did you know that only one energy supplier in Britain is officially certified by Viva!?
Ecotricity have been passionate vegan advocates since they planted their first eco-friendly windmill in the Gloucestershire earth back in 1996. Their offices are free from animal products and Forest Green Rovers, owned by founder Dale Vince, is the world's only vegan football club.
Not all green energy is vegan energy
You'd think that all green energy must be vegan but sadly this just isn't the case.
Green energy is the production of electricity or gas through renewable sources, in place of traditional fossil fuels. But just because an energy supply is green, it doesn't make it vegan. In fact, many green energy companies supply electricity that's been generated using animals or animal by-products.
There are two main sources of non-vegan energy generation in the UK: anaerobic digestion (AD), and biomass. Both AD and biomass energy production can contain by-products of animal farming – like factory-farmed livestock, slaughterhouse waste, fish parts, and animal slurry.
Four of the Big Six energy companies have animal by-products in their supply chains, along with many independent and green energy suppliers. This means their energy has been sourced from AD and biomass generators that are linked to animal farming. (You can find out more and check if your energy supplier is uses animal by-products here.)
So while less than 1% of energy in the UK is made by non-vegan methods, the issue still affects almost 60% of the population.
Win a year's supply of vegan energy
To help promote the benefits of a vegan lifestyle this November, Ecotricity are offering you the chance to win a full year of vegan energy – worth £1,650 for the average home! To enter, just head to their competition page, and fill in your details before midnight on 30 November. Good luck!