minute reading time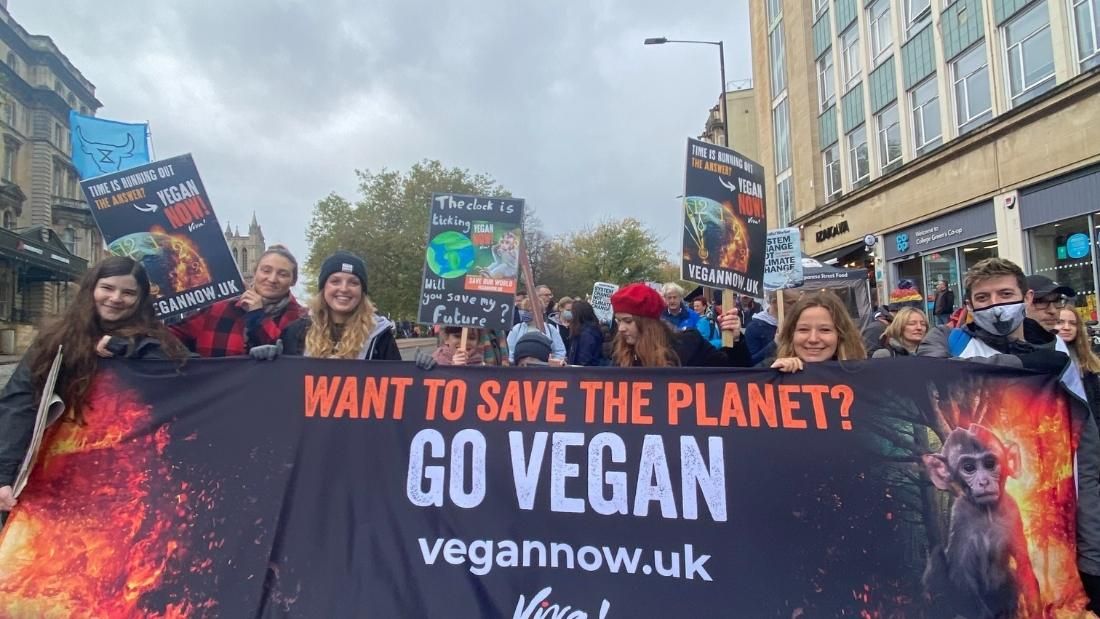 For two weeks in November, world leaders met at the United Nations Climate Change Conference, commonly known as COP26. Scientists and experts alike emphasised that this summit was one of the last chances to protect the planet from ecological collapse.
However, it quickly became apparent that no government, including our own, was going to mention the elephant in the room. Animal agriculture is one of the leading causes of the climate crisis. Yet there was not one mention of the need to reduce our consumption of meat, dairy and eggs.
Once again, it was left to Viva! to raise awareness of the urgent need to choose vegan to protect our world and our future.
For the entire duration of COP26 we had huge billboards seen by millions of people in Edinburgh City Centre, Edinburgh Railway station, Euston Railway station and Brent, London, plus lots of A6 posters in Glasgow.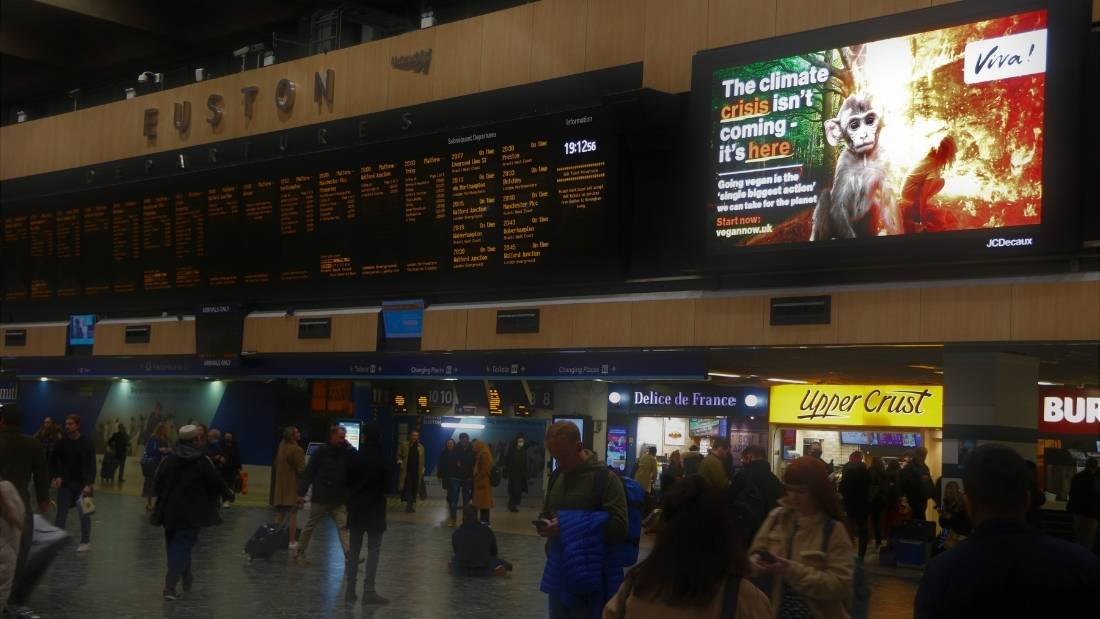 Glasgow Outreach
We also held two outreach events in Glasgow for the first two days of COP26. On 1 November, World Vegan Day, we gave out vegan sausage rolls and engaged with hundreds of people in the street, explaining how going vegan is the single biggest change we can all make to protect the planet.
Later, we unfurled our Vegan Now banner at the iconic George Square, handed out hundreds of leaflets and gave interviews for various organisations, media channels and universities, including BBC Glasgow and the University of St Andrews.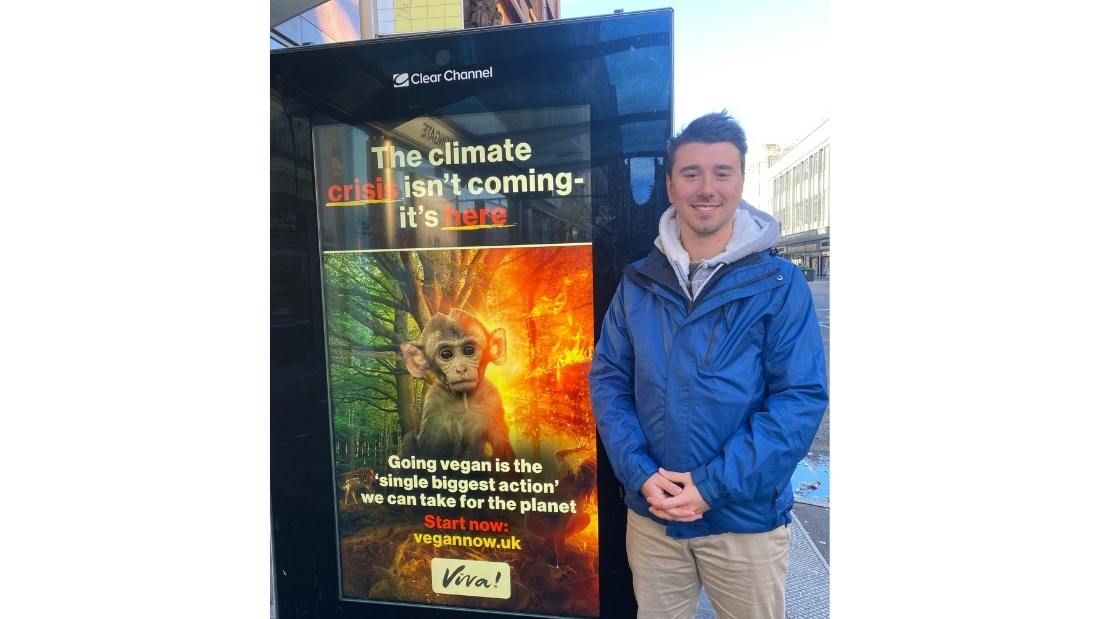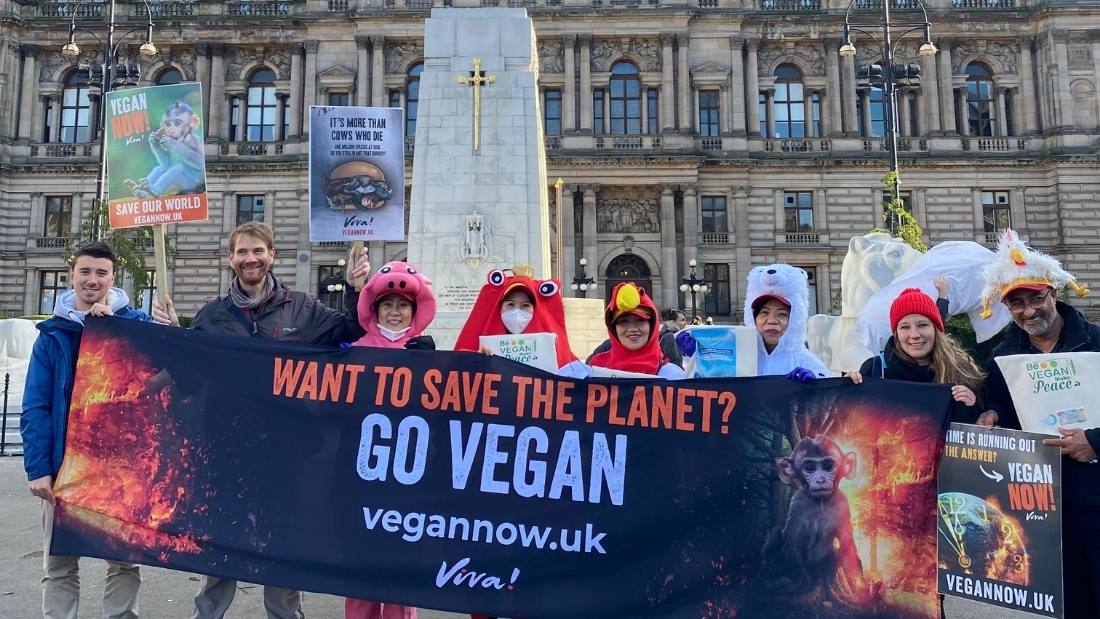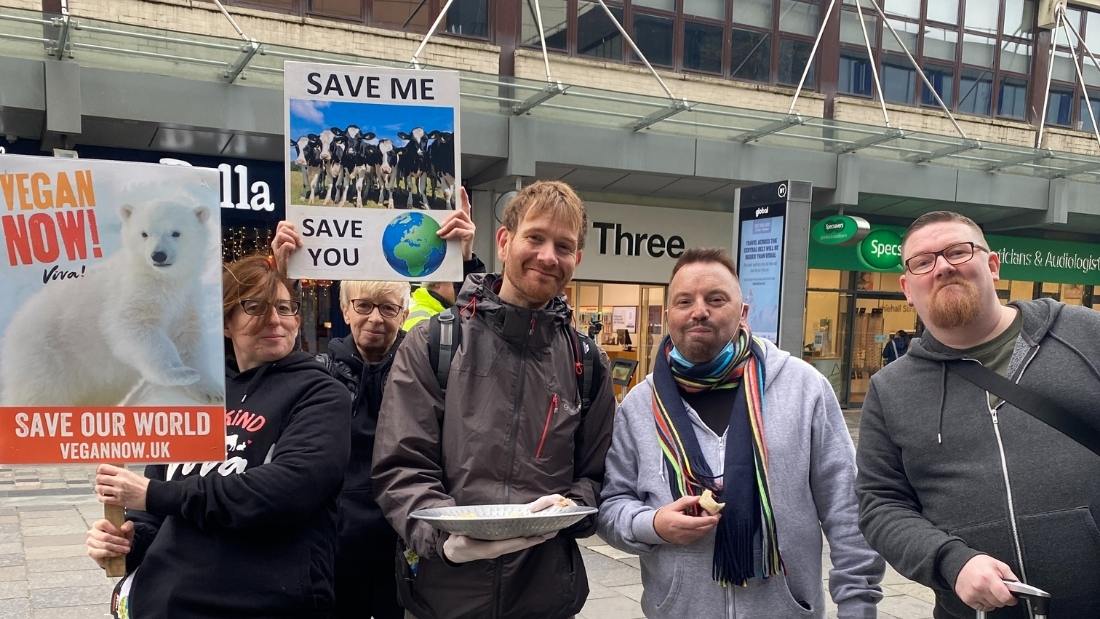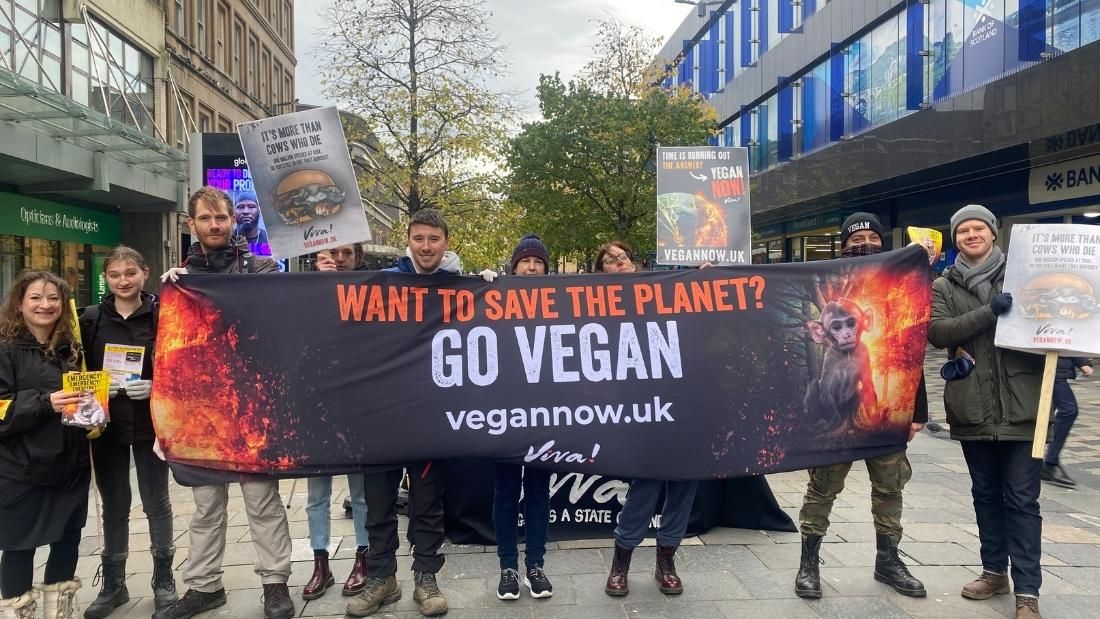 Burger Tour 2.0
Following the success of our burger tour in July, we then headed to York, Leeds and Liverpool to engage with people on the impact of meat on our world – all while the world's leaders continued to put their heads in the sand in Glasgow.
We partnered once again with Taste & Glory, a vegan meat company which kindly provided us with over 400 delicious patties. We engaged in direct conversation with 750 people across the three days of the burger tour in York, Leeds and Liverpool. Approximately 50% of the general public who queued up and spoke with us had never eaten a vegan burger before, and many were skeptical!
However, once people tucked in, the reception was incredibly warm. Many people said that they would happily swap out beef for vegan burgers and were now going to try many more vegan foods. While many of us are now aware that red meat is bad for the planet, the public was shocked to learn just how much of a difference it makes to choose a vegan lifestyle. We had large queues all through the tour – even in the wintry cold! – and it was amazing to hear so many people say that they were now going to look into veganism as a result of talking with us.
We'd like to say a huge thank you to Taste & Glory for supporting our campaign.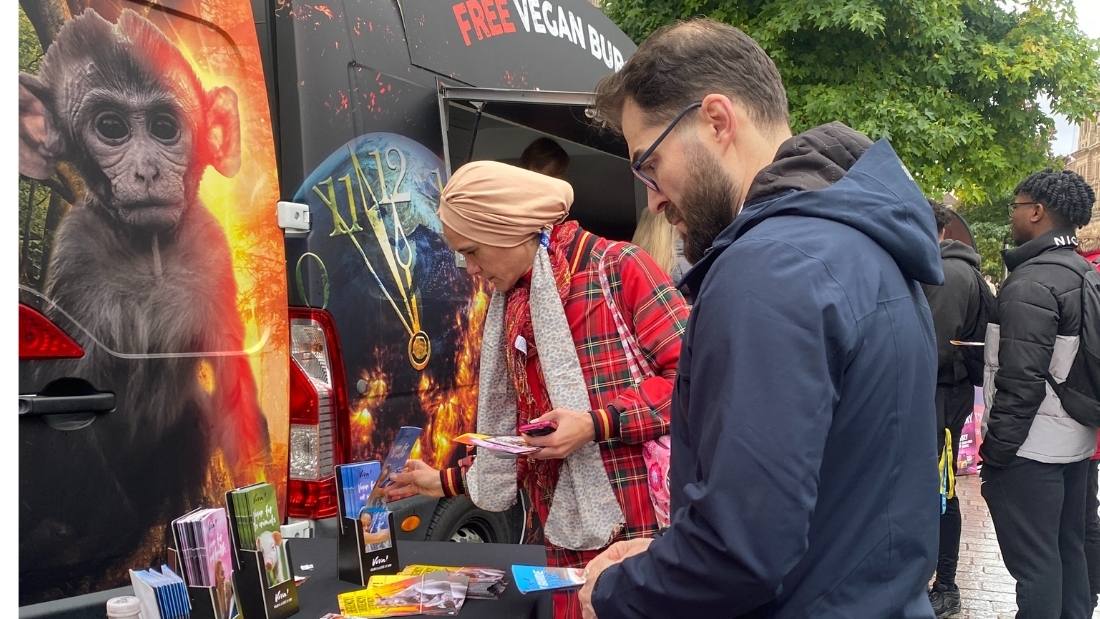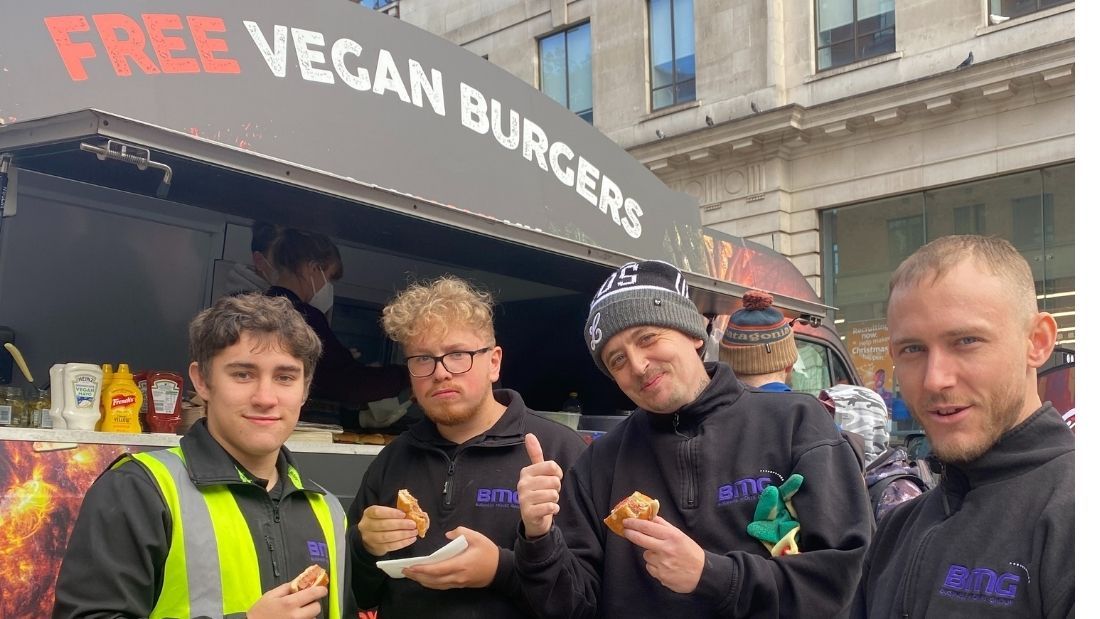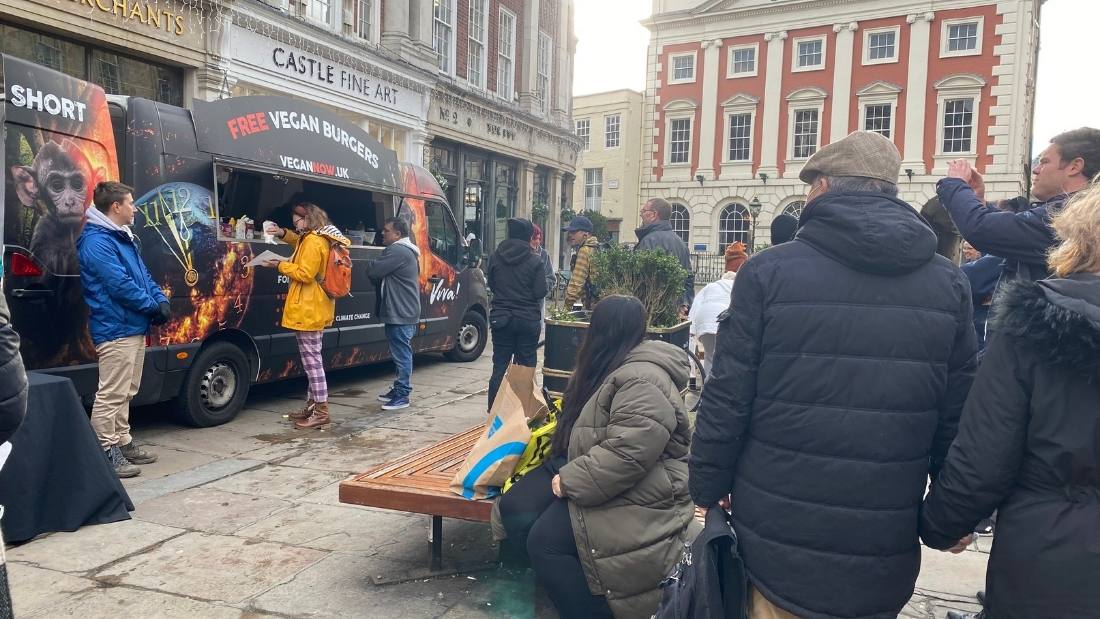 Marching Across The Nation
We ended the COP26 tour by marching in Bristol on 6 November as part of the worldwide marches for climate justice. We would like to say a huge thank you to those of you who volunteered to represent Viva! and animals at a whopping 17 cities across the UK: Glasgow, London, Birmingham, York, Cardiff, Manchester, Preston, Newcastle, Brighton, Glasgow, Monmouth, Lancaster, Cambridge, Leicester, Sheffield, Leeds and Bromley.