Media release published at February 27, 2020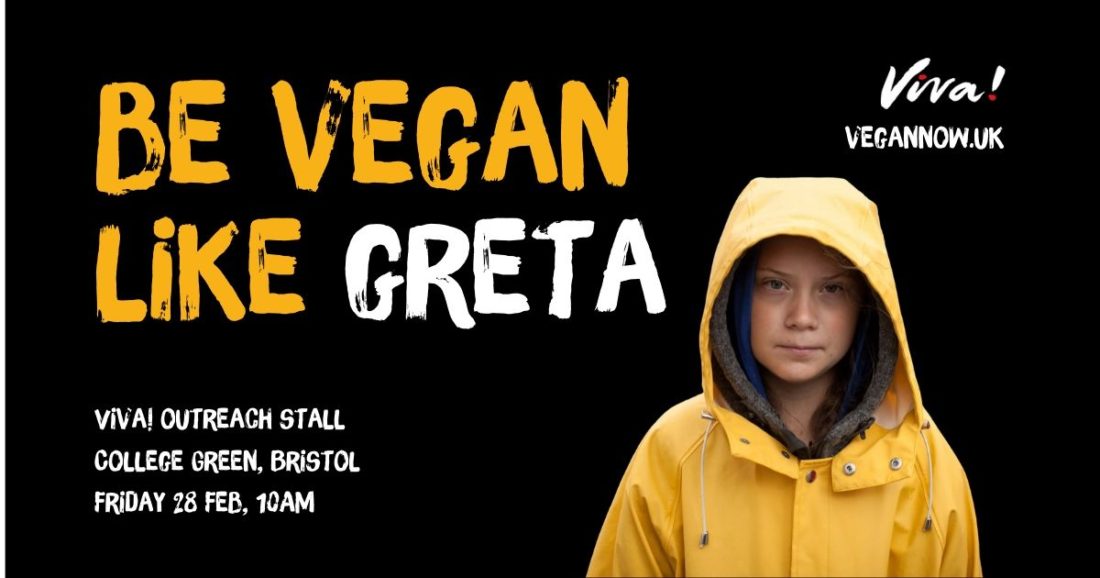 This Friday, climate campaigning legend Greta Thunberg will visit Bristol's College Green to speak at the city's Youth Climate Strike. Greta Thunberg is a teenage environmental activist whose climate crisis campaigning has gained international recognition and respect. She has become a beacon of hope as climate chaos worsens. This young woman has demonstrated to the world that age is no barrier to making a powerful impact and inspired others to take action. The Youth Climate Strike is part of a global movement where young people are demanding that the climate emergency is recognised and action is taken to stop the destruction of our planet.
Viva!, a Bristol-based vegan charity, have been campaigning for a vegan world since 1994 and only last year, launched their environmental campaign 'Vegan Now'. The campaign focusses on the impact of animal agriculture on the planet and it's devastating contribution to global heating.  As part of the campaign, Viva! launched a video which includes a voice-over from Greta, highlighting the desperate state of the climate crisis and urging the public to take action. Viva! have been overwhelmed with the video's success, watching it go viral and achieving a whopping one million views. Watch it here: www.viva.org.uk/vegan-now
Animal agriculture is to blame for almost 15% of total greenhouse gas emissions in the world; that's more than all the planes, trains, boats, buses, cars and motorbikes in the world combined. On Friday 28 February, Viva! will be at the Youth Climate Strike standing in solidarity with Greta and the thousands of other young people striking for change. The charity will be gathered on College Green where they'll be giving out free information on how to try vegan.
Founder and director of Viva!, Juliet Gellatley, explains the significance of Greta's visit:
"We're currently in a climate emergency and drastic action must be taken for the planet to survive. Greta is tackling the world's most serious and imminent threat head-on and she has recognised that going vegan is the single most powerful action we can take as individuals to lessen our impact on the planet. We're asking the Youth Strikers today to go vegan to save our world – Greta's vegan, why aren't you?"
ENDS information:
NOTES TO EDITOR
Viva! is a registered charity 1037486
For interviews, photos or comments please contact Viva!'s Head of Communications Roisin McAuley  roisin@viva.org.uk  or 0117 944 1000.