Media release published at October 30, 2021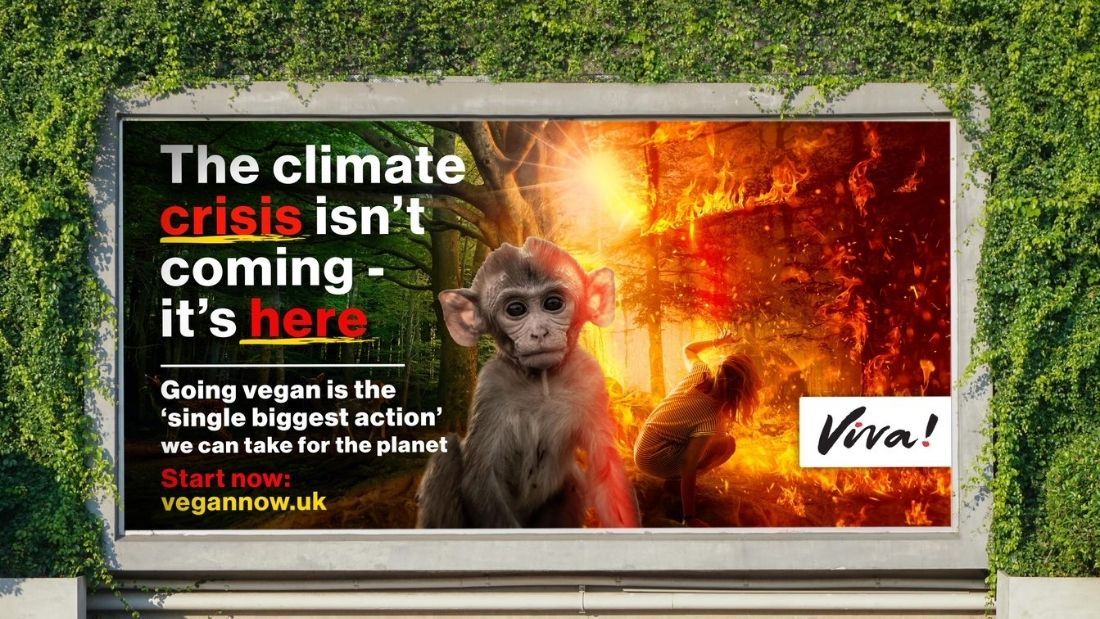 Where: An Clanchon Cafe, Glasgow, G3 7LH and other major cities across the UK
When: 11am, Saturday 6 November
Viva!, the UK's leading vegan charity, joins forces with Animal Equality, Farmers Stock-Free Farming and Vegan Scotland Outreach to form a contingent 'Vegans Unite for the Planet' for COP26.
On Saturday 6 November, millions of people around the world are coming together to protest the climate crisis and demand global climate justice. As the world's media focuses on these marches and COP26, vegans have a historic opportunity to unite to raise awareness that climate change cannot be tackled without diet change. Meat accounts for nearly 60 per cent of all greenhouse gases from food production – this message needs to be made clear to the public and world leaders.
Inspired by the Plant-Based Treaty, a landmark international treaty and first of its kind to put food systems at the heart of combating the climate crisis, Vegans Unite for the Planet was created specifically for COP26.  Both the treaty and the contingent aim to halt the widespread degradation of critical ecosystems caused by animal agriculture, to promote a shift to more healthy, sustainable plant-based diets and to actively reverse damage done to planetary functions, ecosystem services and biodiversity.
Viva! and other animal rights groups, have formed Vegans Unite for the Planet to give the vegan movement a voice at the COP26 march.  Vegans, environmentalists and everyone interested in saving the planet is invited to join the march on 6 November. Marches are taking places across the world, many of which will be here in the UK, including:
Birmingham
Brighton
Bristol
Cardiff
Glasgow
London
Manchester
Newcastle
Viva! are offering free COP26 packs to those attending marches which include banners, placards and leaflets explaining how animal agriculture is destroying the planet, and why going vegan is essential in preventing climate collapse. Please email campaignorders@viva.org.uk to order.
The Viva! team will be in Glasgow as COP26 begins. Join them on 1 November where they will be running an exciting street outreach event giving out free vegan sausage rolls. On 3, 4 and 5 of November the Viva! team will be touring York, Leeds and Liverpool with their spectacular Viva! La Burger tour van. They'll be giving out FREE vegan burgers to the public , demonstrating how delicious and simple going vegan can be.
During COP26 the charity are placing billboard adverts in Euston Rail Station, Edinburgh Waverlay Railway Station and in Central Edinburgh, plus 6 posters across Glasgow city center, to highlight veganism as a solution to the climate crisis.
Michael Mansfield QC, Britain's leading criminal defence barrister and Patron of Viva! offers his thoughts on the climate crisis:
"I think when we look at the damage eating meat is doing to the planet it is not preposterous to think that one day it will become illegal. It is time for a new law on ecocide to go alongside genocide and the other crimes against humanity."
Juliet Gellatley, founder and director of Viva!, explains her involvement in CO26:
"There has never been a more important time to talk about animal agriculture and the devastating impact it is having on our planet. Going vegan is the SINGLE biggest action an individual can take to combat climate change. We're proud to support Vegans Unite for the Planet and believe that by joining forces we can make significant changes in the way the world views diet and climate change. COP26 is a unique opportunity to speak about these critical issues and tell the world to go vegan, now!"
To find out more about Vegans Unite for the Planet, Viva! and COP26 please visit vegannow.uk.
Notes to Editors
Viva! is a registered charity 1037486
Viva! is the UK's leading vegan campaigning charity viva.org.uk
For comments, interviews or more information please contact siobhan@viva.org.uk