minute reading time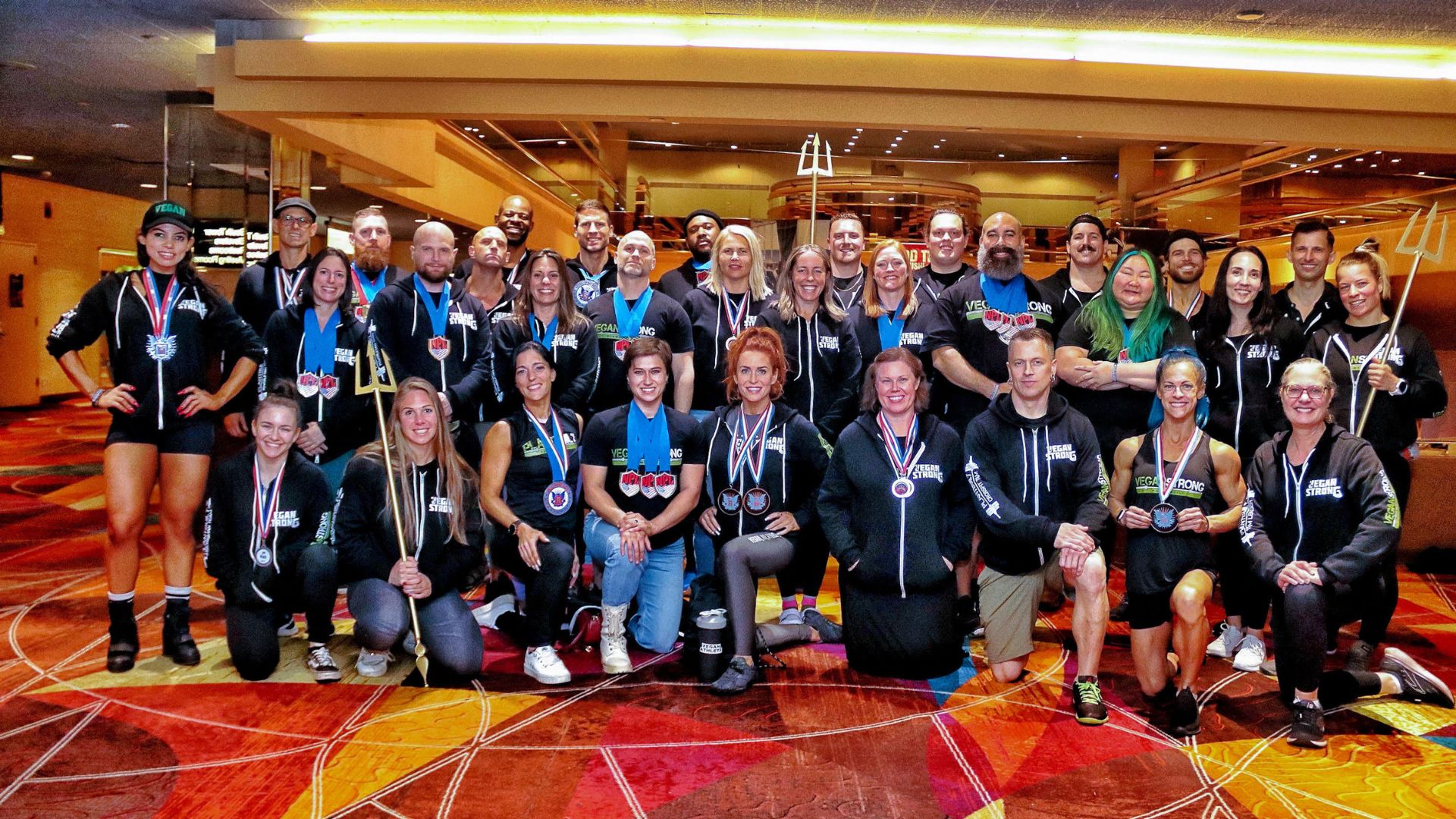 Vegan power proved unstoppable at the Mr America Sports festival as the Vegan Strong PlantBuilt team took a hulking haul of medals.
The Vegan Strong PlantBuilt team was founded in 2012 by Giacomo Marchese and Dani Taylor who, according to their website, "envisioned a team of vegan bodybuilders not just competing alongside non-vegan athletes, but triumphing over them."
So the team's most recent performance at the Mr America Sports festival has made this vision a reality.
At their previous meeting they took 17 medals including eight gold, so hopes were high that they would surpass this. But the team didn't just surpass this record, they smashed it, taking an incredible 41 medals, including 32 gold!
Spread across four sports, some of the best results were in powerlifting. Captain and multiple world champion Ryan Stills took the overall win in the 125 kg category, and the veteran also oversaw Katya Gorbacheva's continued rise with three wins in the 75 kg category.
The powerlifting team was without Bradie Crandall, who recently took a win at the US nationals, because he was competing in the middleweight category in strongman. He won the Ukrainian deadlift and the flag hoist, taking second in both the log ladder and car press to win the middleweight category.
This was one of three wins in the strongman events: Angelina Berva won the women's heavyweight strongman event, while Sophie Brock took the win in the lightweight competition. Ric Carroll was competing with a recently repaired Achilles tendon and was unable to give it all he had – but still took third in heavyweight.
Fit to win
The kettlebell team is new to the Vegan Strong PlantBuilt team, and Sara Lee ensured it started well with a win in the 20 kg kettlebell marathon.
The CrossFit team didn't drop the intensity either, with four wins in the Open competition. Ashley Kitchens and Sally Andersen won the women's Open Rx, while George Matthews and Kody Kowalowski took first place in the men's CrossFitOpen Rx.
Team manager Giacomo Marchese was delighted that the planning had translated into a fantastic set of results.
"Mr. America provided a great opportunity for us to prove that plants have all the protein you need to be strong and healthy and to fuel wins at the highest levels!" he said.
The event also gave them an opportunity to meet with other competitors who may not have considered veganism. The biggest news is usually who wins the event, and this made people take notice.
"We more than doubled our wins from last year" said Giacomo "and competitors asked how we were doing it."
The growth in both size and success of the Vegan Strong PlantBuilt team makes many people wonder what's next. This impressive performance means that we can expect more super-human feats from this exciting team.
Content sourced and adapted with permission from Great Vegan Athletes. 
You might also like...