minute reading time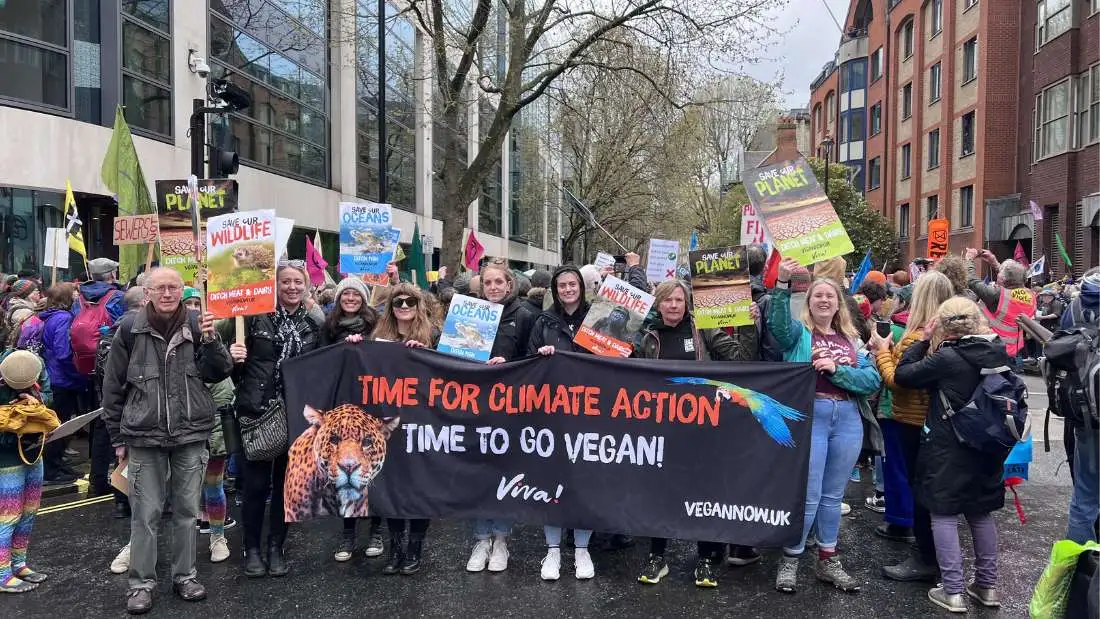 For two days this April Viva! and our fantastic supporters joined thousands of climate activists across the country to take a stand outside of the Houses of Parliament as part of XR's Unite to Survive climate demonstration The Big One. Together, we let the UK Government know that we will not sit back idly if they continue their deadly path of inaction against the climate and ecological crisis that our planet and humanity is currently facing. Congregating in masses around parliament square and marching across Westminster, we raised our banners and shouted our message loud and clear that the time for meaningful climate action is now!
While we were there to hammer home a serious message, this two-day demonstration was an inclusive celebration of the power we have as a community, with both seasoned activists and fresh-faced newbies in attendance reaching across all social movement groups. Viva! was one of over 200 organisations and groups in attendance, joining the likes of Greenpeace, Ecotricity, Replanet, Animal Rising and PETA.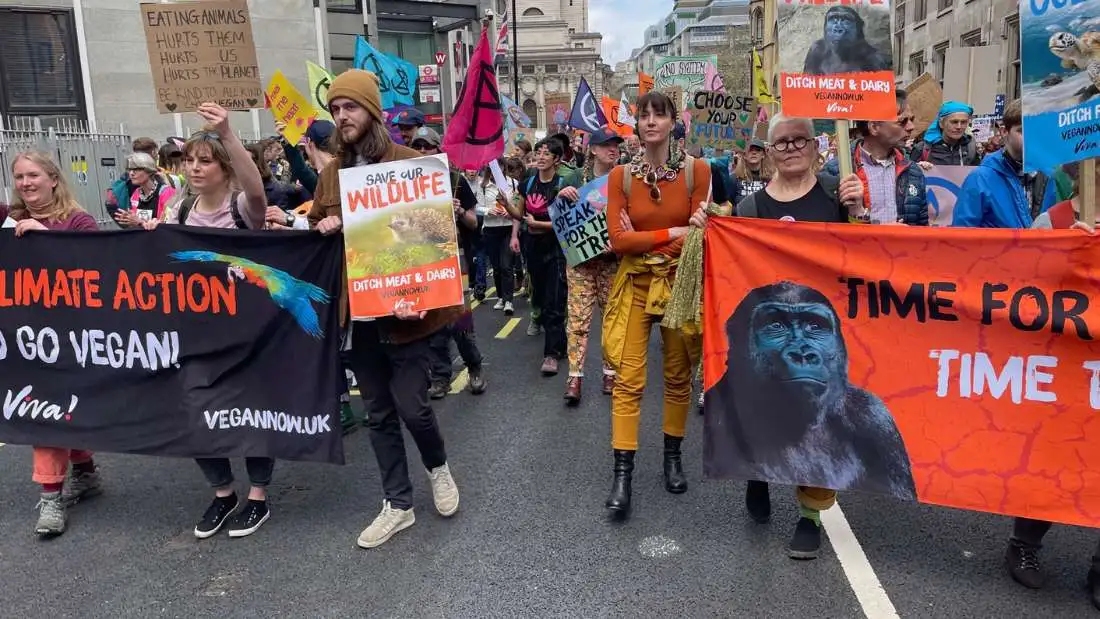 While all of these groups came together to demand action on the climate crisis, Viva! was there to add the key element to the call of action that unfortunately many environment groups still chose not to address. If we want to save our planet, our wildlife, our oceans and indeed ourselves, there needs to be a collective move towards veganism, supported by both the Government and the environment movement, while also being clearly reflected in reports that influence policy and laws.
Why Viva! is taking action
The need for an increased focus on veganism as the solution to the climate crisis became apparent in the IPCC's final instalment of the Sixth Assessment Report. The contents of this report, which will play a pivotal role in informing COP28, can essentially be summarised as saying that drastic action is needed now if we are to secure a liveable and sustainable future for humanity. With the report highlighting that rapid, deep and immediate greenhouse gas emissions reductions across all sectors are needed this decade, and this report being the last big one from the IPCC until 2030, many are calling this report the final warning.
However, while the report calls for immediate action on working towards reaching net zero, there is little focus on animal agriculture and no mention about a move to plant-based diets. Instead, it talks about sustainable agricultural intensification and sustainable healthy diets, promote "all dimensions of individuals' health and well-being; have low environmental pressure and impact; are accessible, affordable, safe and equitable; and are culturally acceptable, as described in FAO and WHO".
Why this glaring omission, given that demand for meat, dairy, fish and eggs is at the heart of nearly every single environmental problem? It was revealed that the meat industry blocked the IPCC's attempt to include the recommendation of shifting to a plant-based food system. This important solution was initially included in the original draft, leaked by Scientist Rebellion.
Viva! will not let this key solution of veganism be forgotten, which will not only save the planet but will also put an end to the suffering of billions of farmed animals slaughtered each year to feed the UK's current unsustainable diets. At The Big One our eye-catching posters and striking banners made Viva!'s call to action clear: "Time for climate action. Time to go vegan!" asking people to save our planet, wildlife and oceans by ditching meat and dairy. At our Viva! stall, hundreds of awareness raising conversations were also held, focusing on the whys and hows of going vegan.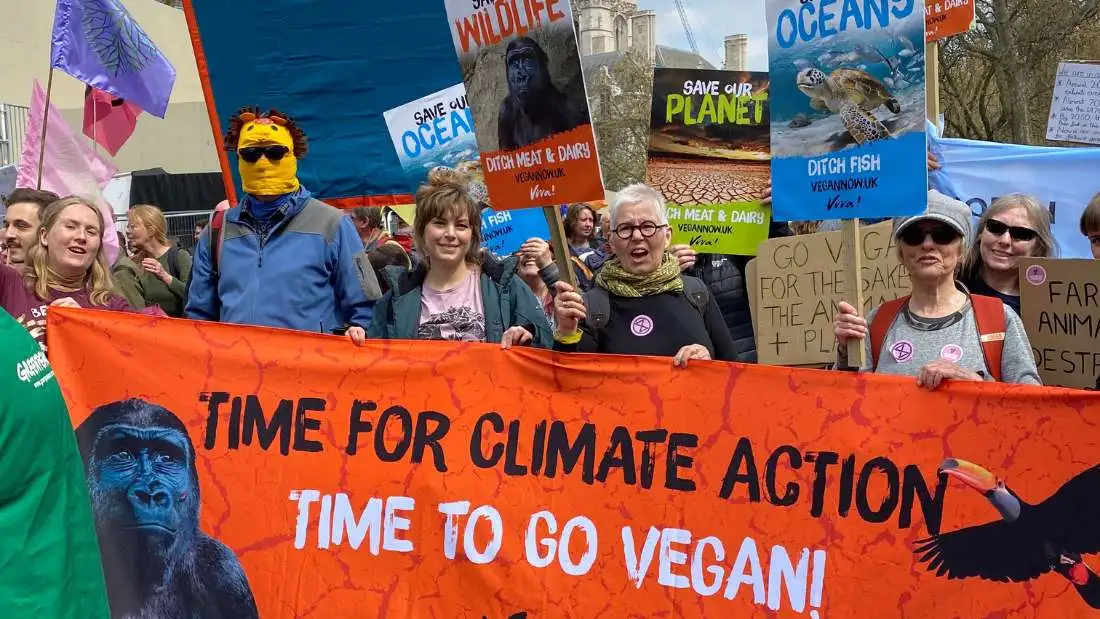 On the Friday we filled Westminster with our banners and supporters, raising awareness of this vital vegan message, joining the picket outside of Defra, the governmental department in charge of environment protection, food and agriculture. To finish the day, Viva!'s founder and director, Juliet Gellatley, gave an empowering speech on the main stage about the necessity of going vegan for the future of the planet and all its inhabitants.
The next day was Earth Day, and we were on the move with our campaign material as part of the annual international day of environmental awareness. Together we marched across Westminster in celebration of life-supporting nature and biodiversity as part of The Big One for Biodiversity march. It is estimated that 60,000 people took to the streets for this demonstration, which culminated in a mass die-in, representing the species we are losing because of humanity's actions. Over these two days of action, we were joined by numerous passionate Viva! supporters from across the UK, including vegan community groups, such as North East Animal Rights.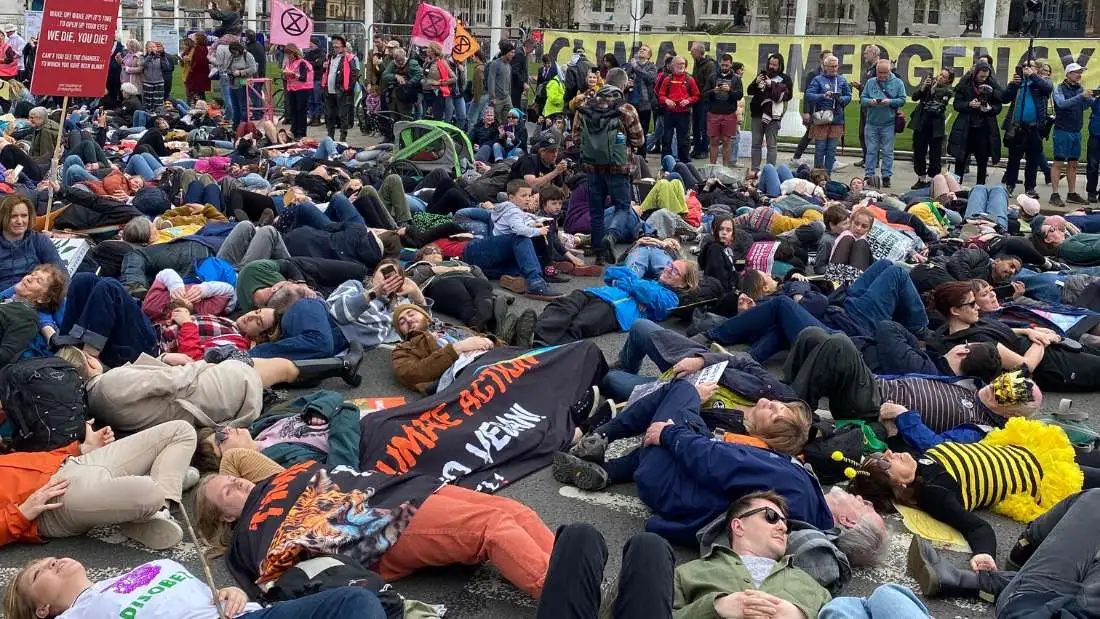 With environment being one of our core campaigns focus, Viva! has been increasingly vocal about how the food we choose to farm and eat can make the difference between securing a liveable future for the planet and all who live on it, and literal annihilation. This isn't the first demonstration we've attended and will certainly not be the last. Alongside attending demonstrations, in the past we have joined climate marches, ran crucial awareness campaigns and supported people-powered action to create lasting change – and will continue to do so until our voice is heard.
We would love for you to get involved in Viva!'s environment campaigns to help amplify our message. Keep an eye on viva.org.uk/planet to keep up to date on how you can get involved in future campaigns and climate demonstrations.
You might also like...