Media release published at November 3, 2021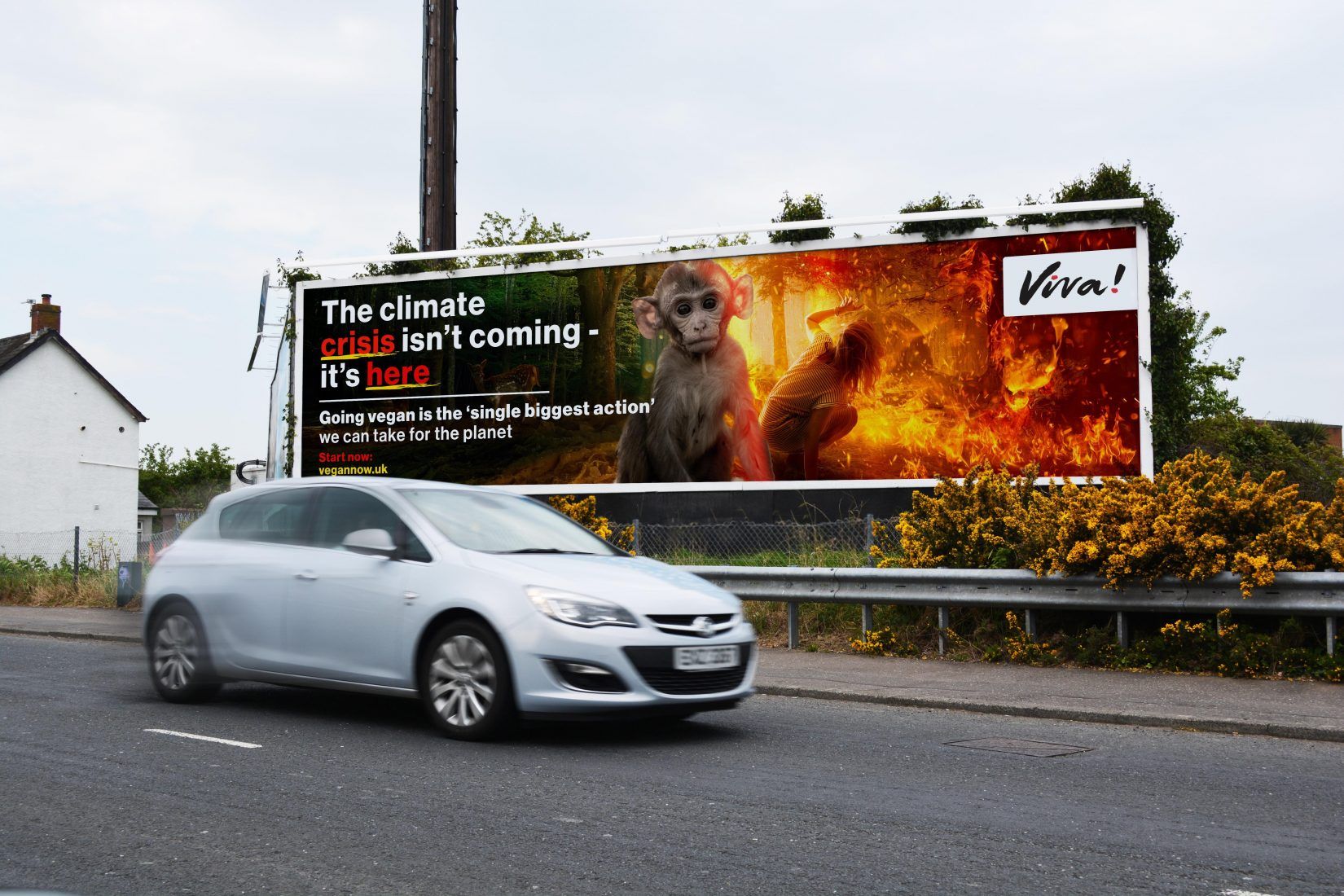 Between 31 October and 12 November, global leaders will descend on Glasgow for the United Nations Climate Change Conference, COP26. The summit's aim is 'to tackle climate change'; yet no government seems willing to take any tangible action on animal agriculture – one of the leading causes of the climate crisis.
Taking advantage of this historic moment, Viva!, the UK's leading vegan charity, is launching an array of billboards across the UK, as part of their environmental campaign Vegan Now.
By using a combination of billboards and posters across Glasgow and Edinburgh city centres, as well as Euston and Edinburgh train stations, the vegan charity hopes to raise awareness of the devastating impact animal agriculture is having on the planet. The billboards and posters will run for the entirety of COP26, demonstrating to the public the undeniable connection between eating animals and the climate crisis.
Animal agriculture is a leading cause of climate breakdown, and meat accounts for nearly 60 per cent of all greenhouse gases from food production. Research shows that going vegan is the SINGLE biggest action individuals can take to reduce their impact on the natural world. Carbon emissions cannot be realistically reduced without a national and global reduction in the consumption of animal products. As the climate emergency grows ever more urgent, there has never been a more important time to go vegan.
Viva! Senior Campaigner Will Sorflaten said:
"We've launched this billboard campaign during COP26 because the connection between animal agriculture and the climate crisis is not being addressed by world leaders. There has never been a more important time to talk about animal agriculture and the devastating impact it is having on our health and our planet. 
"Going vegan is the single biggest action an individual can take to combat climate chaos – switching beef for beans can literally save our planet. 
"We want to encourage the public to try vegan. There are so many delicious and incredible vegan alternatives available in all major supermarkets, there's never been a better time to try vegan – so go on, give it a go!" 
As the climate crisis continues, more people are becoming aware of the severe impact animal agriculture is having on the planet. Published earlier this year, the IPCC's Climate Change report revealed that human activity is "unequivocally" the cause of the climate crisis. This includes melting polar ice and glaciers, rising sea levels, heatwaves, floods and droughts. It warns that things could get a lot worse if we don't take urgent action now.
Humanity is on the verge of extinction due to the climate crisis. Animal agriculture is the leading driver of wildlife loss and releases more greenhouse gases than the entire world's transport sector combined. Those who are profiting from animal suffering and global destruction must be held accountable. World leaders must act now, before it is too late.
ENDS
Notes to Editors
Viva! is the UK's leading vegan campaigning charity www.viva.org.uk
For comments, interviews or more information please contact siobhan@viva.org.uk