minute reading time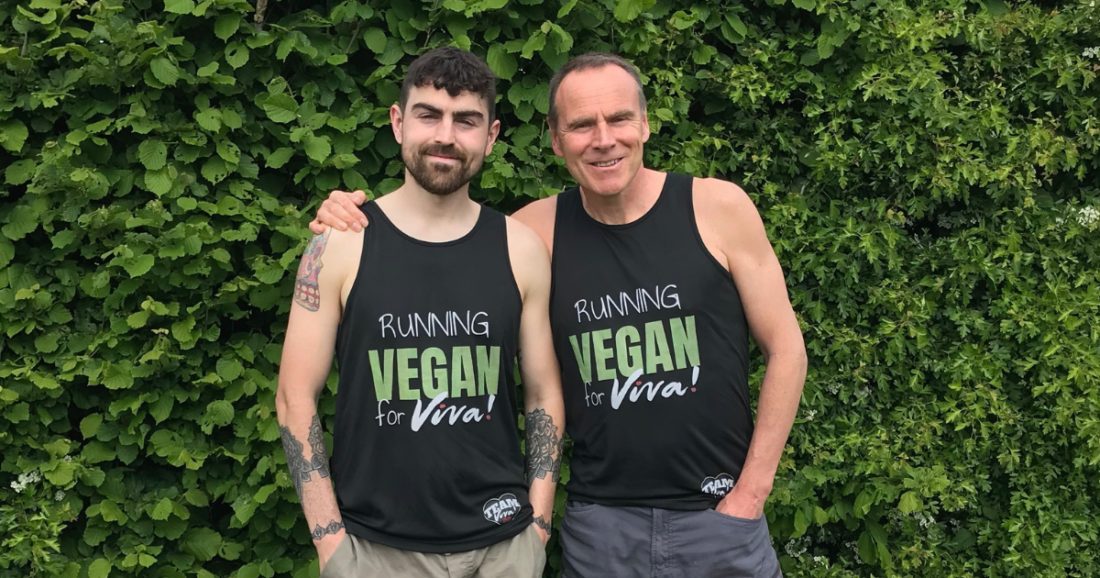 Despite this, they are pushing through their comfort zone and taking on an immense feat to raise awareness of MooFree May. On Sunday 26 May, Joe and Mike will be running the Liverpool Rock n Roll Marathon with just three weeks of proper training. From making pizza to marathon training — Joe explains it all.
---
Earlier this year, Mike and I had a crazy idea: we decided to train to run our very first marathon together! I've always wanted to run a marathon and tick it off the bucket list. And since Mike and I spend pretty much every waking day together, I figured why not do this together too. That's why we're taking on our biggest challenge — the Liverpool Rock n Roll Marathon — together.
I've never even imagined running this far before
We are both extremely passionate about promoting veganism and showing other runners how well you can thrive on a plant-based diet. So, we laced up our trainers, put the dough down, and began training.
We've always loved Viva! and all the brave and hard work they're doing to help save animals and get people to think about where their food is coming from. So, as soon as we saw they were raising funds for their MooFree May campaign the same month we were going to try and run this marathon, we knew it was a perfect opportunity to do it for a good cause!
Mike has done a few marathons before but never on just three weeks training
The training has been really tough. Mike sustained a neck injury early into the training, stopping him training for three months, but thankfully he has now made an amazing recovery (something he attributes to his vegan diet!). I've never run this kind of distance before so needed his support. Just three weeks before the big race, once Mike had recovered, we hit the ground running. Literally.
Another challenge has been fitting training around One Planet Pizza. We both run One Planet Pizza seven days a week and fitting the runs in has not been easy. We're aiming to get the marathon finished in four hours. That's a good target and can be done!
Running for such a great cause is going to keep us going!
The funds raised will support Viva!'s campaigns and raise awareness about MooFree May – their current campaign which encourages the British public to ditch dairy and try delicious dairy-free alternatives. Dairy is not only a terribly cruel industry, but it has also been scientifically proven to be harmful to both the environment and our own health in many ways.
Our target has always been to raise £500 so if we can get anything over that then mission accomplished!
---
Support Joe and Mike by donating through JustGiving. OR text PIZZA 5 (or any amount you like) to 70085 to sponsor £5
(texts cost std network rate + donated amount). How will we use your info?