Media release published at April 5, 2020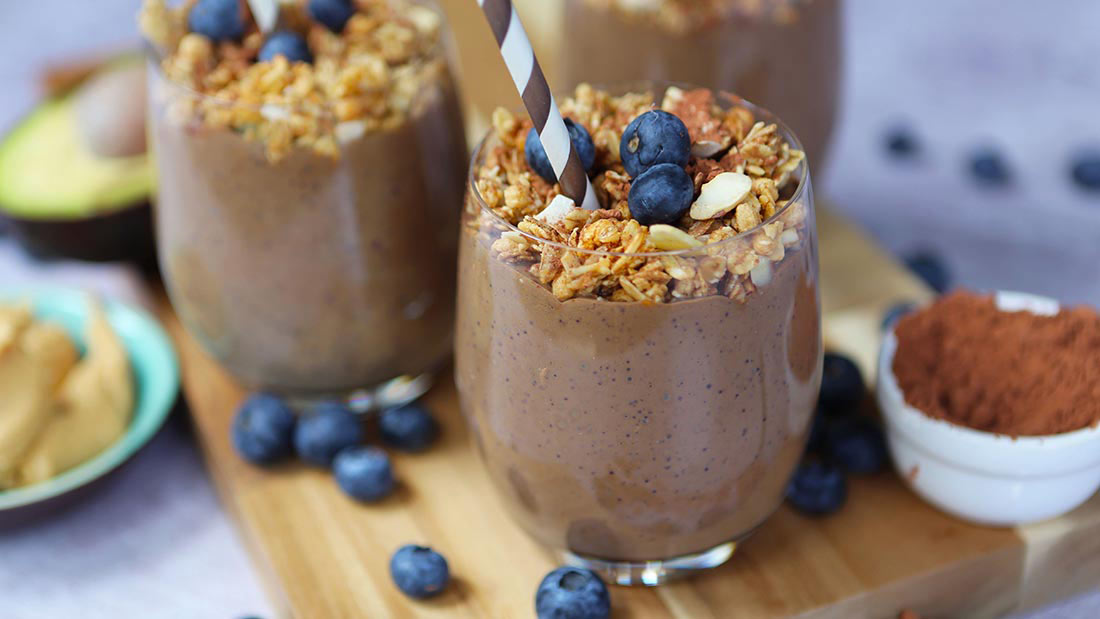 Top tips for what to eat while working from home
Recipes to help

maximise

your effectiveness
How to keep healthy and focused whilst in isolation
For most of us, our daily work routine has been somewhat different in recent weeks. Since the government implemented social distancing guidelines earlier this month most places of work have closed, resulting in millions of employees working from home.
This dramatic change in routine has left many of us in a state of shock and confusion, raising important questions like – what do I eat now I can't go to Pret? Each day, millions of us look to supermarkets, cafes, restaurants and other food providers to supply our insatiable appetite for food on the go. Pre-packaged food often includes useful information such as calories, nutritional content and many healthy foods boast exciting ingredients like superfoods and antioxidants.
As we find ourselves in the midst of a national lockdown and we can't rely on our favourite outlets for food – how are we going to make sure we eat well at home? The food we eat has a huge impact on how we feel so it is integral that during these challenging times we take care to look after our bodies and fuel them with the right foods.
Viva! are the UK's leading vegan campaigning charity and their experts from Viva! Health have compiled a simple list of key foods that will help you to stay focused, maintain energy levels and support your immune system whilst in self-isolation. Viva!'s Vegan Recipe Club have created a list of easy, delicious and store cupboard friendly recipes which use these ingredients so you can stay healthy and motivated during lockdown.
Energy
Wholegrain carbohydrates and foods rich in fibre play an essential role in keeping your body energised. Here is a short list of some of these foods that can help you achieve this:
most fruit and vegetables – particularly bananas
pulses (peas, beans and lentils), nuts and seeds
wholegrain products including brown rice, oats, quinoa, wholegrain bread and whole wheat pasta
It's important to note that in this feature we're focusing on foods that are slow energy releasing as they keep us fuller and maintain energy levels for longer. There are many quick energy-releasing foods such as dates, refined cereals and potatoes – click here to find out more.
Concentration
Low serotonin levels can lead to trouble concentrating, remembering things and even feelings of anxiety and lack of motivation. Serotonin is made from the amino acid tryptophan, which we cannot make so must obtain it from our diet. Consumption of certain foods allows us to manufacture more serotonin which can boost concentration – some of the best foods for this are:
nuts (cashews, walnuts, almonds and pistachios)
seeds (sesame, pumpkin, sunflower and

chia

)
soya beans (edamame)
tofu and tempeh
pulses (peas, beans and lentils)
oats and wheat germ
bananas, spinach and other leafy greens
Immunity
Here are some of the most potent foods for supporting your immune system. They are inexpensive, widely available foods and can be enjoyed by everyone. They won't make you virus-proof but the more robust your immunity is, the better your chance of either avoiding the infection or fighting it with only mild symptoms.
Overwhelmed by all of this information? We thought you might be. Here are the Vegan Recipe Club's top recipes incorporating all of these incredibly beneficial ingredients so you can easily stay healthy and focused in self-isolation.
Breakfast
Get your day off to a smashing start with this recipe packed full of protein and slow releasing carbs https://www.veganrecipeclub.org.uk/recipes/smoky-baked-beans
A very quick, healthy and hearty breakfast which can be made the night before. The yummy oats provide slow releasing energy and are good for encouraging serotonin production
https://www.veganrecipeclub.org.uk/recipes/overnight-oats
Tofu packs a protein punch and this easy recipe will keep you full all morning https://www.veganrecipeclub.org.uk/recipes/super-fast-scrambled-tofu
Snacks
Try this smoothie to

de-frazzle

your brain after a morning full of virtual meetings https://www.veganrecipeclub.org.uk/recipes/concentration-smoothie
Swap shop-bought sugary snacks packed with refined sugar for these delicious wholefood treats https://www.veganrecipeclub.org.uk/recipes/easy-energy-balls
Lunch
Perfect for a work lunch where you're short of time… bung everything in the jar, add boiling water and you're good to go. Add some garlic, ginger and seeds for an extra health-boost!https://www.veganrecipeclub.org.uk/recipes/

vegan-diy-healthy-pot-noodle

A simple healthy recipe and perfect for when you're short of time. Brimming with the benefits of immunity-boosting garlic and

superfood

tahini packed with calcium https://www.veganrecipeclub.org.uk/recipes/toast-all-good-stuff
Bring the taste of the exotic to your table with this fragrant and super healthy soup. Perfect for supporting your immune system with lots of fresh ginger https://www.veganrecipeclub.org.uk/recipes/

homemade-instant-thai-soup
Dinner
Wholemeal rolls and kidney beans make this speedy recipe a filling and nutritious dinner option https://www.veganrecipeclub.org.uk/recipes/fast-healthy-burgers
Missing that delicious

katsu

curry from a certain high-street restaurant chain? Get your

katsu

fix right here – packed with nutritious tofu you'll be full until breakfast
https://www.veganrecipeclub.org.uk/recipes/

tofu-katsu-curry

OK so this one isn't packed with

superfoods

but it is way healthier than the traditional dairy version. Add spinach, broccoli and use whole wheat pasta for a super healthy option https://www.veganrecipeclub.org.uk/recipes/quick-healthy-vegan-mac-n-cheese
Desserts
Satisfy your sweet tooth with this deceptively healthy 5-minute dessert https://www.veganrecipeclub.org.uk/recipes/

fruity-froyo

Save your hard-earned cash by making your own healthy vegan ice-cream. It's one of your five a day and also contains super healthy nuts https://www.veganrecipeclub.org.uk/recipes/super-fast-healthy-ice-cream
With this amazing range of recipes, it can be fun and easy to incorporate super healthy and deeply nutritious ingredients into every meal. So why not make the most of your time at home and get in the kitchen, pop the radio on and get cooking!
---
References
Arreola R, Quintero-Fabián S, López-Roa RI, et al. 2015. Immunomodulation and anti-inflammatory effects of garlic compounds. Journal of Immunology Research. 2015:401630.
Grzanna R, Lindmark L, Frondoza CG. 2005. Ginger – an herbal medicinal product with broad anti-inflammatory actions. Journal of Medicinal Food. 8 (2) 125–132.
Kunnumakkara AB, Bordoloi D, Padmavathi G, et al. 2017. Curcumin, the golden nutraceutical: multitargeting for multiple chronic diseases. British Journal of Pharmacology. 174 (11) 1325–1348.
Viva! is a registered charity 1037486
For more recipes please visit www.veganrecipeclub.org.uk
Viva! Health is the world's leading resource on vegan health and nutrition www.vivahealth.org.uk
High-resolution photos of the recipes are available here.
Please contact Viva! PR Manager Siobhan Dolan siobhan@vvia.org.uk for comments, interviews or more information.