minute reading time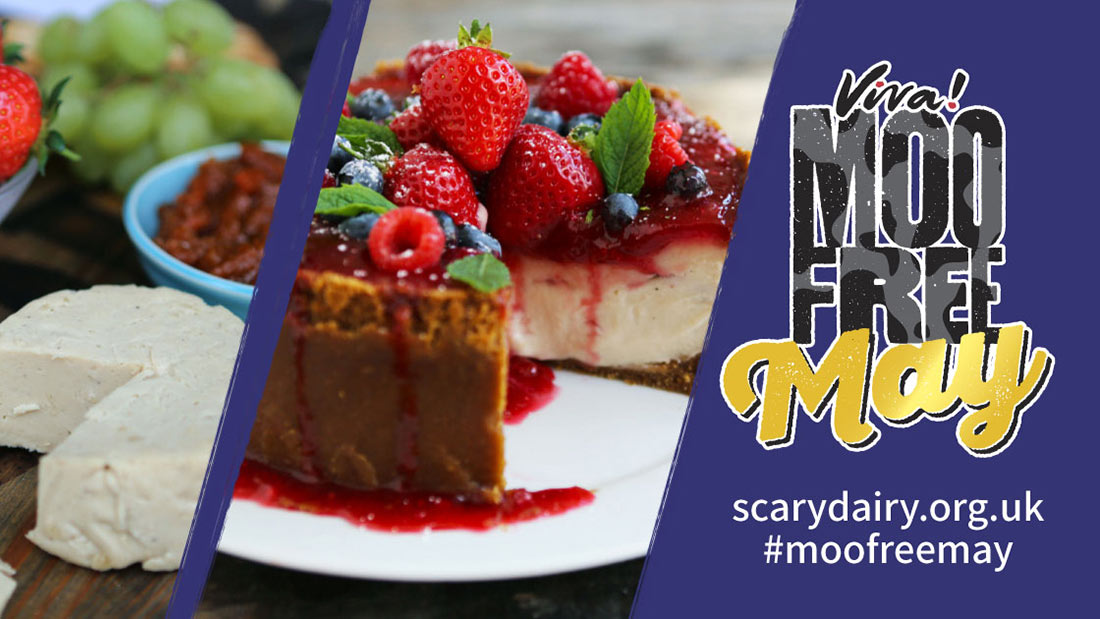 This MooFree May we're taking our actions online – sharing information about animal welfare, human health and the environment, while encouraging the British public to ditch dairy once and for all.
This year our MooFree May campaign enters its third year! Launched in 2018 the initiative has been a huge success and we hope to reach even more people this year. Obviously, the circumstances are very different from those previous but we hope you'll still join us digitally.
Last year our online campaign was supported by lots of Street Action events, when we visited cities all across the country to promote veganism. Together with our volunteers we reached thousands of people. With COVID-19 threatening people's lives, we won't be able to take MooFree May out on the street with us. However, this year it's more important than ever to raise awareness about the impact of animal agriculture with three quarters of the world's new or emerging infectious diseases coming from animals, mainly through trade in wildlife and factory farming.
While this pandemic is turning our world upside down and claiming lives around the globe, we can't forget that the animals including cows in the dairy industry are still going through horrendous suffering every single day. With fewer staff being allowed to work on farms and financial pressure due to this crisis, welfare standards are likely to be even worse than under normal circumstances.
Scary Dairy
We're brought up believing in an idyllic image of dairy cows grazing fields, eating grass and magically producing milk. Yet in reality, dairy cows are subjected to a perpetual cycle of artificial insemination, calving and milking year after year in order to keep their milk production up.
After a nine-month pregnancy, all dairy cows are separated from their young between 24-48 hours after birth. This happens across the board, whatever the system – organic, 'free-range' or zero-grazing. If born a boy he'll likely be shot in the head as a useless by-product and if born a girl she'll be reared as a milk machine to eventually replace her mother in the milking herd.
This continuous exploitation of a dairy cow's reproduction system causes unnecessary suffering on an industrial scale but with so many amazing plant-based alternatives now available to us, it's never been easier to go dairy-free.
How you can help
Download and share our social media graphics.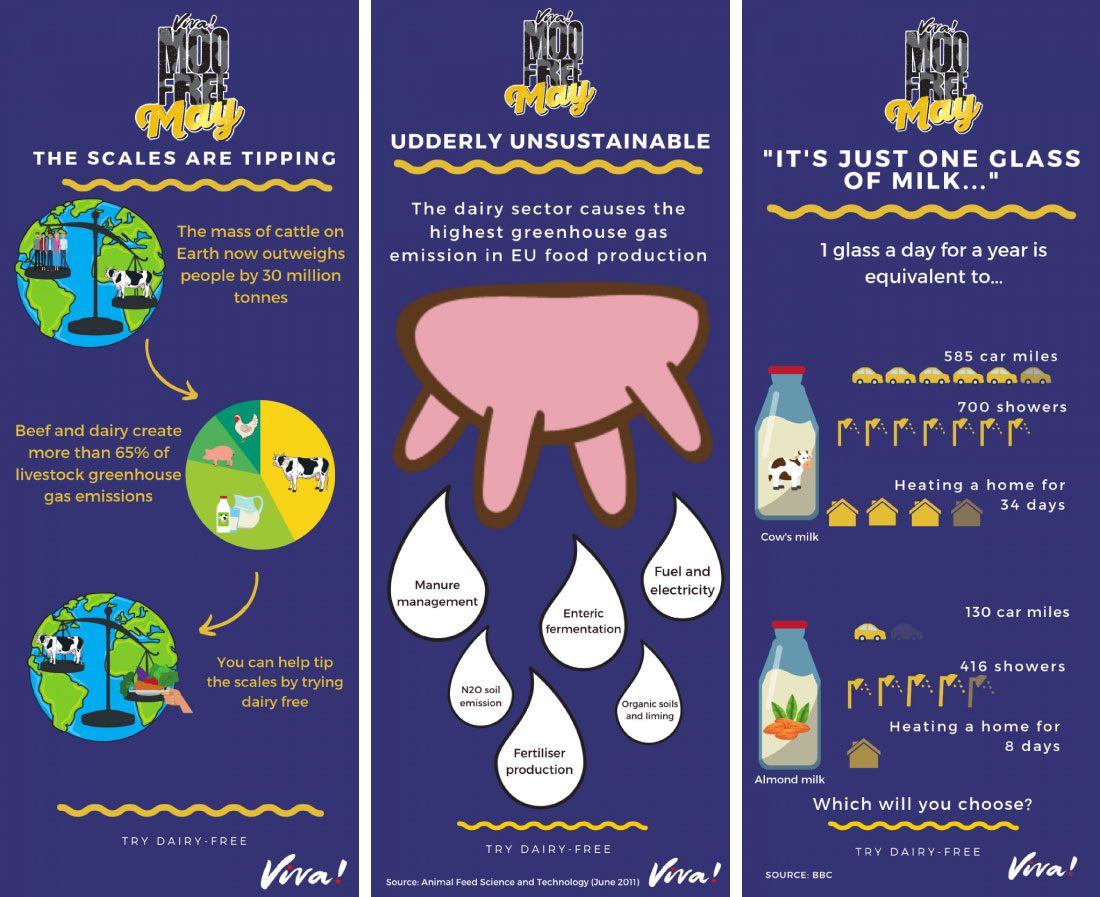 Leave a little MooFree May taster on your friend's doorstep. Surprise them with delicious vegan chocolate and write a little card with a fact about cows they probably didn't know.
If you think chocolate isn't enough, cook or bake your friends a MooFree May cake or meal and leave it on their door step. We have plenty of easy vegan recipes which won't fail to impress your non-vegan friends.
Make a short cookery video or share one of ours which we'll be posting on our social media sites throughout the month.
Do you need help going dairy-free?
Viva! has a vast amount of resources to help you go dairy-free. You can order our Everyone's Going Dairy Free guide or have a look at our online section. If you've got a friend who's been wanting to go dairy-free but hasn't quite managed yet to give up cheese, why not get them one of our brilliant guides to help them with their journey?!
Happy MooFree May everyone!