minute reading time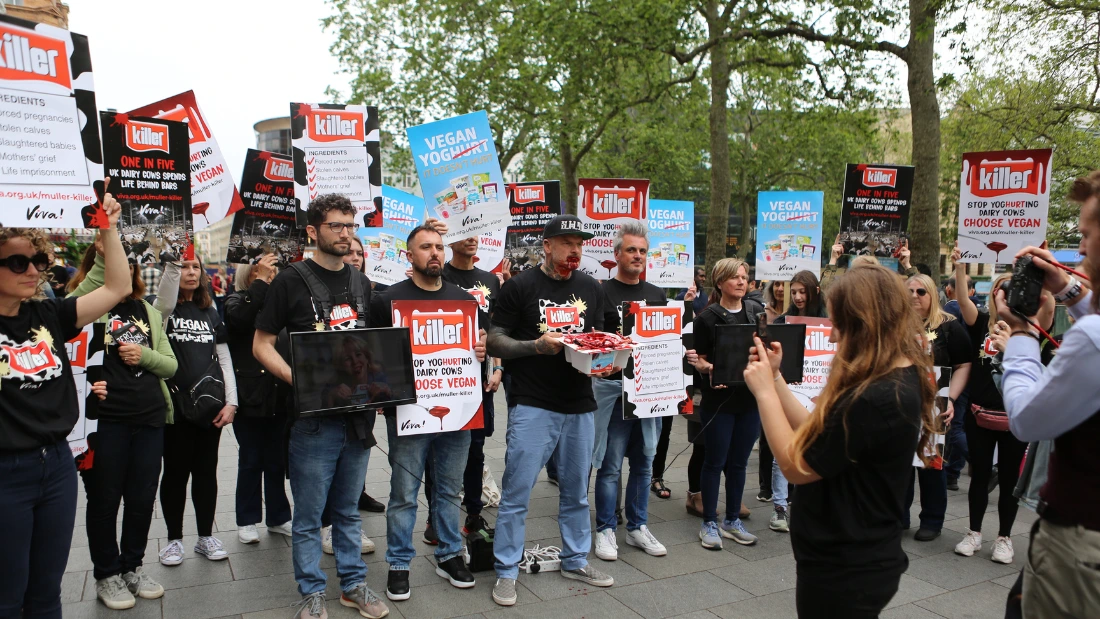 On Friday 19 May, Viva! campaigners were joined by none other than Matt Pritchard! Matt joined us in Leicester Square, along with around 20 volunteers, to launch our biggest anti-dairy campaign yet.
Matt dined on a mock Müller corner yoghurt, but the fruit was replaced with a gory concoction of replica blood and umbilical cords – specially designed by a prop team to look like the real deal. The stunt represents the blood and gore associated with the dairy industry, which is hidden from the public eye.
The shock from members of the public was palpable, with many individuals stopping to stare, take videos and speak to volunteers about dairy farming. One thing is for sure; many people still don't know the reality of the dairy industry, nor how the exploitation of these animals is not only incredibly cruel but also damaging to the environment and our health.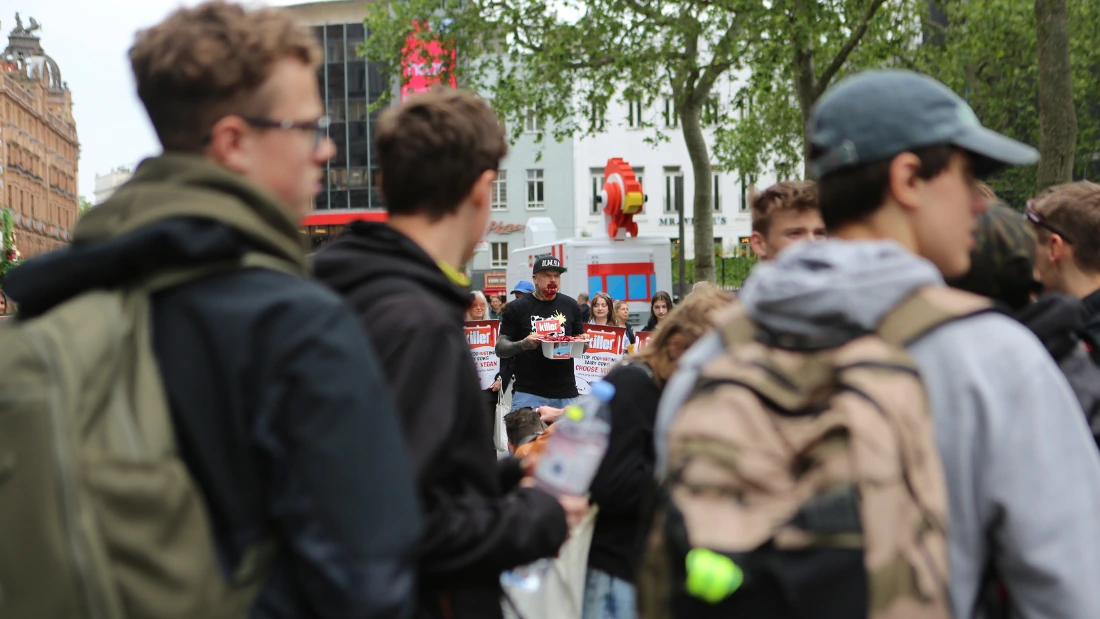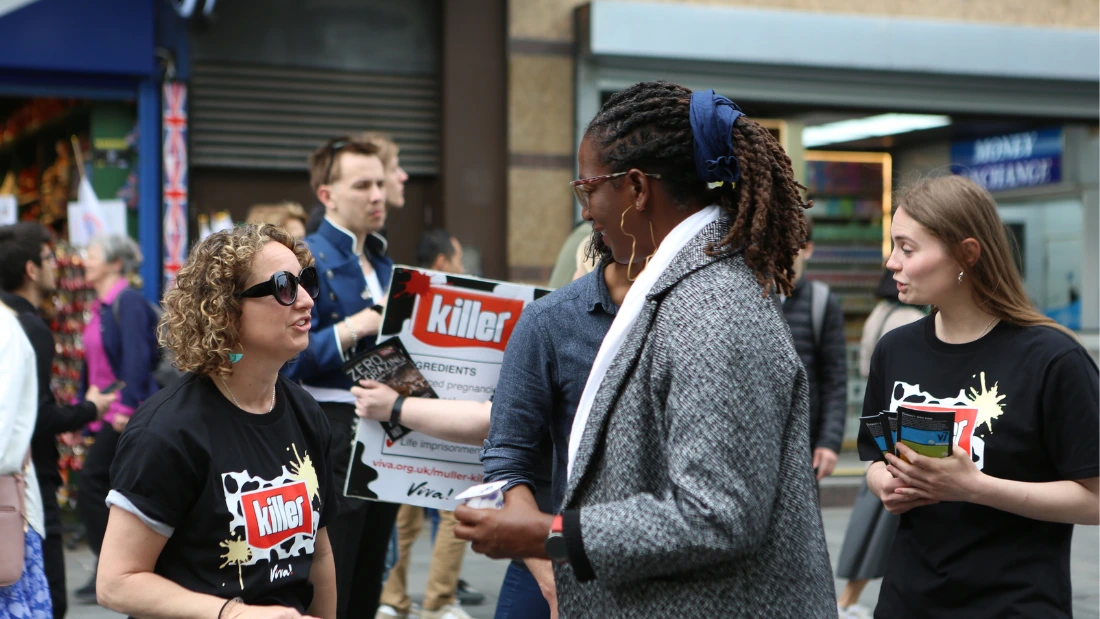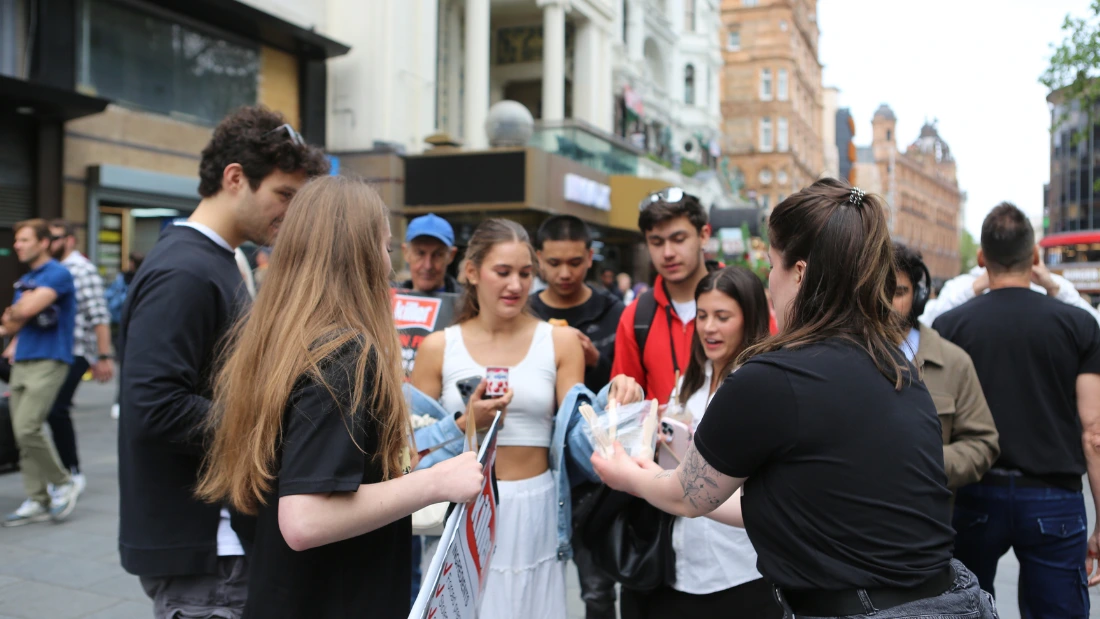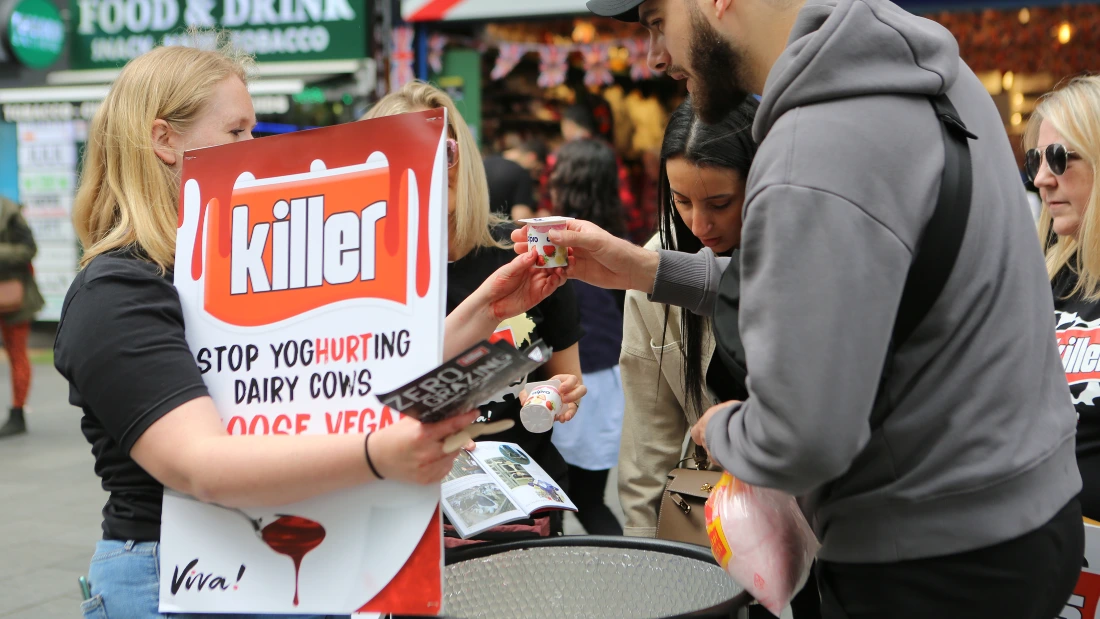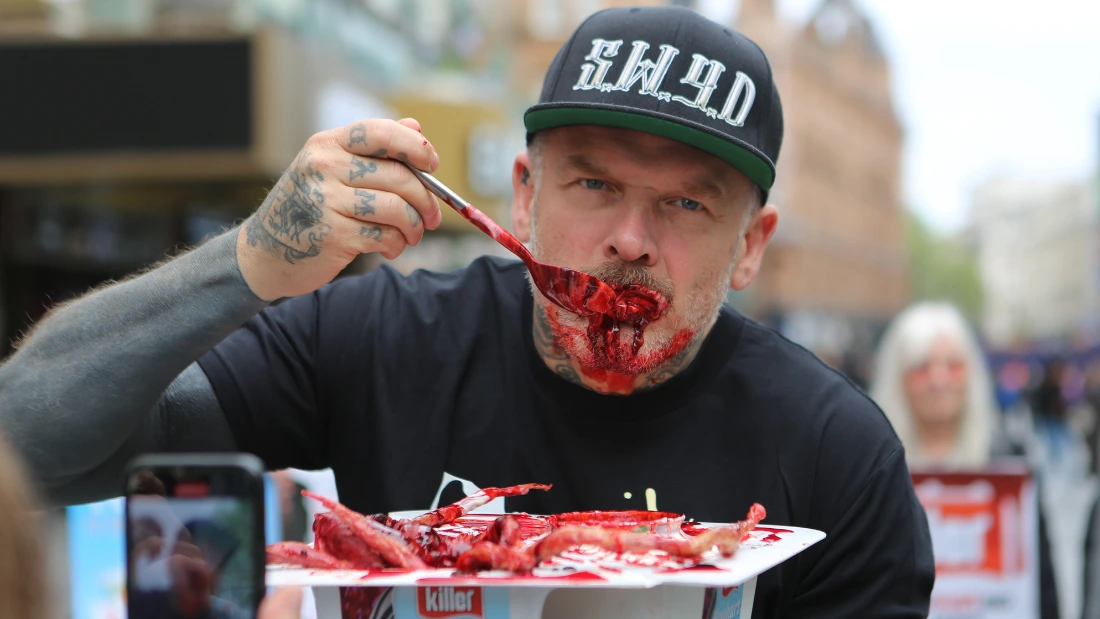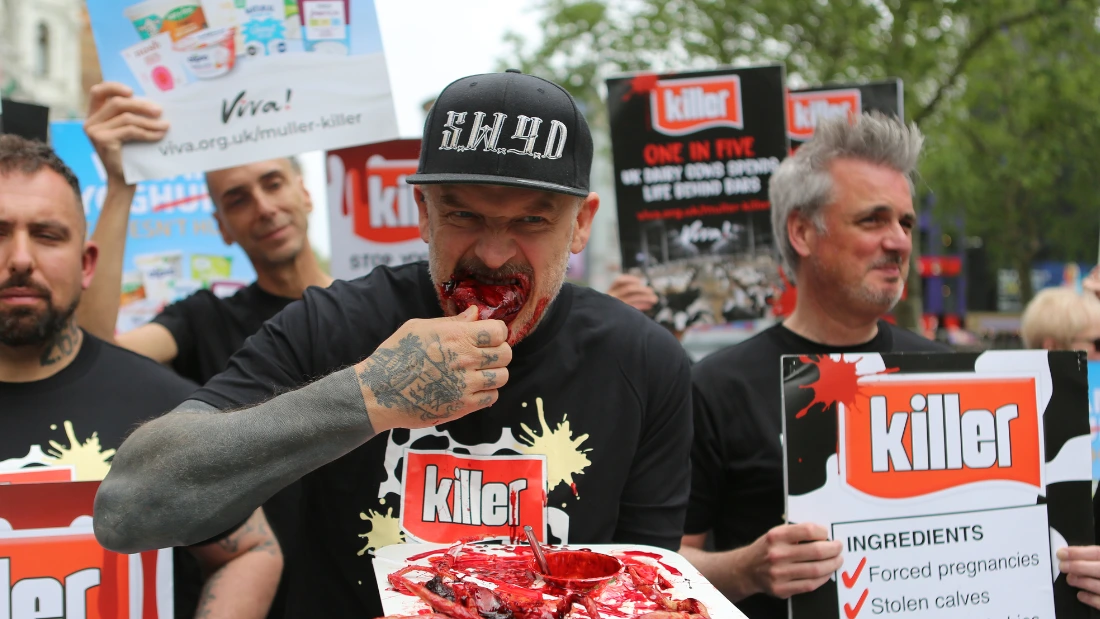 What's so bad about dairy?
After a nine-month pregnancy, mothers have their newborn calves wrenched from them and their maternal bonds severed – all so humans can drink their milk. Death is commonplace. Mother cows are killed when their milk production drops and tens of thousands of male calves are slaughtered at less than a month old, due to the fact they can't produce milk — others are reared for cheap beef and find themselves sent to slaughter at a fraction of their natural lifespan.
Our campaign centres around the discovery that around one in five dairy cows across the UK will never feel the sun on her back, spending almost her entire life locked inside the same shed. It's a practice called zero grazing and is on the rise in order to "reduce feed costs and provide a quick return on investment."
Matt's bloody and theatrical stunt wasn't the only thing happening at our launch; we also had a video van showing our Killer yoghurt advert on repeat driving around London. The van was spotted touring several famous landmarks in London, such as Big Ben, Piccadilly Circus, Trafalgar Square and the Houses of Parliament. This eye-catching new advert begins as any yoghurt advert does, only for the flavour to be revealed as 'umbilical cord' and for the public to be confronted with some of our investigation footage.
We were also joined by 20 incredible volunteers, who held our brand-new placards, engaged with members of the public and handed out free Alpro yoghurts. The conversations were enlightening and educational, with volunteers handing out anti-dairy flyers and our  'Everyone's Going Dairy Free' guide, before leaving them shocked at how tasty the yoghurts are!
It was a truly inspiring day and a great way to kick off our upcoming summer YogHURTS tour! We will be travelling around the UK, educating members of the public about the truth behind the dairy industry. Like our launch event, we'll also be handing out dairy-free yoghurts and providing the public an opportunity to try vegan.
If you'd like to join us or host your own event you can order a stall pack from our Müller Killer campaign page.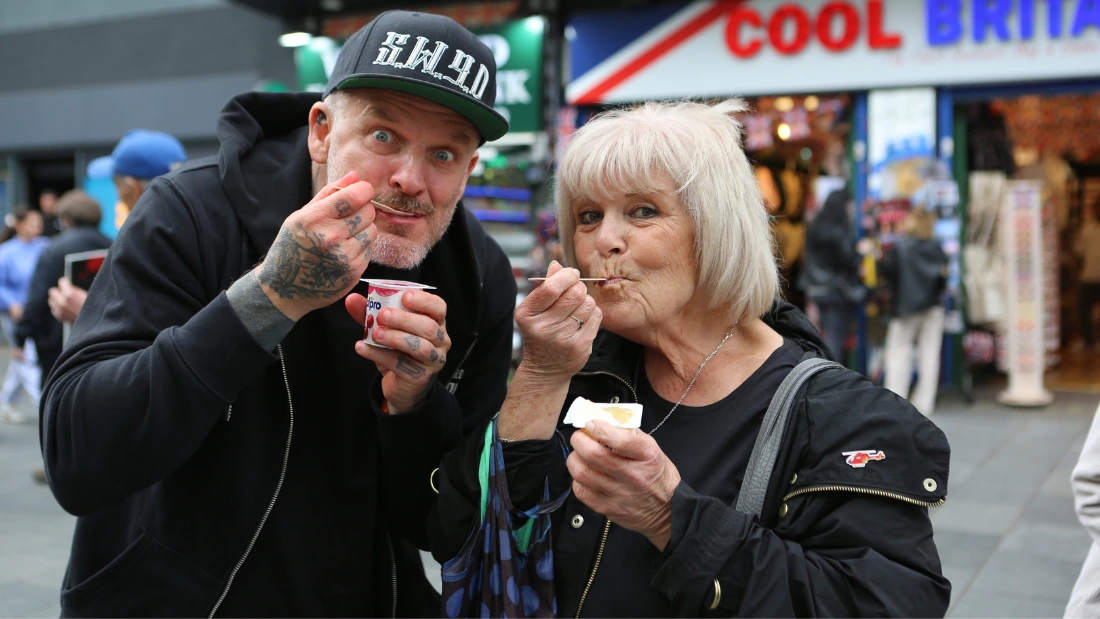 Thank you!
A massive thank you to each and every one who turned up to our launch event with Matt, to hold a placard, have a conversation or hand out some yoghurts. It was a great success and this was thanks to our amazing volunteers! A big thank you once more to Matt Pritchard, for joining us and taking on such a gruesome stunt!
You might also like...