minute reading time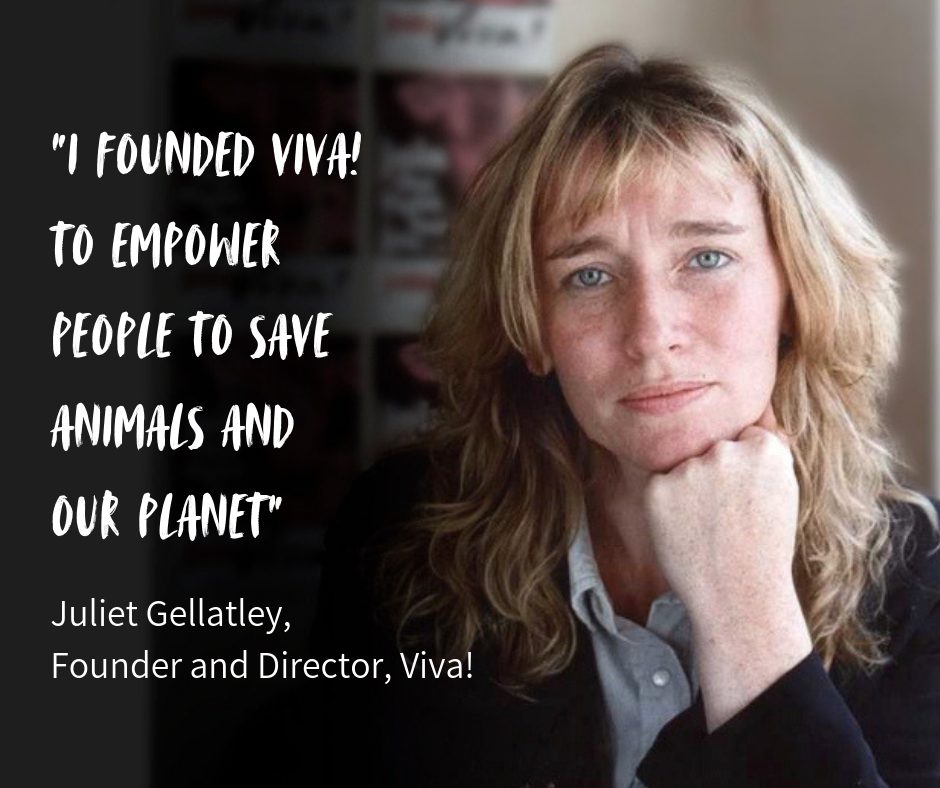 Juliet Gellatley – Founder and Director, Viva!
Juliet is such a strong and inspirational woman. She founded Viva! 25 years ago and hasn't stopped campaigning for the animals since. Her constant drive to push for positive change encourages us all to stay hopeful and focused on the end goal – a vegan world.
"I founded Viva! to empower people to save animals and our planet; to protect their own health. All this just by going vegan. It sounds so simple and yet we fight gigantic industries invested in keeping the status quo. Viva!'s tenacious campaigns show people why and how to change, and the message well and truly is blasting its way through, helping create a more positive and caring world"
Dr Justine Butler – Senior Health Researcher and Writer, Viva!Health
Justine is our vegan health guru here at Viva!, but don't let her health conscious and caring nature have you fooled – Justine is bold and brave. She will call out every piece of click bait and anti-vegan articles in today's headlines and trump their nonsense with straight to the point knowledge and facts. She credits her punk history as giving her an edge in the fight to make the world vegan.
"I have a healthy disrespect for perceived wisdom and question everything" says Justine who uses her PhD in Molecular Biology from Bristol University to help her dispel myths about meat and dairy and promote veganism as the best diet for humans, animals and the planet!
Maryanne Hall – Food and Cookery Manager
Maryanne is loved by everyone in the office – maybe it has something to do with all the vegan treats we get to try for Vegan Recipe Club. Just kidding, it is of course because she is a wonderful woman doing fantastic work to push the growth of veganism. When she's not tempting us all with tasty vegan food, Maryanne is writing recipe guides, preparing for cookery demos, writing blogs and pretty much doing everything within her power to prove to people that a vegan diet is not only the healthiest but the tastiest option!
"I went vegetarian when I was twelve then later vegan and since then I've made it my mission to create delicious plant-based dishes and treats for everyone."
Lex Rigby – Campaigns Manager, Viva!
As Viva!'s Campaigns Manager, Lex oversees the campaigns team who constantly work to expose animal abuse and promote veganism. Her work here at Viva! is imperative to the future of veganism and the end of animal suffering! Without the committed Viva! team working solidly on investigations and campaigning, veganism would not be where it is today.
"Campaigning for the rights of others is a selfless act of defiance and a key driver for change in all social justice movements. For farmed animals there are many incredibly inspiring women at the forefront – Juliet Gellatley, Patty Mark, Melanie Joy, Jo-Anne MacArthur and Zimbabwe's all vegan anti-poaching squad . Take note, and take action."
See our latest campaign here.
Sophie Delarny, Festivals and Events Manager
Viva! began running vegan roadshows to showcase a vegan lifestyle over two decades ago and now others have followed suit resulting in vegan events becoming an industry within itself! Sophie has such an important job to create events that not only vegans can enjoy but where non-vegans feel welcome and leave with a lot more to think about. We get many messages from people having gone vegan after attending one of our events, so thank you Sophie!
"We have fought for women's rights for years, and continue this fight. Now that we are gaining a platform, we must fight for those who can't speak for themselves."
We have a huge festival planned this year in celebration of our 25 year anniversary and we can't wait. Click here to see all of our events we have planned this year.
---
And this is just to name a few of the incredible women who work at Viva!. We have a whole team of passionate men and women who push Viva! to the forefront of the vegan movement. We hope we have inspired you to not only be a strong women, but a strong vegan women, that speaks out for the animals, the people and the planet!
---
About the Author
Claire is founder of Grow Up Vegan a platform made to inspire everyone and to encourage the younger generation to – Grow Up Vegan! She is our blog writer and creative content creator here at Viva!. Having an extensive background within the vegan community, and being vegan for over a decade, she began her journalism and creative career by writing for a popular well-being company as their 'vegan expert'. Claire now works closely with vegan charities, businesses and activists to spread the vegan message far and wide.