Post published on November 26, 2018
minute reading time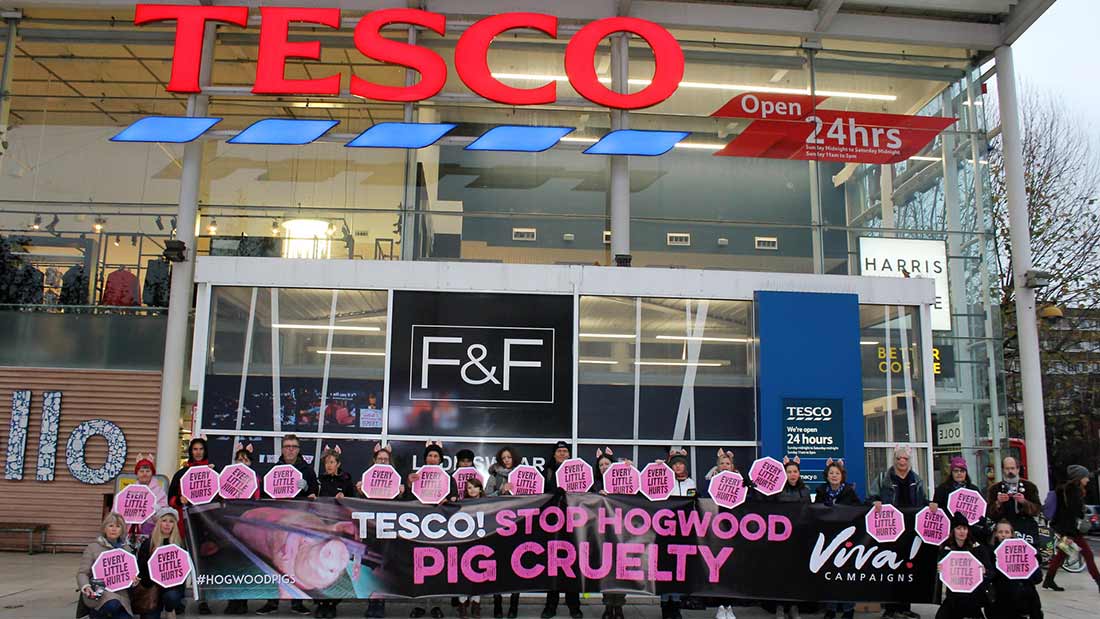 Around 30 activists, including animal rights advocate and Big Brother star Kay Lovelle, gathered outside two Tesco superstores in London this past weekend to support Viva! Campaigns' call for Tesco to drop Hogwood Horror Farm once and for all!
In 2017 investigators for Viva! Campaigns filmed severe overcrowding, pigs covered in excreta, barren, filthy conditions, animals abandoned to die, the cannibalism of corpses left to rot amongst the living and decaying piglets engulfed in a sea of writhing maggots at Hogwood Pig Farm in Warwickshire. These shocking breaches in animal welfare were reported to the government's Animal and Plant Health Agency, Trading Standards, the RSPCA, Red Tractor and Tesco, who the farm supplies.
However, Tesco dug their heels in saying 'we work with our suppliers to improve their standards', Red Tractor assurance dismissed the footage saying that there was nothing wrong with Hogwood and the government, as usual, did nothing.
To test Tesco's claims, investigators for Viva! Campaigns returned to Hogwood Farm one year later and again filmed appalling scenes of overcrowding, sick and dying pigs callously abandoned in gangways, without food or water and, most disturbingly, the live cannibalism of one particularly dejected piglet.
Hogwood returned to the headlines, with an exclusive exposé featured in the Daily Mail, but despite our calls, emails, letters, a Nationwide Day of Action outside 150 Tesco stores and more than 77,000 petition signatures submitted to Tesco's top executives, Hogwood continues to supply Tesco and carries the Red Tractor seal of approval.
Between 11am and 4pm footage from both investigations was broadcast outside Tesco Hammersmith and Tesco Kensington via a giant video van, featuring two eight-square-metre screens and one four-square-metre screen, while activists handed out leaflets, displayed an 8m banner calling for Tesco to stop Hogwood pig cruelty and encouraged the public to watch Viva!'s 3D virtual reality footage – allowing observers to experience the conditions on Hogwood Farm first-hand.
The response was overwhelmingly positive with many Tesco consumers taking the time to engage in conversations about the farm's conditions, watch the video footage, read through our Hogwood Horror Farm leaflets and add their voice to ours.
A massive thank you goes out to Kay Lovelle for joining us and urging Tesco to stop Hogwood pig cruelty. Consumers have the right to know where their pig meat is coming from and our message to Tesco remains clear: do the right thing and cut ties with Hogwood Farm for good.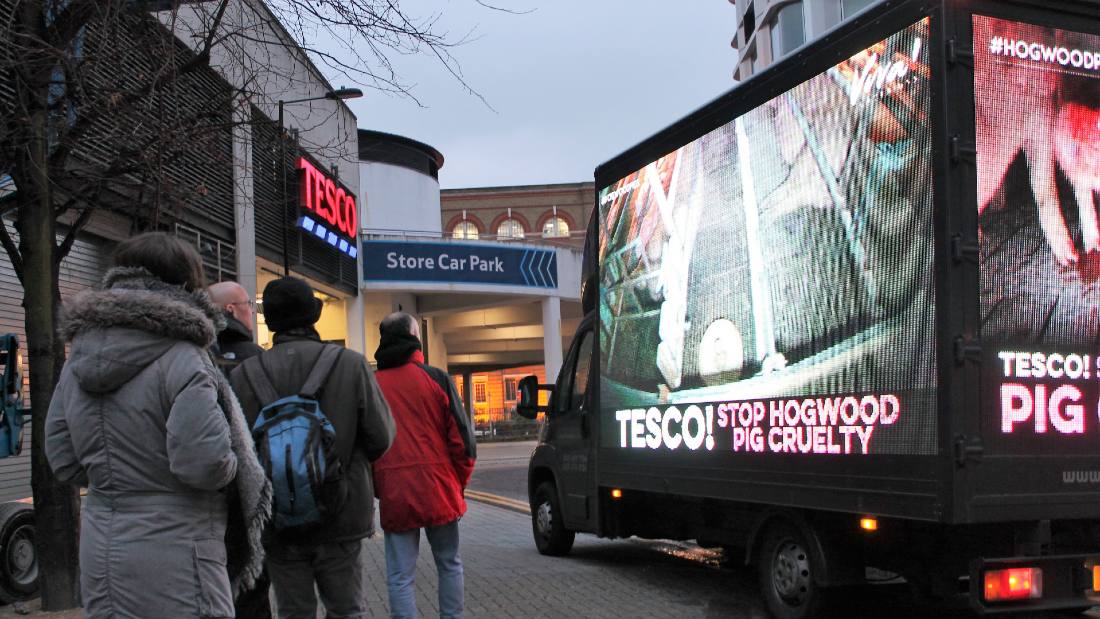 You might also like...