Post published on August 13, 2018
minute reading time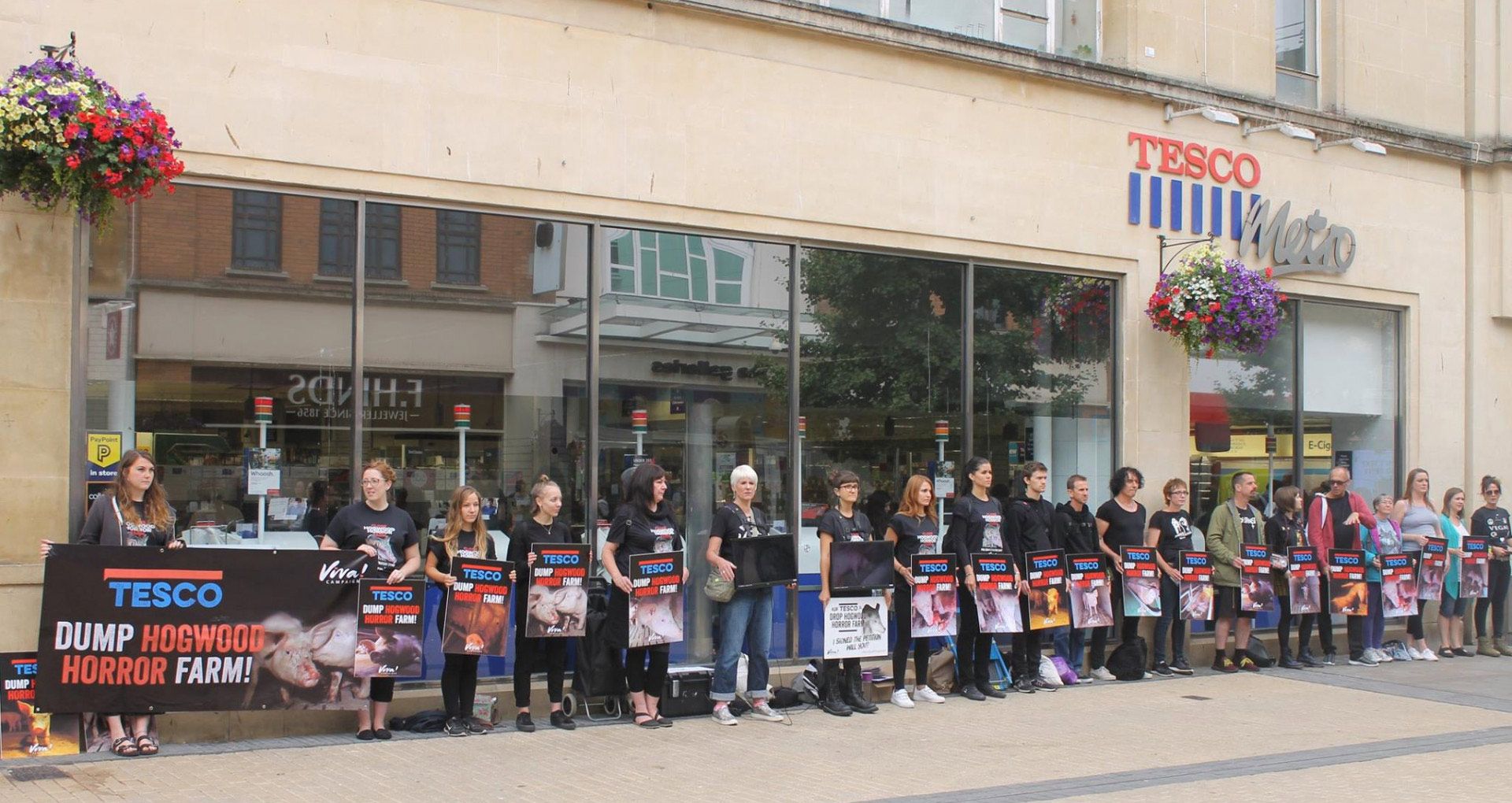 On Saturday 11 August, Viva! hosted their second Day of Action against Tesco for failing to drop Hogwood "Horror" Farm.
A staggering 150 stores were protested by incredible campaigners all around the country.
The Day of Action follows a second Viva! Campaigns investigation into Hogwood Farm, revealing heart-breaking scenes of severe overcrowding, pigs covered in excreta, barren, filthy conditions, animals abandoned to die, and cannibalism. In difficult-to-watch footage, one piglet who had been dumped in a gangway with other sick pigs, was being eaten alive. The same callous abandoning of animals in need was documented during Viva! Campaigns first investigation inside Hogwood in June 2017.
We released our shocking findings in The Daily Mail and Daily Star in July 2018, reaching thousands of people and swiftly called the Day of Action to send a loud and clear message to Tesco – they must drop Hogwood Farm as a supplier!
Tesco have so far refused to drop the farm as a supplier – reassuring customers that it takes animal welfare 'extremely seriously' and that it expects producers to meet 'stringent, industry-leading requirements'.
Around 600 door dropper and demo packs were ordered from Viva! and a huge effort was put in by campaigners across Britain to organise highly effective outreach events and protests outside an impressive 150 Tesco stores. We produced a new fact sheet, leaflet, t-shirt, postcard and posters for the big day. Thousands of leaflets were handed out, and petition signatures collected. Some used footage on TV screens outside stores to show Tesco customers conditions inside Hogwood.
Viva! staff kick-started the Week of Action with an outreach event at our local store in Bristol and invited the local newspaper – the Bristol Post. A photographer attended and the story was covered by Bristol Live. We handed out new Hogwood leaflets urging people to go vegan, and showed the footage on portable screens. Our founder and director, Juliet Gellatley, also spoke with the Tesco store manager and explained the conditions that we'd found on the farm, once again urging the company to drop Hogwood as a supplier. The manager said that she would feed back our concerns to Tesco Head Office.
During the week following, we urged people to download our social media toolkit and sign the petition – which currently stands at over 10,000 signatures!
WALSALL: Around 15 activists from Walsall Animal Rights joined together in the Midlands to protest. They said: "Viva! Day of Action – Tesco Walsall went very well! We had activists from very young upwards join us today. Also some first timers. Some of the public went and bought some pork alternatives after speaking to us, we found more vegans in Walsall! Tesco manager was sympathetic to our cause and said she had already flagged up the issue."
LEICESTER: Some amazing photos came in from Leicester and the group focused on not just holding our placards, but also discussing the issue with Tesco customers and collecting signatures for the petition. They said: "Despite the disruption from the city council we were resilient and carried on protesting. We managed to get 146 signatures and raise £26.47 in donations from the public."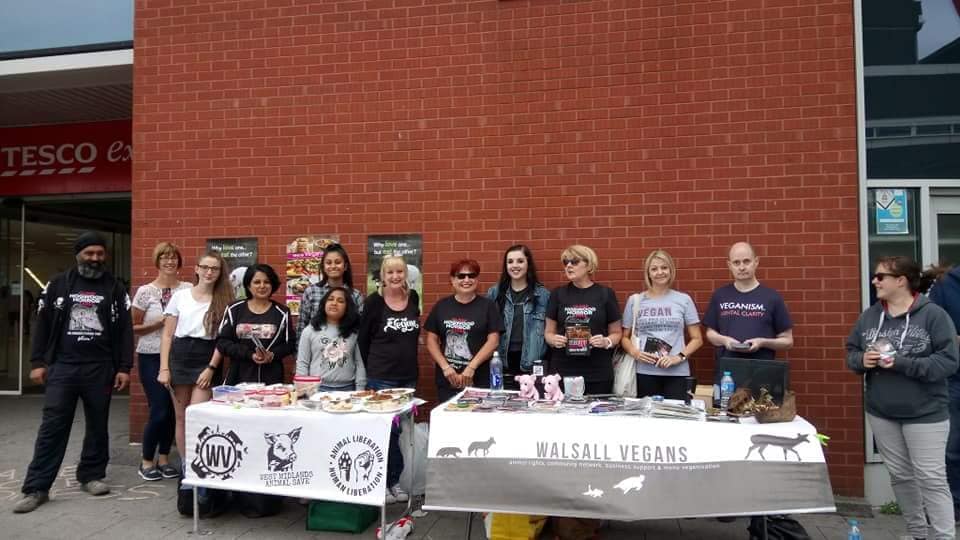 OXFORD: In the picturesque town of Oxford, a retail park was covered by local activists. They said: "We have had a good morning/afternoon of activism at Oxford retail park!
We spoke to people who didn't have a clue about Hogwood farm and the horror that goes on in there. Amazingly we found it was mostly men who came up to us to speak and sign our petition!"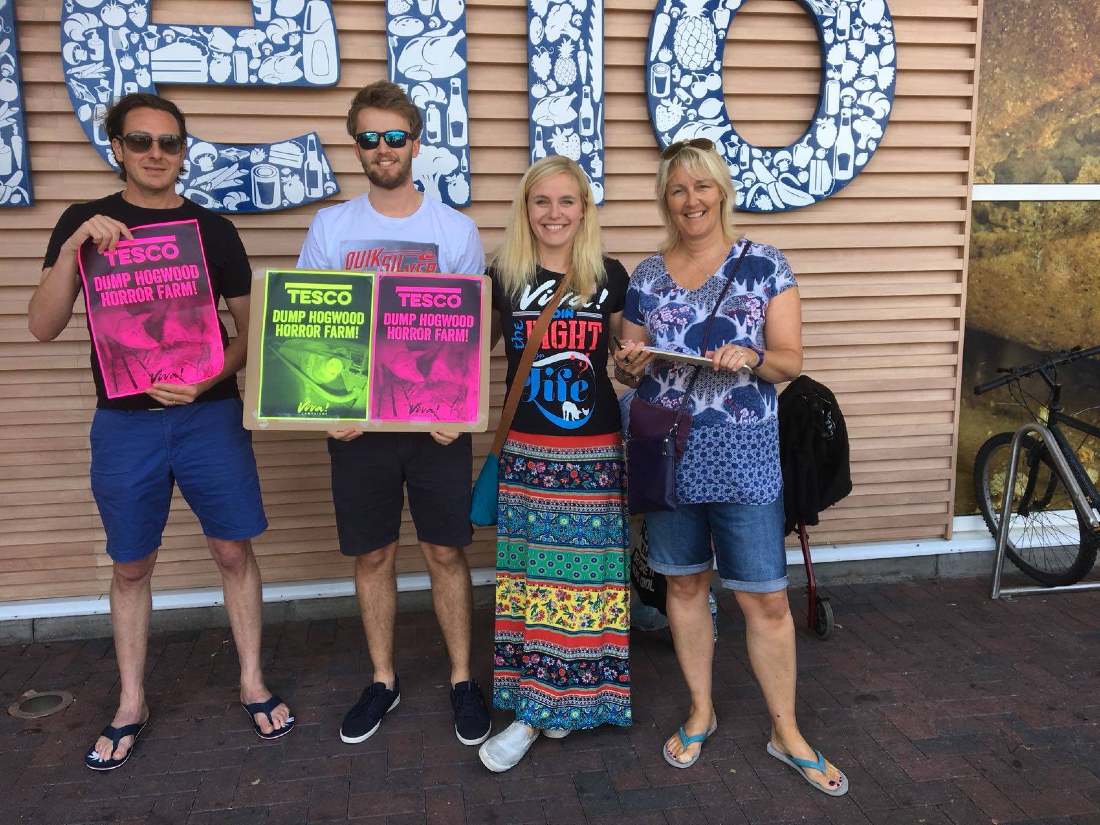 DORSET: In Poole, local activists dressed as pigs and said: "338 signatures on petitions, hundreds of leaflets distributed – great positive responses and conversations" and "Great day today! Great conversations and so much support from the public and even the Tesco staff."
WALES: In Pontypool, a campaigner and her dog, Nana, hit the streets to collect postcards and signatures in support of our campaign. She said: "Nana and I managed to give out ALL the leaflets today. We got soaked but who cares."
LIVERPOOL: Renowned local group, Team Tino Animal Rights, took time out from their busy campaigning to support us. They said: "What a great day in Mossley Hill, Liverpool! We got 101 signatures on the petition, so many leaflets given out and questions answered about Veganism. Hope our efforts make people think twice about eating pigs full stop, after seeing the Viva! footage and the images in the leaflets….."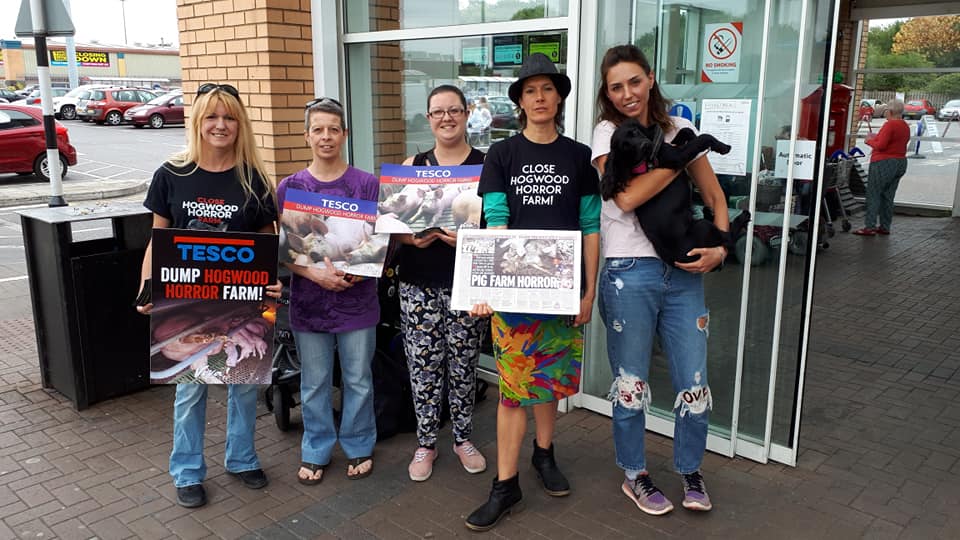 CORNWALL: In the south of England, activists handed out leaflets. They said: "Very positive reaction in Launceston, Cornwall today. We got 114 signatures and £30."
NORTHAMPTON: In central England, digital screens were used to show the new Hogwood footage. Activists in Kettering said: "Ten activists in total. For many it was their first activism, thank you Viva! for organising such a great event, we had a very positive response from the public."
CHESHUNT: Just outside of London, a family of activists said: "Over 70 signatures and a lot of positive engagement. We were made up mostly of my family but we were joined by a lovely vegan mother and her adorable little girl who was an absolute star giving out leaflets and telling people about the 'horrible crates mummy pigs are kept in.'
She is only five but is already a fantastic activist!"
"The staff at Tesco were also really friendly and we had some good talks with them too. I will send the signatures to you and call up next week to make a donation."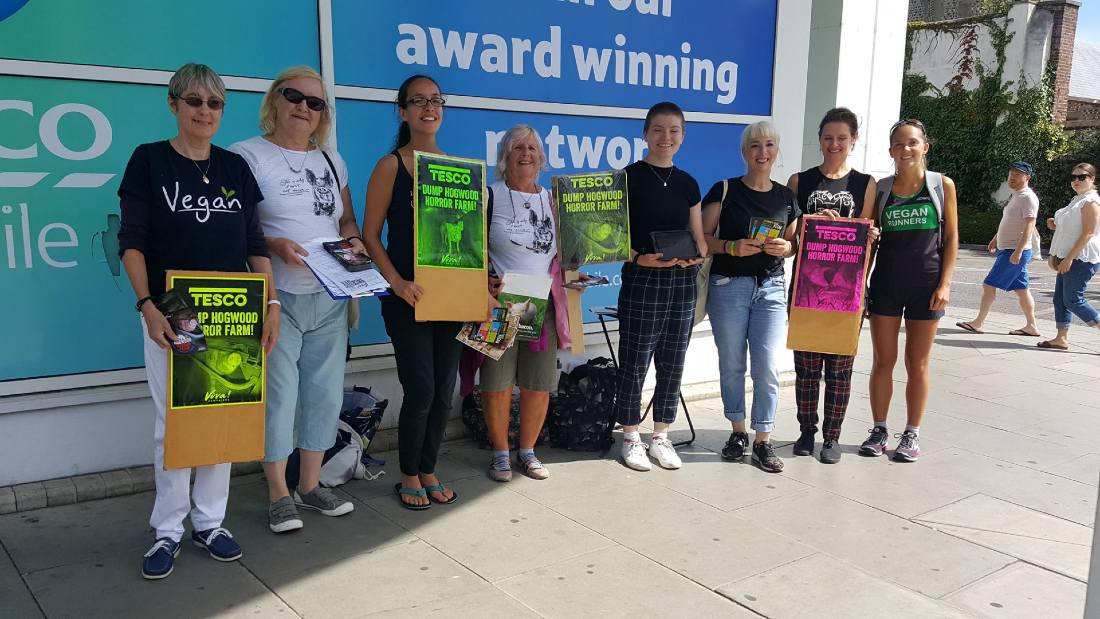 HOVE: TV screens were used in Hove, next door to Brighton. Activists said: "Thanks everyone for coming and speaking up for the animals. Ten pages of petition signatures, lots of seeds planted and a fair few vegans interested in getting active! Some interesting and emotional responses and conversations too."
BATH: In the South West, Bath Animal Rights showed footage and handed out leaflets. They said: "We have had a fantastic morning of activism here in Bath! Lots of positive conversations about animal welfare and veganism, and many people who didn't know about the horrors of Hogwood have now pledged to make more ethical consumer choices! We collected a fantastic 128 signatures to add to Viva!'s campaign to stop Tesco using Hogwood as their pork supplier."
STAFFORD: A busy and positive event took place in Stafford. Campaigners said: "Lots of great conversations with people today. Over 100 people signed our petition to ask Tesco to ditch Hogwood."
STREATHAM: Avid supporters of Viva!, Croydon Vegan Outreach, made their own Tesco tees to wear on their Day of Action!
BEDFORD: Around ten local activists showcased the Hogwood literature on an info stand.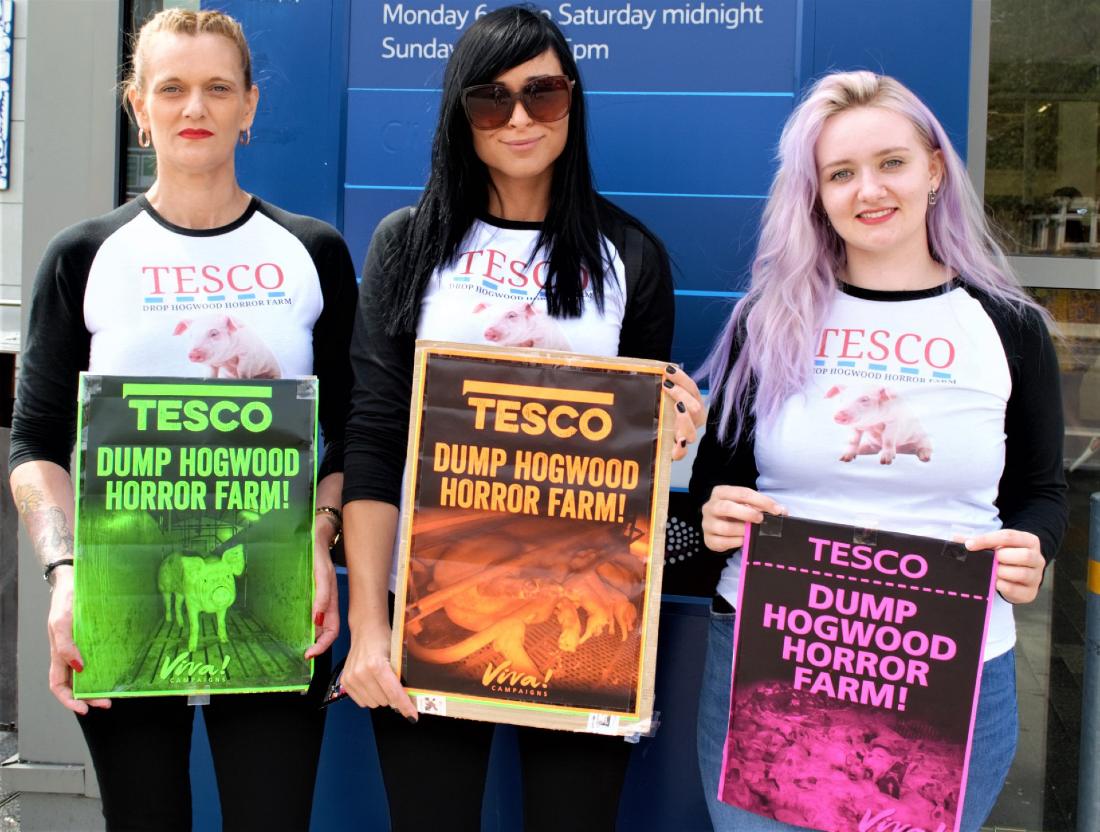 You might also like...