Media release published at March 29, 2022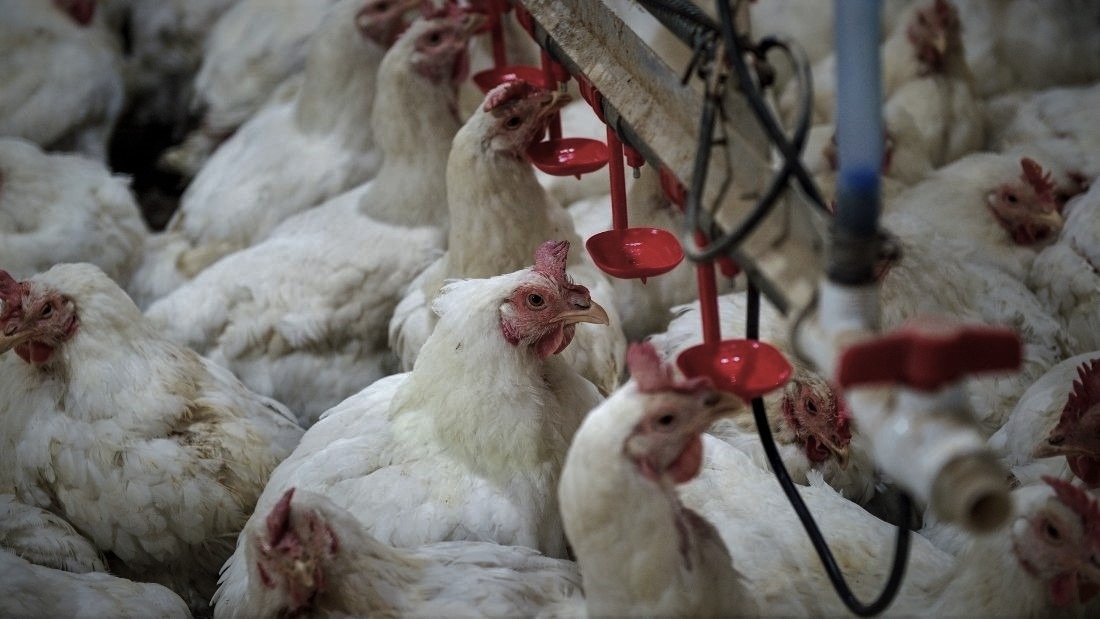 There is a deadly infection spreading around the UK at unprecedented levels – avian influenza, otherwise known as bird flu. Never before has the UK experienced such an outbreak. With infection numbers reaching record breaking levels and the UK Health Security Agency announcing a confirmed case of bird flu in a human – alarms bells have begun to ring.
Vegan campaigners Viva! have launched a new campaign highlighting the significant risks avian influenza poses to global human health and how the risk can be mitigated.
The most recent case of H5N1 bird flu was reported on March 28 in a commercial poultry farm near Stowmarket in Suffolk, adding to two others reported in Suffolk in the last eight days. This suggests biosecurity measures are failing. Since late October 2021, over 100 UK premises have been affected and over two million captive birds have been culled in an effort to stop the disease. By comparison, there were just 26 outbreaks in the UK last winter.
Avian Influenza Prevention Zones, strict biosecurity measures and lockdown – with all captive birds, including free-range and backyard flocks, ordered by law to be housed indoors – have failed, bird flu continues to spread. Since last November, farmers have been ordered to keep farmed birds inside and as of this week, have been prevented from selling their eggs as free-range.
The poultry industry likes to blame the spread of bird flu on migratory birds. So far this winter, over 500 wild birds have tested positive from one end of the country to the other. However, thousands more have died; ornithologists estimate 3,000-4,000 barnacle geese have died from bird flu on the Solway coast in Scotland.
Juliet Gellatley, founder and director of Viva! says: "The real problem is factory farming. Whilst wild birds undoubtedly contribute to the local spread of the virus in the wild, it is human commercial activities, particularly those associated with poultry, that are the major factors responsible for the global spread of bird flu.
"Large, industrial sized units, housing tens of thousands of birds, provide the ideal environment for infectious diseases to spread and mutate. Viva! have been into these hellholes and exposed the horrific conditions these birds are forced to endure during their short lives.
"Over one billion chickens are slaughtered for their meat in the UK every year and around 95 per cent are intensively reared on factory farms. There are 24 billion chickens in the world – more than three birds for every single person on the planet. Whichever way you look at it, domesticated poultry are massively over-represented among the world's bird population and we are giving bird flu every chance to mutate and become infectious to humans."
Avian influenza viruses are among the most dangerous viruses that can affect humans. The H5N1 strain of bird flu is a concern. There have been around 15,000 outbreaks in poultry around the world and almost 900 cases in people, over 450 of them died – mostly teenagers and young adults. That's a death rate higher than 50 per cent! Seasonal flu kills around 0.1 per cent of people infected.
Luckily, H5N1 is not easily spread between humans – yet! As we have seen with Covid-19, viruses can mutate and become more easily transmissible. Flu viruses are especially prone to changes and mutations occur frequently. Scientists say that H5N1 may be as few as three mutations away from becoming more easily spread between people.
Senior public health expert at the World Health Organisation, David Nabarro, warned that should it mutate and become more transmissible, a pandemic caused by H5N1 could result in a death rate of anywhere between five and 150 million people.
Writing in the journal Emerging Infectious Diseases, scientists said: "If this virus acquires human-to-human transmissibility with its present fatality rate of 50 per cent, the resulting pandemic would be akin to a global tsunami. If it killed those infected at even a fraction of this rate, the results would be catastrophic."
How you can support the campaign:
Viva! says it is time to end factory farming before it ends us!
Notes to Editors
Viva! is a registered charity 1037486
Viva! is the UK's leading vegan campaigning charity
To learn more about the campaign visit viva.org.uk/birdflu
For comments, interviews or more information please contact siobhan@viva.org.uk