minute reading time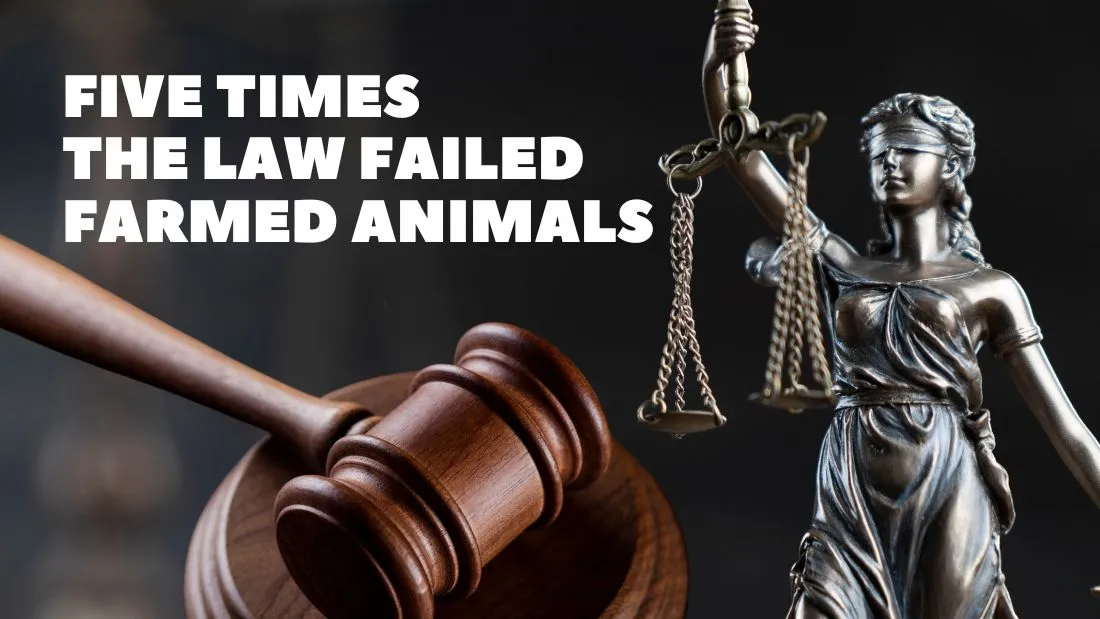 Despite bold claims that the UK has some of the highest animal welfare standards in the world, a disturbing lack of enforcement is rife. Here are five examples of where Viva! have exposed how animal welfare law has failed farmed animals.
Fairfield Farm – Dairy, 2018
Calves confined in solitary pens, barely big enough to contain them, were found on a farm in south Devon that breached welfare rules. Government guidance requires calves to be moved to larger nurseries from the age of eight weeks, yet four calves were at least 12-weeks-old when investigators for Viva! Campaigns visited.
A fallen cow, known in the industry as a 'downer', was also found writhing around in agony; isolated in a stall at the back of the milking parlour. An emergency vet was called to the scene, who euthanised her on arrival. No action was taken against those responsible for her unnecessary suffering.
Read more about Viva!'s 2018 dairy investigation
Gravel Farm – Turkeys, 2019
Viva!'s three-month investigation revealed shocking scenes of suffering and cruelty with a total disregard for animal welfare on a turkey farm in Gloucestershire.
Hidden cameras caught sick turkeys being killed with a neck dislocation device – a plier-like tool that crushes the bird's spinal cord. It's prohibited under Government guidelines and Red Tractor standards. Although the farm was initially suspended by Red Tractor, no legal action was taken.
Read more about Viva!'s 2019 turkey investigation
Flat House Farm – Pigs, 2020
Flat House Farm is one of the worst pig farms investigators for Viva! Campaigns have ever filmed. Numerous failings in animal welfare were reported to the authorities and a case was brought against the farm by Leicestershire Trading Standards. During the hearing, all but one of the 68 charges against them were dropped.
The farm has since closed but the owners, responsible for grievous animal abuse, received little more than a slap on the wrist. They were ordered to pay £4,500 and a court surcharge of £181.
Read more about Viva!'s 2020 pig investigation
Test Valley Trout – Fish, 2020/21
An extensive investigation into rainbow trout farms exposed systemic failings in protecting the welfare of farmed fish for high-end food retailers. The trout were found severely overcrowded in filthy ponds suffering from extreme stress, abrasive injury and predation.
Workers at Test Valley Trout's farm in Romsey, endorsed by top chef Jamie Oliver, were filmed throwing live trout, kicking them with frustration and bashing them around the head with a wooden priest – an extremely ineffective killing method, prolonging a painful death.
Read more about Viva!'s 2020/21 fish investigation
Field Farm – Duck eggs, 2022
Ducks are semi-aquatic birds who would naturally spend a huge amount of time in the water. It's fundamental to their mental and physical wellbeing as they use open water for head-dipping, swimming, bathing and feeding.
Despite raising serious concerns about the farm's lack of biosecurity, during the largest outbreak of bird flu the UK has ever seen, little improvement was made. Six months later it was announced the farm had contracted the deadly disease and all ducks would be culled.
Read more about Viva!'s 2022 duck egg investigation