Lex Rigby
| Post published on January 26, 2022
minute reading time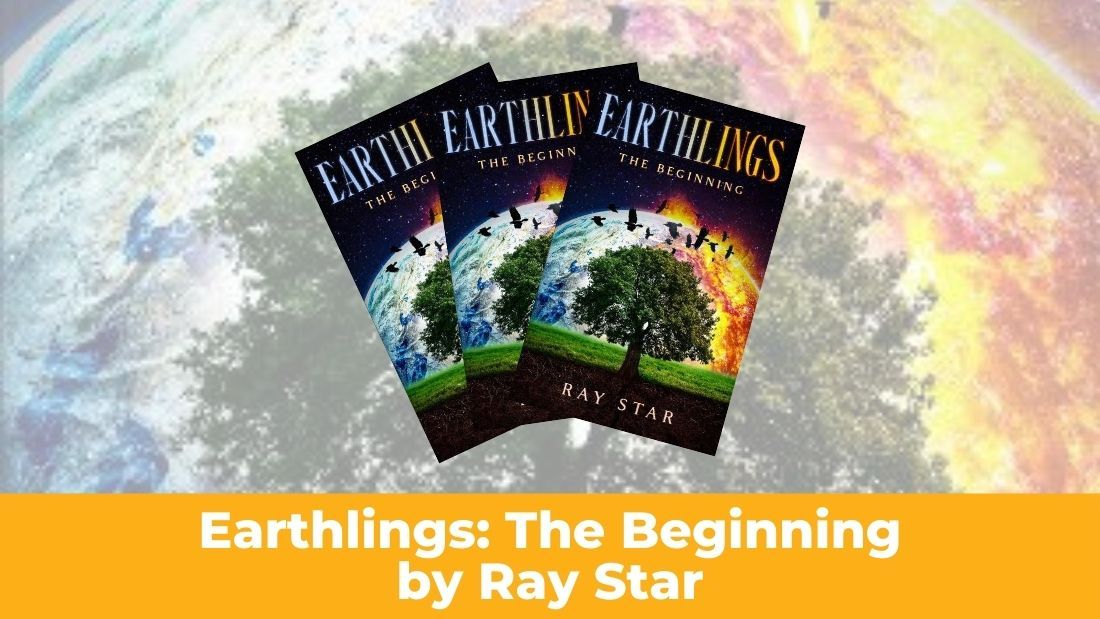 Alan is an "evil feathered mother clucker"; a chicken vehemently despised by Euan. The opening of Earthlings: The Beginning, Ray Star's first book in the Earthlings trilogy, takes the reader straight into the action as Euan is being chased down by hundreds of chickens, hell-bent on pecking him to death. But why?
The Earthlings' world is a dark and dangerous place – one that Vallaeartha, Peridot's mother, has tried to protect her from since birth. Isolated on a remote island, young Peri knows nothing of The Changing – the enslavement of humanity – nor the fact that her family are of magick descent, with the ability to control earth, wind, fire, water and spirit. This is magick from the old days; magick the world has been waiting for to save it.
A coming-of-age hard-hitting fantasy fiction
For the first 100 or so pages, Ray focuses on telling the story of Peri's upbringing and the frustrations she faces growing up with only her mother, Ann and Joseph (the older house helpers), a couple of horses, a few rabbits and a dog for company. You get the very clear impression that Peri has been lonely her whole life but then, at 13 years of age, an intruder arrives on the island. He's "very wet, very skinny, very scared" and doesn't seem to make a whole lot of sense.
The introduction of Euan into Peri's fiercely guarded existence at times makes the narrative feel somewhat slow in the early stages, years pass by with very little happening. There is a purpose to it though, this is the foundational text to the trilogy and the background development is important. Peri is drowning in mundane normality and that's exactly what helps build the reader's anticipation for what's to come.
Over the years Euan and Peri spend together on the island, she understands very little of what he's experienced – in part thanks to a binding spell, cast by her mother, that literally blocks her hearing when he talks about his past. As the magick grows inside her, she demands more answers from Vallaeartha and then tragedy hits. Peri accidentally sends Euan right back to where he came from – an artificial insemination station run by a legion of liberated farmed animals.
Humanity doomed by the error of its ways
Driven by a desire to find her friend, Peri eventually leaves the safety of her home and this is where it really starts to get good. On her journey into the perilous outside world, Peri faces the harsh truth about what her mother has been hiding from her for so long. Unlike on the island, animals and humans do not live as equals here. Instead, the human species has been subjugated to the confines of factory farms, reared for the sole purpose of feeding animals, and the planet is paying the price.
Ray has a keen eye for detail and her descriptions of these industrialised units are as you'd expect – harrowing on every level. They represent the grim reality of life for farmed animals in the real world, which is where Ray draws her inspiration from for this dystopian magickal world. Animal rights is at the heart of this trilogy and I'm well and truly hooked. With book two, Dominion, due in Summer 2022 I'm hoping I won't have to wait much longer to find out whether Peri can gain control of her Elemental, break free of her captors, save Euan and re-join the resistance.
Available Now
Earthlings: The Beginning is available now (printed on recycled paper where possible) from the Viva! Shop, as well as all major book stores – including Waterstones. For every copy sold Ray will plant a tree via Ecologi!
You might also like...