minute reading time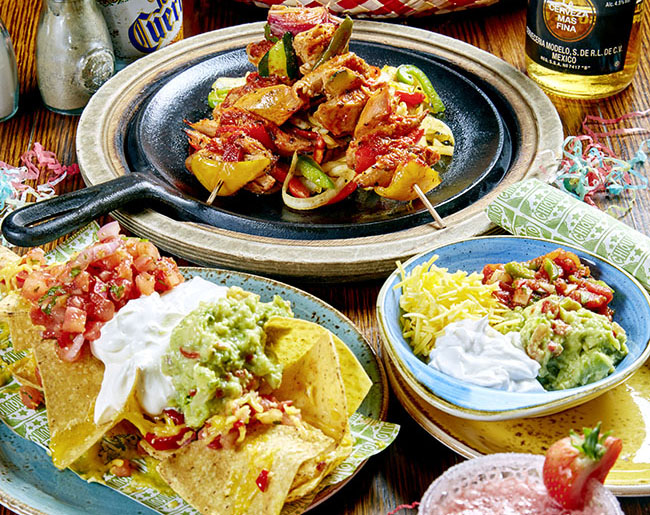 Featuring flavourful delights such as banana blossom burgers, Oumph burritos, jackfruit tacos and delicious deserts, the new menu rivals traditional Mexican dishes both in terms of flavour and choice.
"We are particularly proud of our new vegan menu. It stays true to our core objectives by driving innovation, accessibility and fun. Having guest choice at the heart and understanding growing trends, this menu allows Chiquito to be more accessible to guests that seek vegan options," Angelo Gabrilatsou, Chiquito's Managing Director said in a statement sent to Vegan Food & Living.
"We are very fortunate that Mexican food lends itself very well to vegan and our new additions bring amazing tastes and textures that will appeal not only to vegans but to all our guests. We are incredibly excited about this menu and firmly believe it puts us at the forefront of vegan dining in the UK. As always, innovating and delivering the best in Mexican cuisine is at the heart of everything we do."
Vegans, flexitarians and veg-curious alike have the choice of four starters, five main dishes and three desserts, so get ready to mex-out on flavour as of Tuesday 9 July.
Here's What You Need To Know
Starters
Vegan Nachos: £6.49
Delicious tortilla chips topped with guacamole, Pico de Gallo salsa, melty vegan cheese and Oatly crème fraiche…oh boy…we're drooling already!
Banana Blossom Croquette: £7.19
Replicating a flaky, meaty texture banana blossom makes the ultimate crispy croquette. Paired with a fresh side salad and Oatly crème fraiche, what better way to start your tex-mex feast?
Sweet Potato Skins: £5.89
Our sweet potato dreams have bean answered with these yummy loaded skins. Topped with five bean chilli, Violife cheddar cheese, salsa, guac and – you guessed it – Oatly crème fraiche, this really is heaven on a plate.
Loaded Cassava fries: £6.49
Get a load'a this…fried cassava root loaded with jackfruit chili, salsa and Violife cheddar, we're talking about a flavour explosion with this one!
Main Courses
Vegaritto: £11.69
This veganised burrito has delicious smoky Oumph made out of soya protein, jalapeño slaw, rice and greens wrapped in a spinach tortilla. And as if that's not amazing enough, it comes with a side salad, tortilla chips and a dippible pot of Oatly crème fraiche for good measure.
Jackfruit Baja Tacos: £5.99
Smokey jackfruit chili is topped with Violife cheddar, guacamole and salsa makes this delicious Mexican classic even better – taco' bout tasty!
Banana Blossom Burger: £14.49
Banana Blossom is definitely the new vegan alternative on the block. Its flaky texture makes the perfect burger patty and is a welcome change from the 'bleeding burgers' on the vegan burger scene. Topped with jalapeño slaw, greens and Violife cream cheese in a sourdough bun with salad and cassava fries…we've got heart eyes just thinking about it.
Palm Heart Baja Bowl: £13.99
If you're looking for a slightly lighter and healthier option, this is the dish for you. Palm hearts, pulses, black beans, greens and rice topped with jalapeño slaw served up in a delicious pull-apart spinach tortilla bowl – think deconstructed burrito with a fresh, healthy spin.
Vegan Fiesta Fajita: £12.99
Fajitas are Chiquito's most popular dish – and we expect their new vegan version will be no different. All the favourite flavours of their classic recipe, with smoky Oumph, Violife vegan cheddar and Oatly crème fraiche, we can't wait to wrapping with these bad boys.
Desserts
Ice cream and sorbet: £2.19 for 1 scoop, £4.49 for 3 scoops
As the British heatwave sweeps the nation, why not cool down with coconut ice-cream or passion fruit sorbet? The perfect summer treat, we can't wait to try a scoop (or three!)
Churros with Chocolate Sauce: £4.99
Another Chiquito classic we're sure will be even better than the non-vegan version. Melty chocolate sauce and warm churros…what could be yummier than that?
Chocolate Coconut Lava Cake: £5.99
This is not just any gooey, melty, chocolatey lava cake – this is VEGAN gooey, melty, chocolatey, lava cake. Served with coconut ice-cream or passion fruit sorbet, this might just be the ultimate indulgence.
The new menu will be available from Tuesday July 9
Why not order our "I Ate Here" cards to say thank you for these new vegan options. Then, follow us on Facebook, Instagram and Twitter and tag us in your food pics!