Help us help others make the connection
Donate
One-off donation
Monthly donation
Earlier this year, we ran a massive billboard campaign on 60 sites in the East Midlands. The billboards were bold and eye-catching, raising the intriguing question of why we love certain animals yet eat others  — and they went viral!
* We are planning to expand our billboard campaign as we have had so much interest in these adverts. We are very closely monitoring the COVID-19 situation and will only place billboards when the time is right.
Our billboards "when did you last kill an animal" and "what's your favourite animal to eat" have had an instant impact on thousands of people.
Britain claims to be a nation of animal lovers, with over half the population having companion animals. Yet all too often, people buy animal products without making the connection to the animal who has suffered and been killed in order to be on their plate.
If dogs were treated like this there would be uproar.
You can help expand our billboard campaign to a town or city near you!
What are we doing about it?
It's time to confront the uncomfortable hypocrisy that we love some animals and condemn others to a life of suffering. After testing out different messaging on meat eaters, we found the direct approach of asking difficult and hard-hitting questions was the most effective.
We placed the provocative billboards on busy bus stops where people have time to absorb the message and on gigantic sites with huge footfall, across Nottingham, Leicester, Grantham, Northampton, Hinckley, Heanor, Beeston and Derby.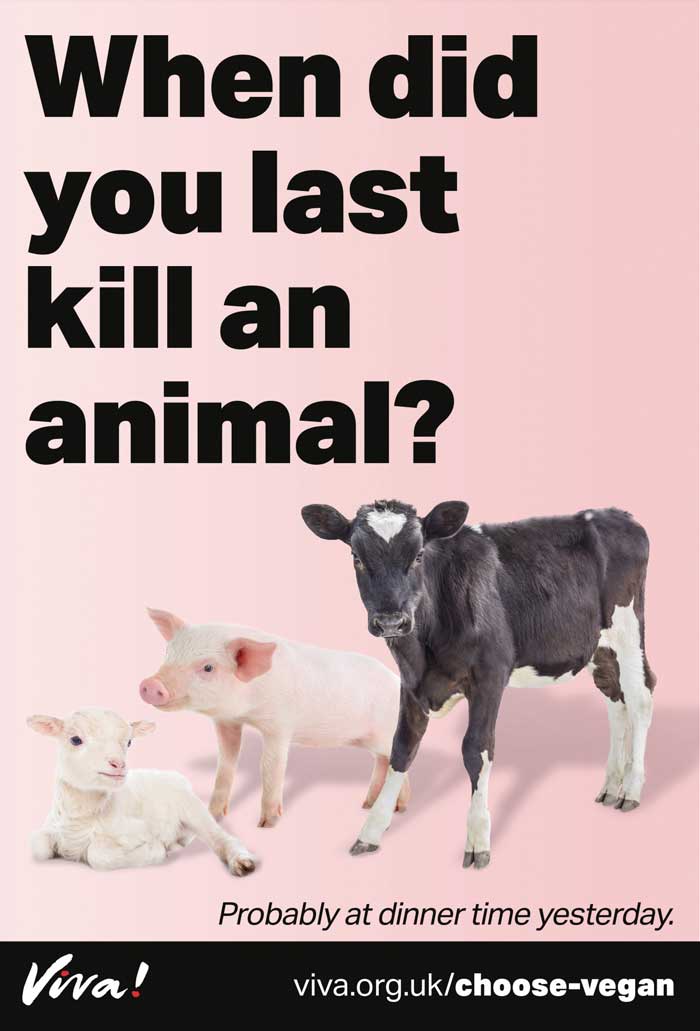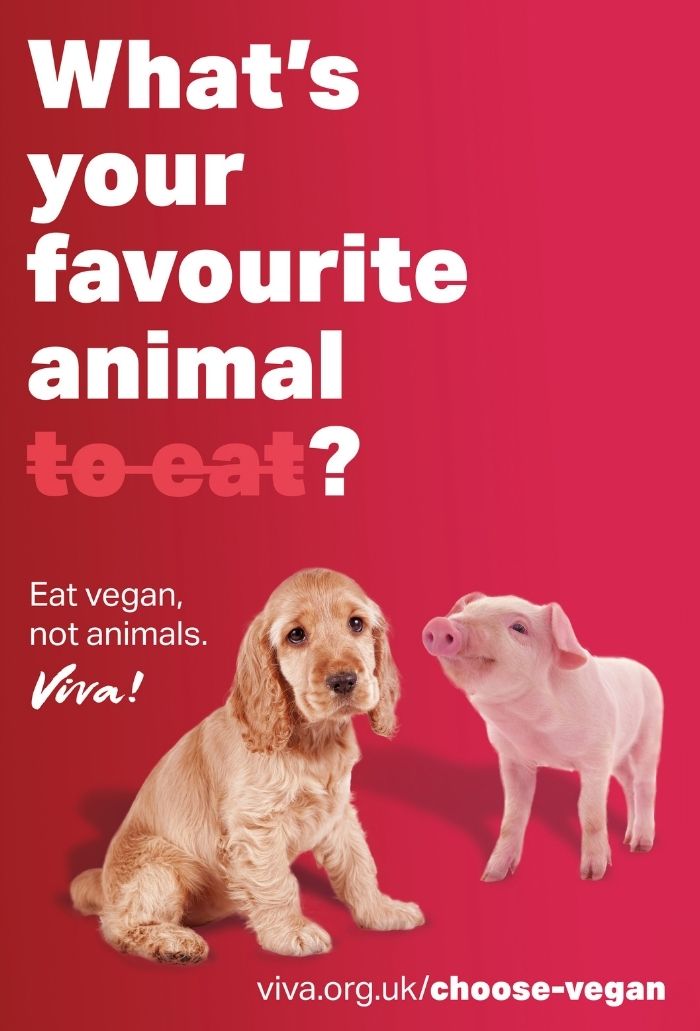 Slash the Risk Billboards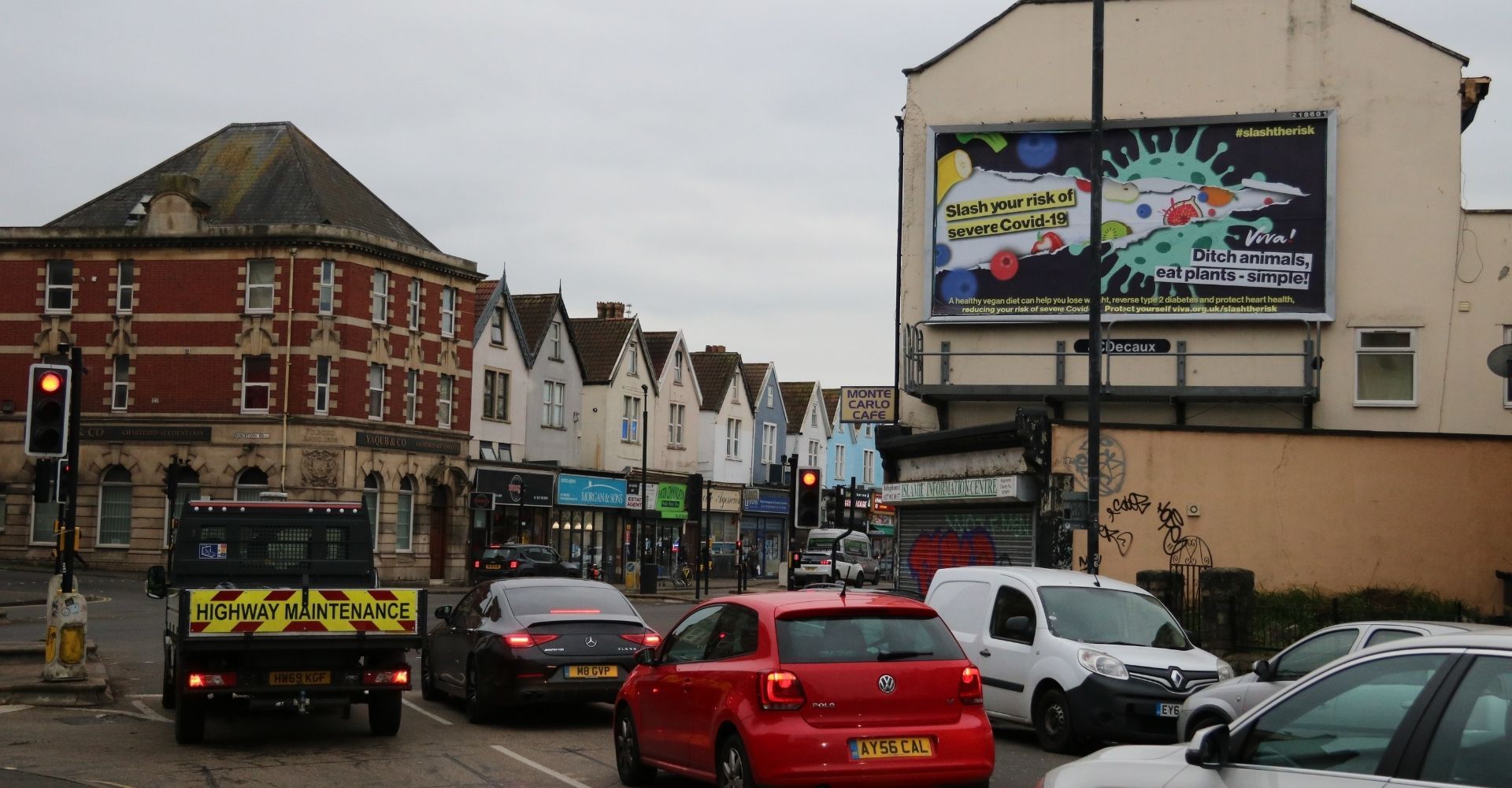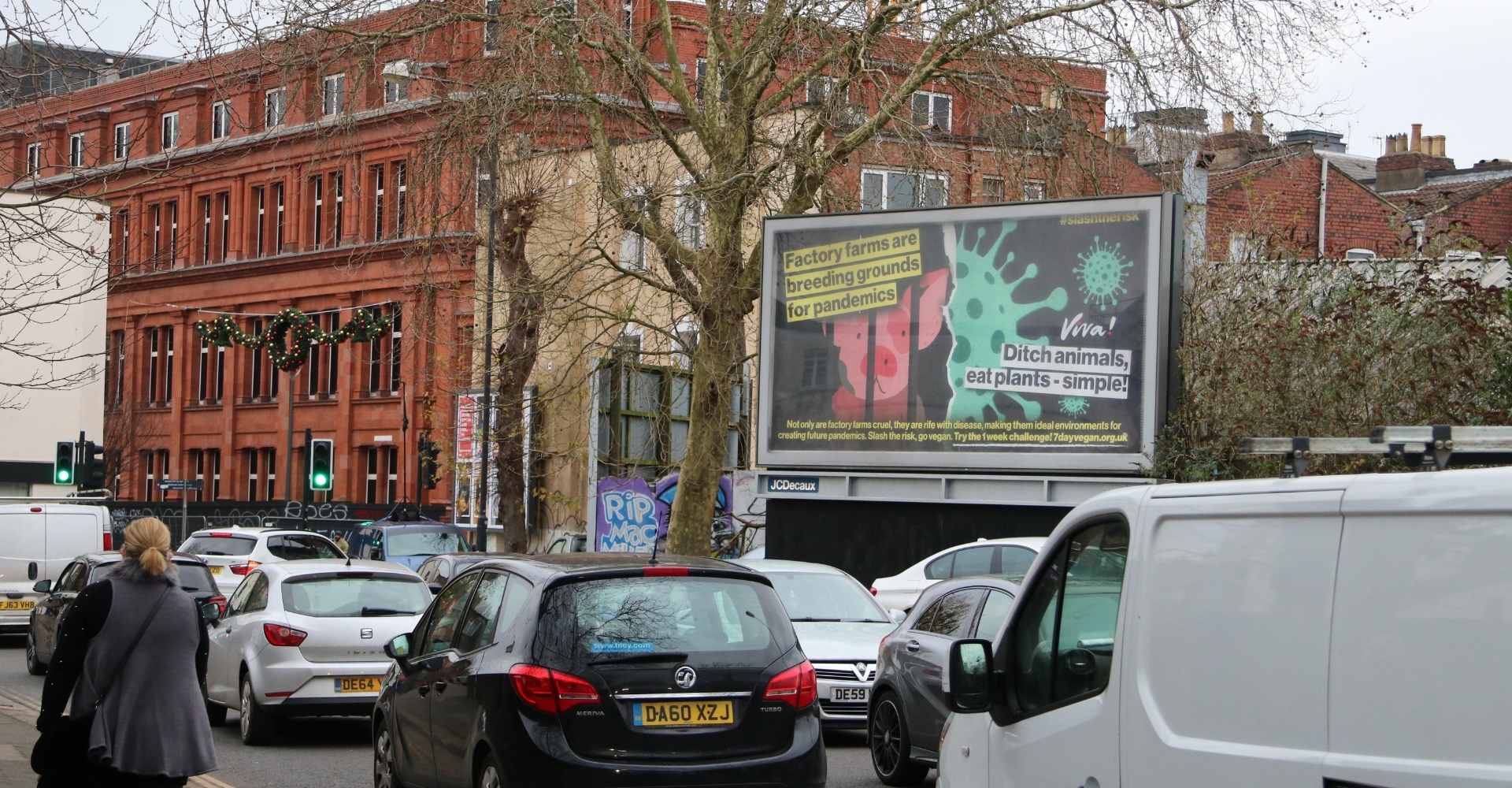 But we haven't stopped there. In light of the coronavirus pandemic, we have release two new billboards which warn against future pandemics.
Our Slash the Risk campaign involves placing huge billboards in the West Midlands and Bristol in November and December which will reach 12 million people. One reveals the risk from factory farming and urges people to try Viva!'s new V7 and go vegan for one week; while another urges people to protect themselves from severe Covid symptoms by going vegan.
A major PR initiative will support the campaign along with back-to-back radio interviews, which will reach millions more. We also have a door dropper flyer – order yours now.
Being vegan does not reduce your risk of contracting Covid-19 but being vegan does reduce people's risk of chronic diseases such as diabetes, COPD, obesity and heart disease – and it is people with these underlying health conditions who are most at risk and are more likely to be admitted to the ICU.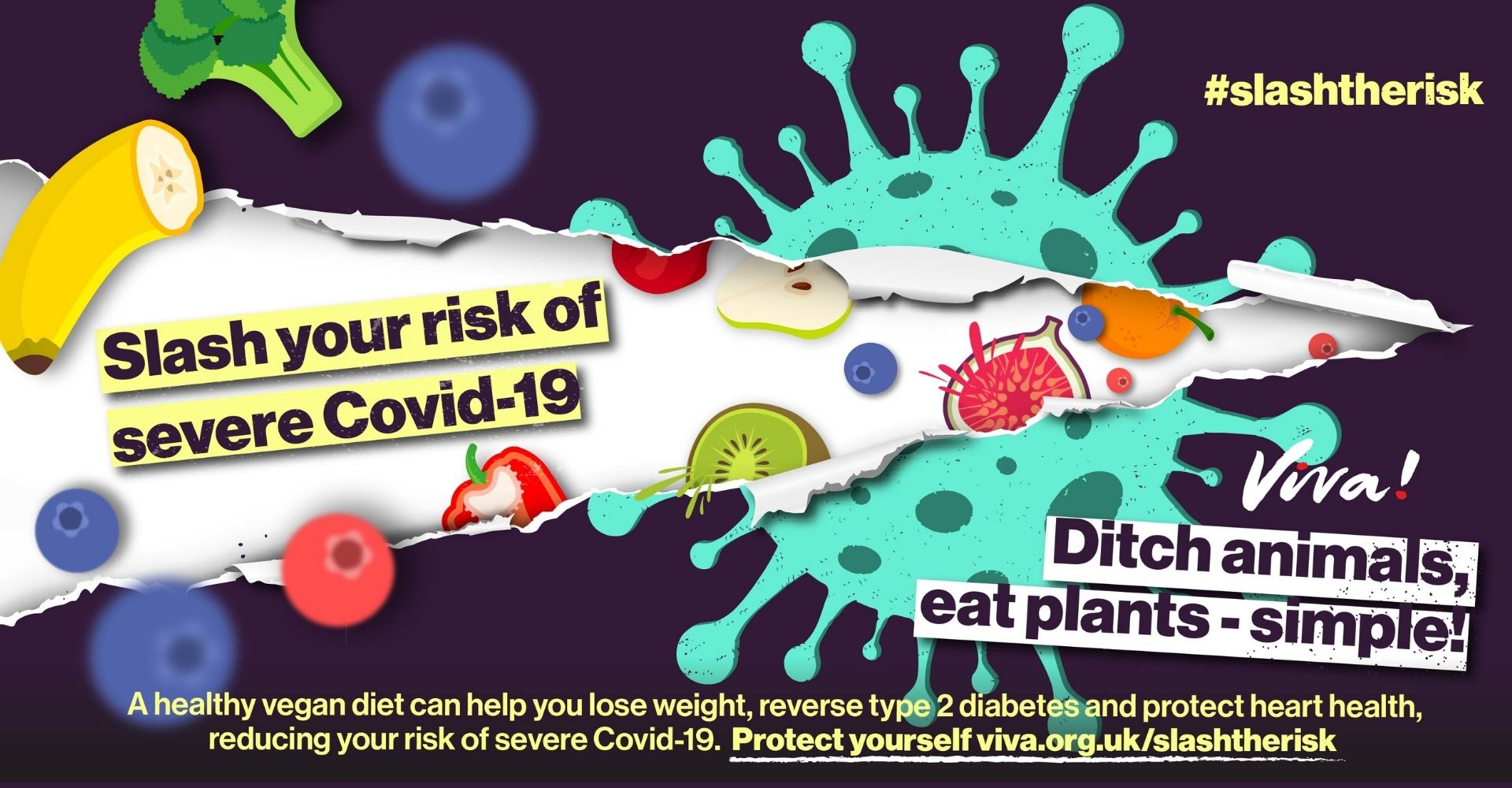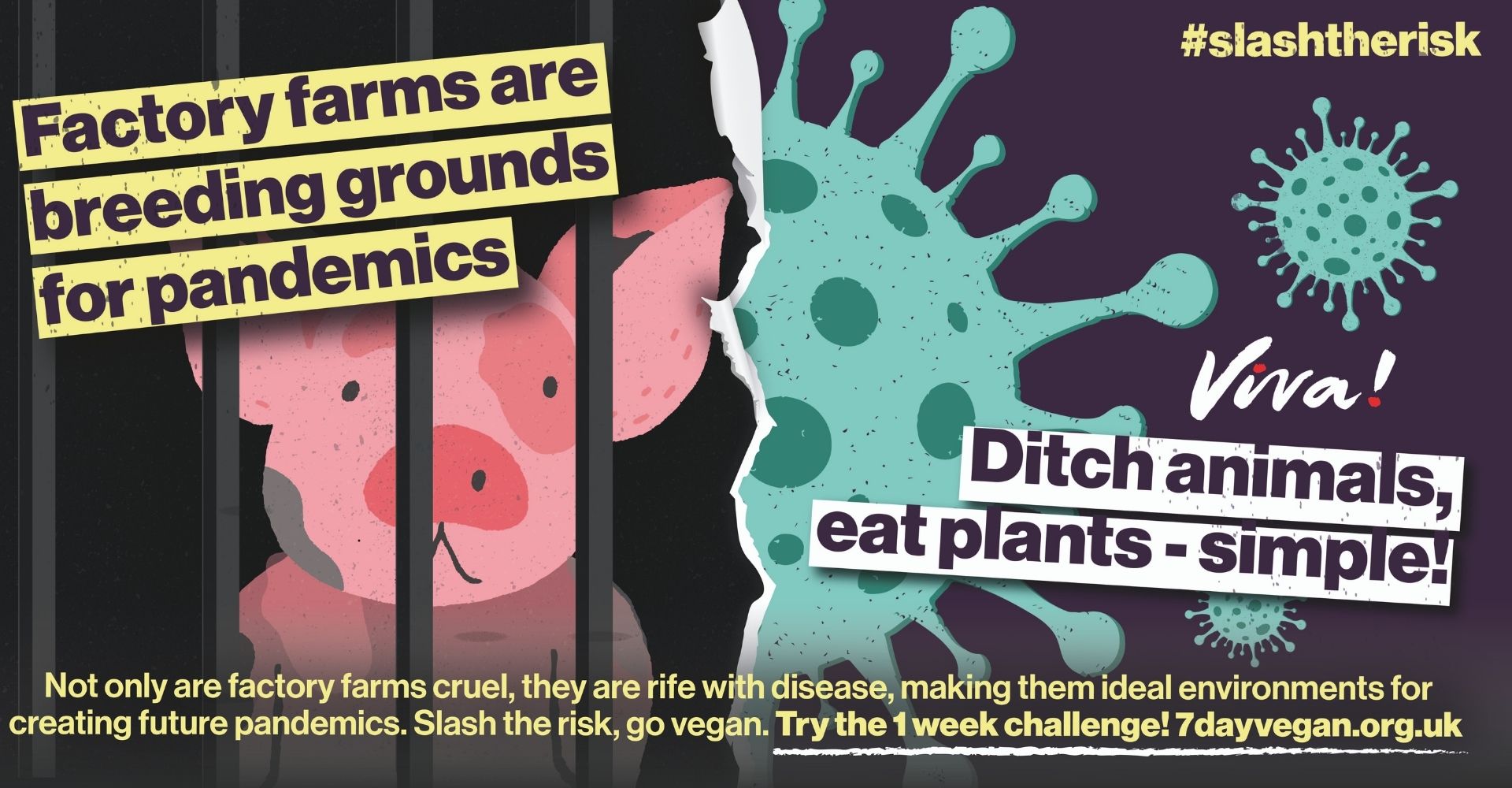 he outcome of the campaign can be seen in the sheer number of comments shared on social media!

We are truly having a positive impact in the East Midlands and now want to take the campaign across the UK, but we need your help!*

You CAN HELP US get these powerful ads shown in towns and cities across the UK.* The more donations we receive, the more billboards we can place.

Scroll up