By becoming a monthly donor, you will automatically become a Viva! Supporter and receive a subscription to Viva! Life magazine and a supporter welcome pack. We have lots of other welcome goodies available to our supporters, such as our fantastic range of discounts in our Supporter Discount Scheme.
Thank you for considering leaving a gift to Viva!. By choosing to leave a gift to us, you are helping to make the world a kinder, more compassionate place. Legacies are a promise to the animals who need us most — a promise that no matter what, Viva! will be there to help them. Every gift makes a difference.
We are delighted to announce that we have partnered with The Goodwill Partnership, making leaving a gift as simple as can be. Our supporters have the opportunity to make or amend a simple Will in the comfort of their own home absolutely free of charge*. As we are a charity, your bequest will be entirely free of Inheritance Tax.
Pandemics like Covid-19 are inevitable because of our ill-treatment of animals. Practically all new infectious diseases are caused either by trading and slaughtering wild animals or by factory farming. The easing of lockdown has allowed our intrepid team of investigators to go back undercover to expose how filthy factory farms supply mainstream supermarkets.
At the edge of a beautiful bluebell-lined woodland in the village of Yattendon, Berkshire, the Viva! Campaigns team discovered Calvesley farm ⁠— a pig breeding facility operated by Winterbrook Farm Partners. The overpowering stench of excreta and cacophony of noise from imprisoned animals drew a stark contrast to the picturesque countryside. Up to 400 poor piglets are born in this hellhole each week. We have now discovered that they supply Morrisons, and are approved by Red Tractor!
Over the course of three weeks our investigators installed hidden cameras and recorded the hopeless despair of dejected mothers night after night.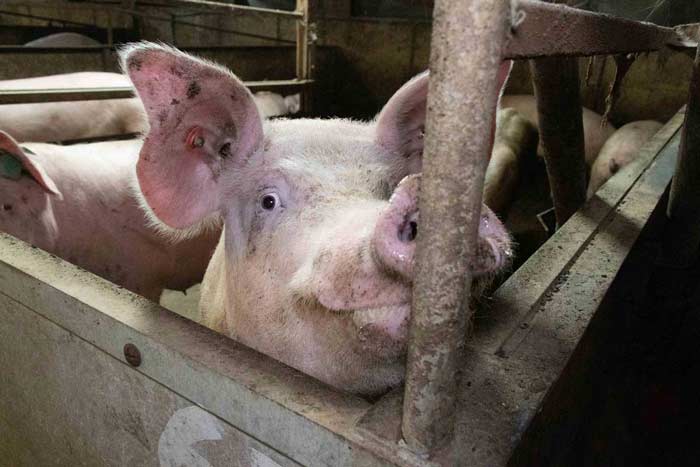 Just one of the hundreds of breeding sows housed in the dilapidated cobweb strewn sheds at Calvesley – supplier of Morrisons.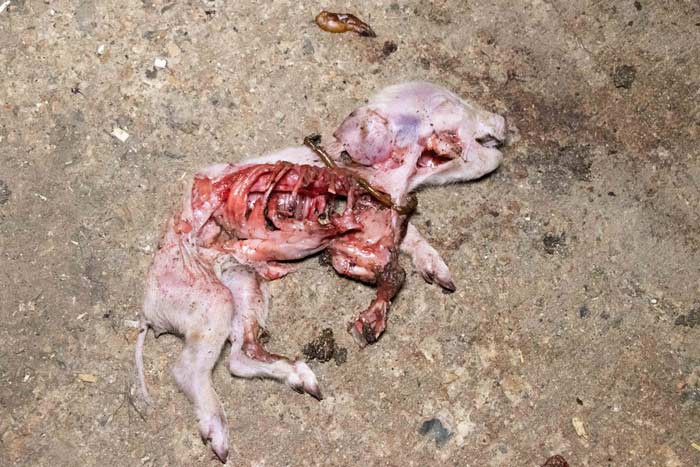 Inside the farrowing house a half-eaten piglet was found – showing appalling suffering and how disease spreads.
In a dilapidated farrowing house, an expectant sow was four days overdue. She was restless, confined to a crate that allowed her almost no room to stand, let alone turn around. She lapsed into stereotyped behaviour, gnawing at the metal bars trying to escape her terrible confinement and her sadness was heartbreaking. This mother had to give birth onto an unforgiving hard floor with not a shred of bedding.
Due to selective breeding, pigs now give birth on average to an astonishing 13 to 14 piglets but for this sow there were just four. It's likely that such a small litter would be her last. As soon as a sow is deemed unprofitable here, she's marked with a green cross and moved to the 'cull pen'.
Workers arrived on-site the following day and began their routine mutilations. Each piglet in turn was pulled from the crate and ruthlessly thrown into a metal trough. They were wheeled to the hot knife where our cameras captured their harrowing screams. Their short tails were sliced back to a bleeding stump and their teeth clipped off with a pair of pliers – all without pain relief. It was like listening to the backing track of a torture scene in a horror film.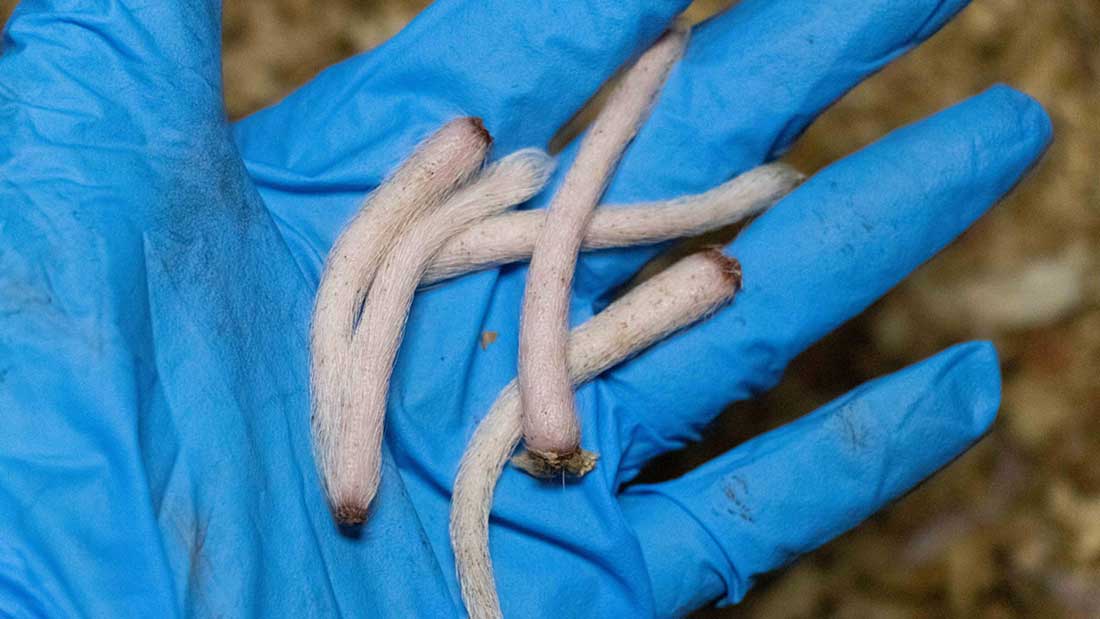 Back in their crate these babies will spend four short weeks with their mum before being pulled up by their hind legs and thrown into the back of a transportation truck. Every Wednesday the farm descends into chaos with frightened piglets crowding the walkways and making a break for freedom at every opportunity.
While reviewing the footage we jumped for joy as a hidden camera filmed several escapees, piglets running free up and down the main drive. But the joy was short lived as the workers chased them down, kicked them across the yard and vented their annoyance by throwing them with extra force into the trailer.
The most distressing part of the process our cameras filmed was the 'knocking' of young piglets – the runts of the litters considered economically nonviable. Their heads were simply slammed into the concrete floor and their lifeless bodies tossed aside. Remember – this farm supplies Morrisons and is Red Tractor approved!
As if all this wasn't bad enough, our team also stumbled upon the farm's incinerator in an open-ended shed. One day there were piles of dead piglets – some in empty feed sacks, others dumped on the ashes from previous burns – discarded like rubbish. The door had been left wide open. Next to the shed there were more dead piglets awaiting their turn to burn, writhing in maggots.
On another day, we saw a mother sow dumped in the incinerator with placenta spewing out over the side, and two dead piglets discarded on the floor.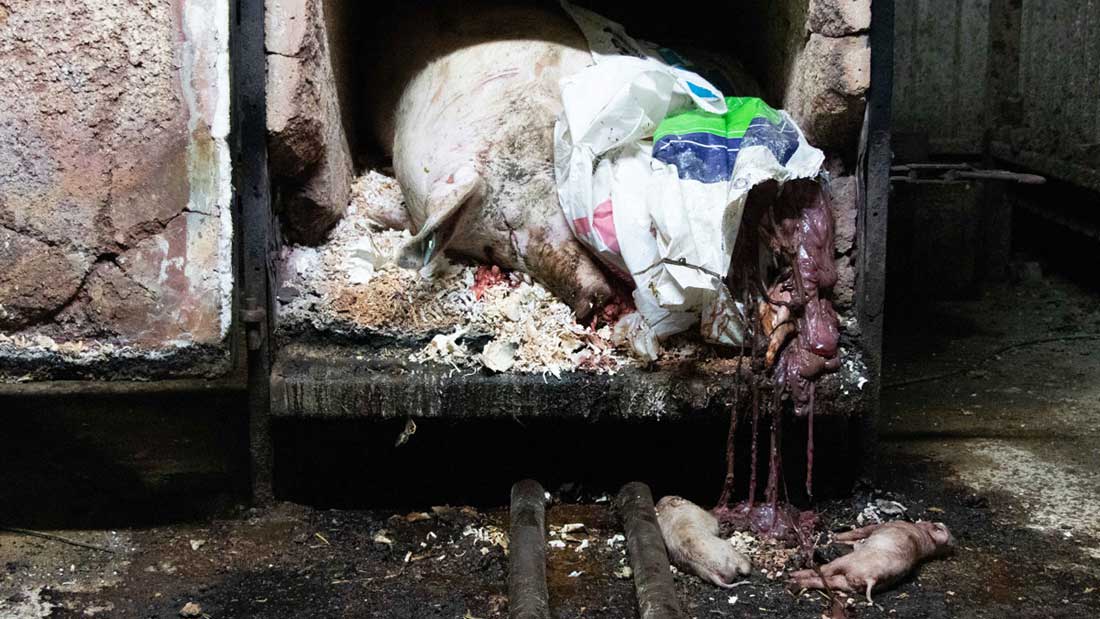 In complete violation of the government's guidance on how to handle 'fallen stock' it makes for a shock discovery at the best of times but in the midst of a global pandemic we're left outraged and physically sickened. The footage our investigators captured leaves little need to imagine how dangerous diseases jump between farmed animals, wildlife and people!
On factory farms like Calvesley, animals are crammed together in appalling conditions allowing for infections to spread and mutate with ease. In order to stay alert, control the virus and save lives it's time the government recognised that the only way to do this is to stop exploiting animals. It simply cannot be tackled with export bans, restrictions on animal movements or tighter airport controls.
We have to end factory farming, ban the trade in wildlife and most of all stop eating all animals.
This month, new research from Mintel revealed that a quarter of young British millennials (aged 21-30) say that the Covid-19 pandemic has made a vegan diet more appealing. With your help, we can capitalise on this growing trend by continuing our investigations and using what we find to lead global change!
If you are able, please donate today.
Your funds not only provide us with vital equipment to carry out investigations but also the budgets to launch major publicity stunts and campaigns:
£10 will buy our investigators additional 32GB SD cards
£20 will buy our investigators much needed biosecurity and PPE
£50 will buy our investigators additional power packs for hidden cameras
£60+ will buy our investigators additional cameras, which often need replacement due to stress of use or damage
As part of our overarching End Factory Farming campaign our major action plan includes:
An innovative YouTube ad campaign, featuring a range of footage from our undercover investigations
Greater social media promotion with targeted messaging on how and why to go vegan
The launch of our brand-new seven-day vegan initiative, V7
And a range of billboards throughout the country, as and when lockdown allows for maximum impact
We know times are tough and as ever we appreciate every contribution made, no matter the size. Together we will end factory farming, before it ends us!
Scroll up