Help Viva! End Factory Farming Before It Ends Us
Donate
Our harrowing investigation into a UK mega-pig farm reveals the truth about 'high welfare' claims – they're a sham! Now we're launching a new campaign and we need your support.
You may have seen our exposé on a pig farm supplying Morrisons. Now, we have incredible news. The Estate where it is located – DIRECTLY DUE TO OUR INVESTIGATION – are planning to "get the buildings vacated in the quickest time possible". We have also been informed by locals that there are plans to demolish the farm. This exposé was funded by you – our supporters!
Following this victory, Viva! Campaigns investigated a much bigger 'high welfare' pig farm, approved by Red Tractor, Flat House Farm.
We investigated the farm on several occasions, collecting evidence to submit to the authorities. Dismembered body parts were found on every visit, as well as dead piglets alongside confined sows. Our hidden camera footage also showed feral cats picking off sick piglets, eating them alive and dragging their limp bodies into the walkways to feast.
Please let me tell you about this place and why we need your help.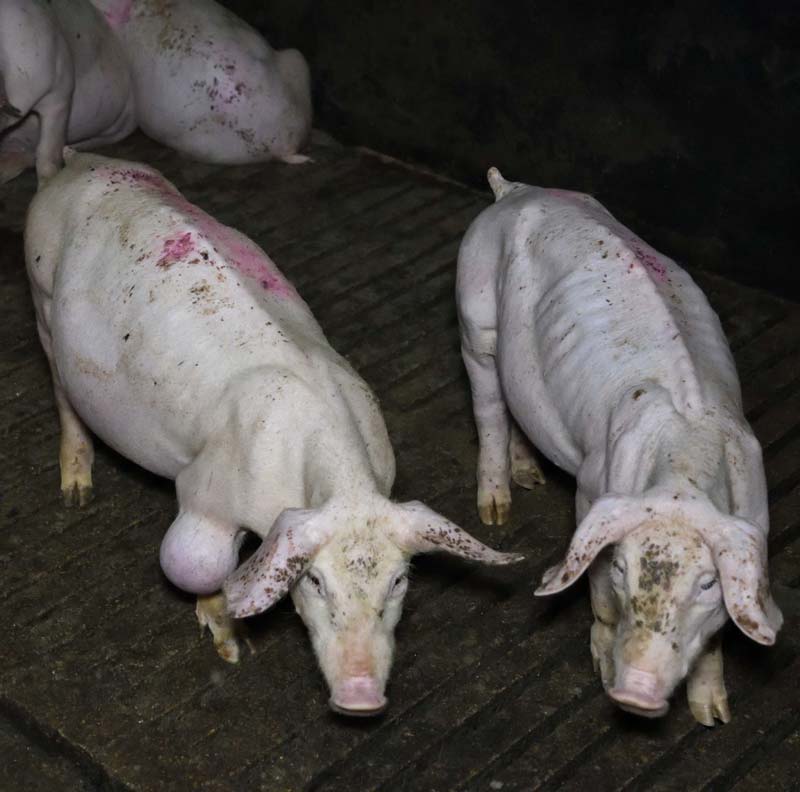 I walked with trepidation through fields of corn – tall enough to hide me, following my nose as the dark smell of stress and filth hit the back of my throat.
Pigs on sanctuaries have a barely perceptible smell; they are clean animals, only rolling in glorious mud to protect their delicate skin from the sun – and for sheer fun! But factory farms are dirty places and the stench of hydrogen sulphide and ammonia gives away their sombre presence long before you reach them.
We discovered almost 9,000 pigs incarcerated inside Flat House farm. The first pig I saw was about three months old, alone in a squalid cell writhing on the floor, her eyes rolling back. I knelt by her side, helpless, and whispered to her: 'let go, let go'. It was absolutely devastating.
I've been filming in farms for three decades but this was horror on another level.
At the far end of the shed there was a cell containing about 10 pigs. There were thousands of flies crawling over the walls. The pigs and everything around them, including the feed containers, were smeared in dirt and faeces. The cell opposite was worse. A piglet with pleading grey eyes looked directly at me but what could I say? "Sorry"? "I'm mortified"?
All useless expressions to this little soul who had been left to die a protracted and painful death. He had a rectal stricture and the blockage meant he could not digest food. Leaked gases bloated his belly whilst his spine and ribs protruded painfully. This condition had not developed overnight and was so far advanced that he would never recover. He had been left to starve to death. We called the RSPCA in the hope they would put him out of his misery. Two inspectors did turn up and went inside the farm, but refused to communicate with us.
Later, in the farrowing shed, I sat near a mother sow who was trapped in a crate and had just given birth. She looked at me for a long time and I talked gently to her. I could see this was not her first pregnancy and she knew only too well that her babies would be stolen from her when they reached four weeks old. It happens repeatedly.
We had previously placed hidden cameras inside some of the sheds and when we reviewed the footage, we saw sickening images of a worker swinging newly born piglets by the hind legs and slamming their heads onto the metal bars of their mother's metal cage. She was witness to the killing of her babies.
This is factory farming; this is what pigs have to endure in this 'civilised' nation of ours.
Flat House farm has since been suspended by Red Tractor. They did not deny our evidence but claimed to have been 'appalled' by the barbaric conditions captured by Viva! Campaigns. This is the first time they have issued such a strong response to an investigation. In an interview with BBC Radio 4's Farming Today, Red Tractor admitted that their reputation has been damaged by Viva!'s exposé – another first for us.
Our investigation was reported widely in national media. This publicity saves animals. Through huge media coverage, we are reaching millions of people and increasing numbers are going vegan as a result. Nothing is more effective in bringing about change than these animal investigations.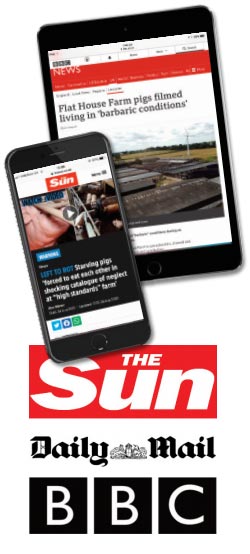 Flat House farm will be used as the launch pad of our major campaign, END FACTORY FARMING BEFORE IT ENDS US.
We are fundraising to include the following actions:
New Face Off video – filmed with me in Flat House farm and to be shared widely
Tour of UK cities to talk to meat eaters in person and help them change
Investigations of other farms – from farmed fish to chicks
Production of a TV programme exposing all animal farming
Billboard ads in major cities
YouTube ads to reach millions of people
Instagram and Facebook ads
Cinema ad to reach millions of meat eaters
London event demanding: End Factory Farming Before It Ends Us
Plus, the launch of our brand-new seven-day vegan initiative, V7
You have already seen what we can achieve – rocking the boat and increasing veganism massively since our formation 26 years ago.
For whatever you can give – we thank you.
Yours for the animals,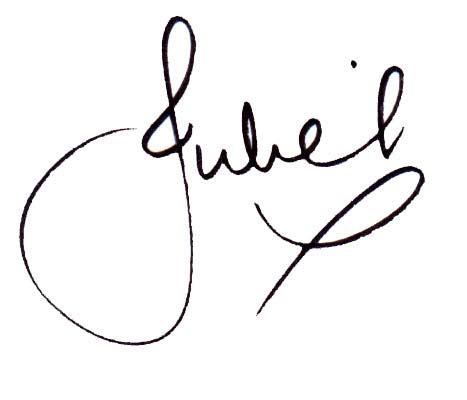 Juliet Gellatley
Founder and Director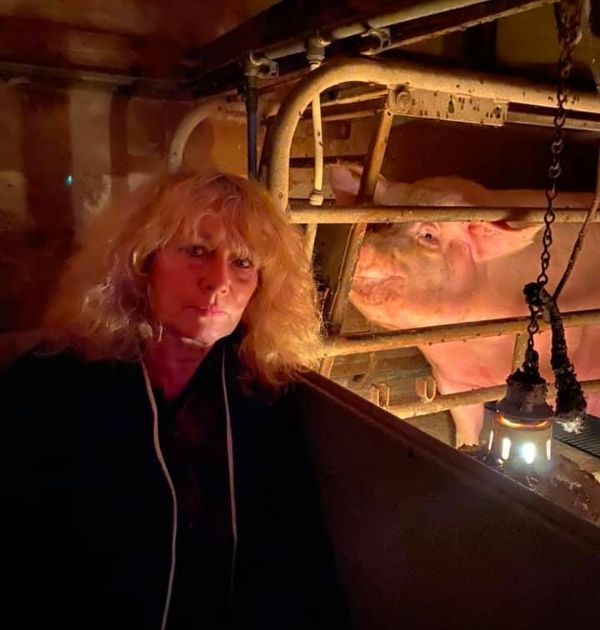 One-off donation
Monthly donation
Scroll up