The Dairy Industry's TRASH
On 1 October our new campaign, TRASH, launched to raise awareness of the forgotten victims of the dairy industry – male calves!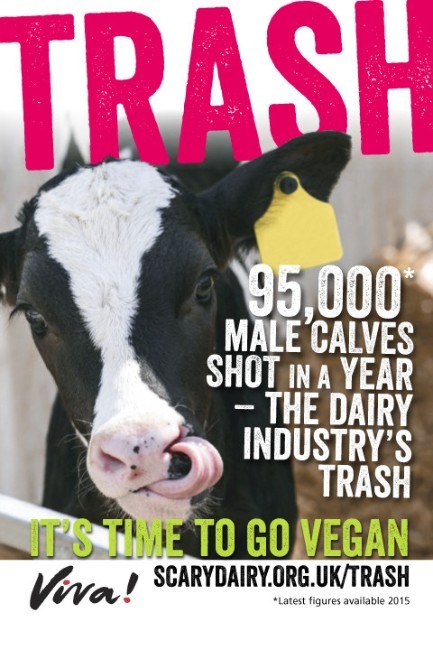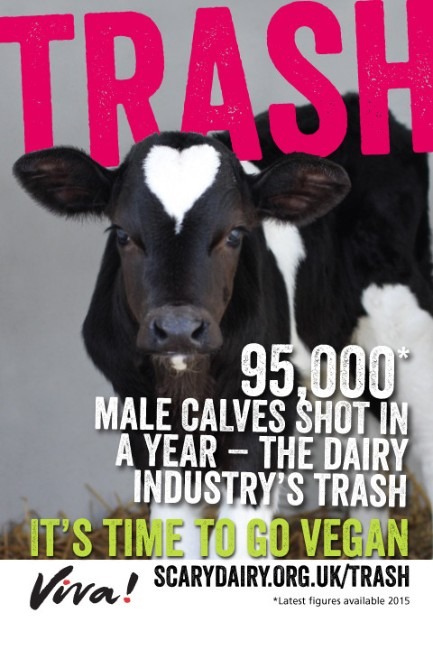 Each dairy cow gives birth to a calf every year in order to produce milk. All calves, in whatever system, are taken from their mothers within days of being born. Mothers grieve and bewildered female calves are placed in solitary hutches – lonely, isolated and devoid of all contact and  nurturing – and will remain there for up to two months before joining a nursery of other young calves. Male calves will be shot in the head as TRASH or sold for veal production at home or abroad. Some may be kept for low grade beef. The trauma for both mother and calf is acute.
You can frequently hear the pitiful bleating of baby calves responding to the bellows of their distraught mothers, who may be only a few metres away – but they will never meet again. The wonder of birth has been jettisoned for commercial imperatives – humans must have all the milk available.
(artwork below courtesy of Naomi Joy)
Birmingham
In October 2018 our new campaign, TRASH, launched with two giant vegan billboards to raise awareness of the dairy industry's forgotten victims – male calves!
The emotional billboards featured young calves alongside the text "95,000* male calves shot in a year – the dairy industry's trash". Standing at a giant 7.5m high the billboards targeted commuters travelling both northbound and southbound on the M5 near Birmingham. Over the two week period the billboards reached an estimated 1.6 million people.
*latest figures 2015, published 2018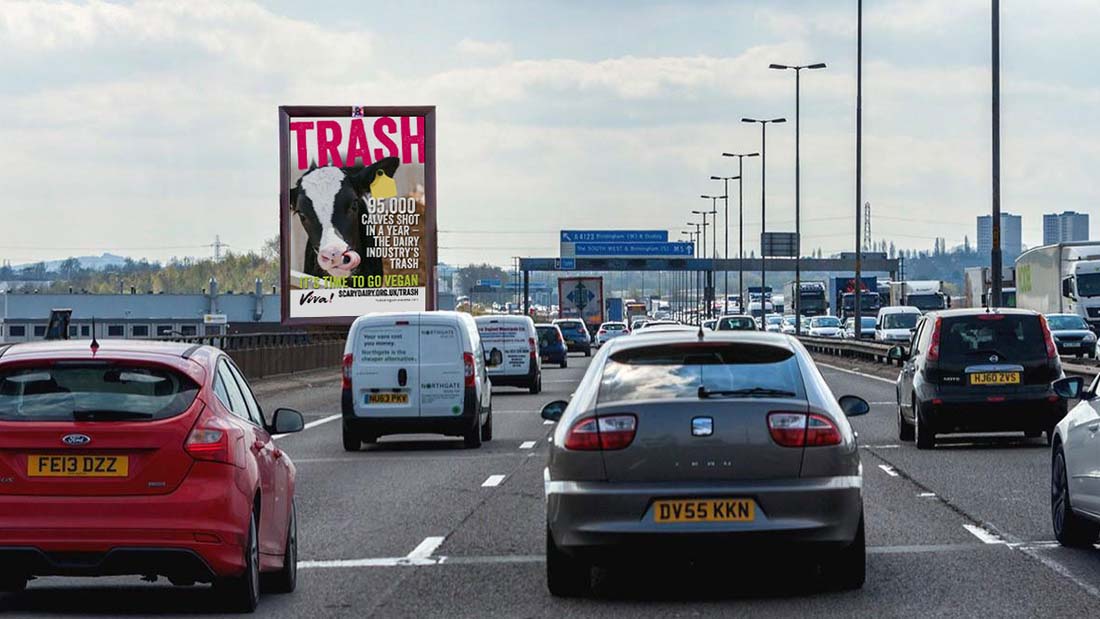 London
After two weeks in Birmingham one of the TRASH billboards moved to London, reaching a further 7.1 million more people during its two week stay.
The billboard, like the M5 displays, was a whopping 7.5m high and seen by people visiting local tourist attractions such as Westfield London, the largest shopping centre in Europe, or driving towards the London Borough of Ealing.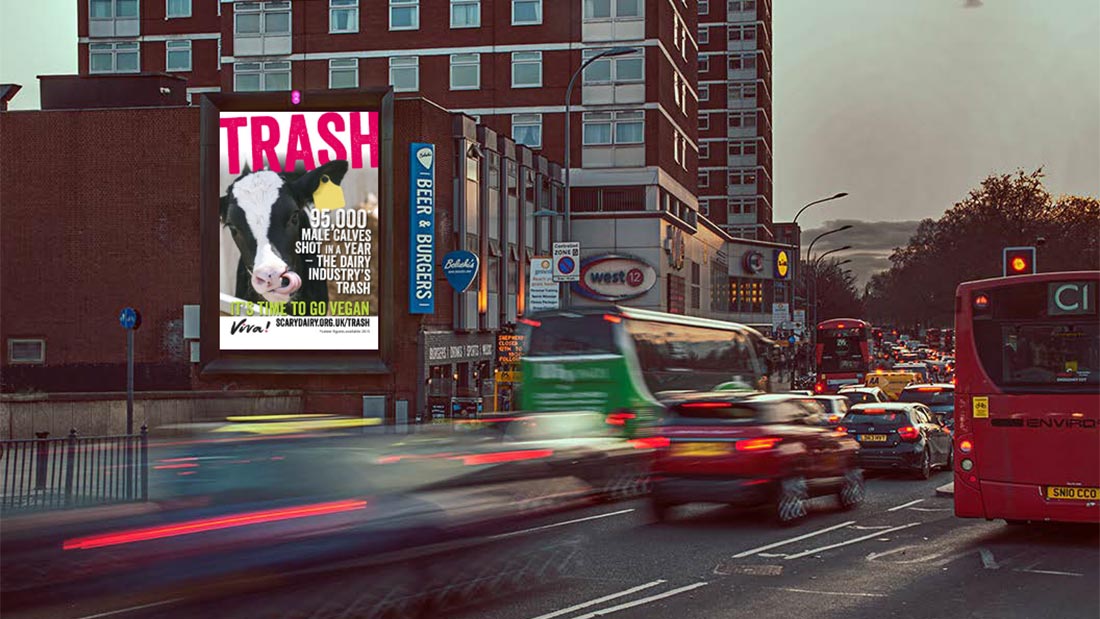 In addition to the billboards (see above), we also commissioned YouTube adverts highlighting the plight of male calves in the dairy industry. The short emotive video is the first vegan YouTube advert shown in the UK.
The average view-through-rate (VTR) of YouTube advertisements, the percentage of people who watch the ad all the way through, is around 15 per cent. Over the course of seven weeks in October and November 2018 the video averaged a 28 per cent VTR – almost double its expectation!
ollowing the phenomenal success of our first round of YouTube ads we ran the ad again throughout February 2019 and May 2019 (as part of our MooFree May initiative) to reach an even bigger audience.
For its second and third airings, the advert's VTR peaked at 45.89 per cent and averaged around 35 per cent across the two months! Viewed over 450,000 times on YouTube and a further 105,000 on Facebook we're incredibly proud of how well it's done.
The highest known age demographic viewing the ad was 18-24 year olds, followed by 25-34 due to the use of pop culture keywords targeting younger audiences. The advert featured most often in front of searches for Ariana Grande, Family Fizz and Lucas and Marcus.
And lastly, throughout October 2018 we hosted a number of educational Street Action Events across the UK to encourage the public to choose plant-based products. Events took place in eight cities from Glasgow to London and featured an 8-foot-tall inflatable milk carton. The Street Action Events collaborated with local vegan groups to inspire positive discussions about veganism and dairy alternatives.
Have a read about the success of our London action below and watch the video below to see what we got up to.
In central London on Friday 5 October we organised two successful events to launch Scary Dairy's new TRASH Street Action
The first event was at the Dairy UK headquarters in Holborn, London, and was attended by around 25 compassionate activists from as far away as Brighton! On this busy high street, we received positive support from cars beeping as they passed our large "95,000 MALE CALVES SHOT" letter signs. Activists also held roses to remember all those calves who have needlessly and brutally been killed because they cannot produce milk.
Following on from the Dairy UK event, the Viva! Street Action team went on to Leicester Square to hand out leaflets, show footage of Viva! Campaigns' latest dairy-industry exposé, and show the British public how easy it is to go vegan! We took our HUGE TRASH milk carton, inflatable cow and face paints.
At Leicester Square we had positive conversations with shoppers – many took leaflets, and stopped to watch footage on our headsets. Viva! Campaigns has filmed on a Cadbury farm where just born male calves were shot in the head. This is common practice in this cruel industry.
Many people do not know that 95,000 male calves are killed, in a year, as a useless by-product of the dairy industry. Simply because these baby boys can't give milk they are treated as trash and disposed of just after birth. Viva!'s TRASH campaign aims to change this!
Missed our London event? No worries… we will be taking our milk carton and materials around the country this month. Please, get involved when we come to the following cities:
Bath
Sheffield
Glasgow
Manchester
Oxford
Nottingham
Birmingham
Join Viva!'s Street Action Network
Face Off against the British dairy industry.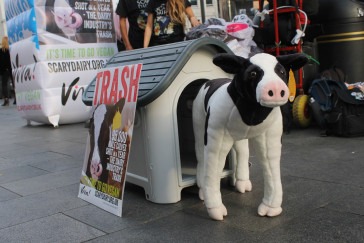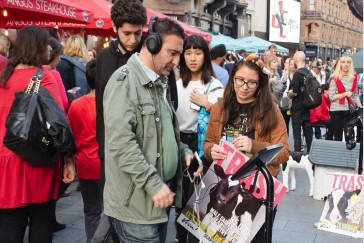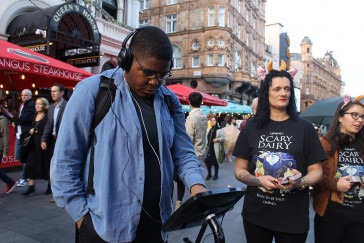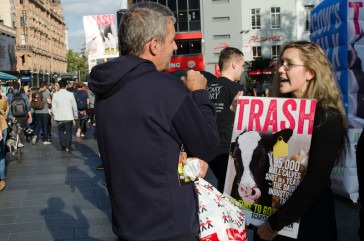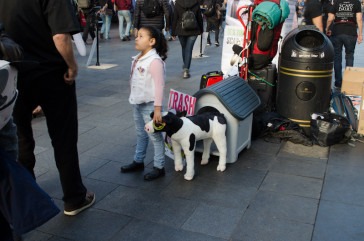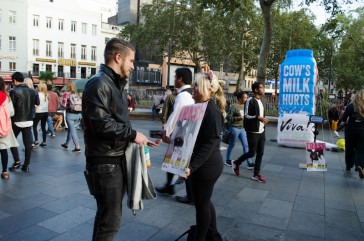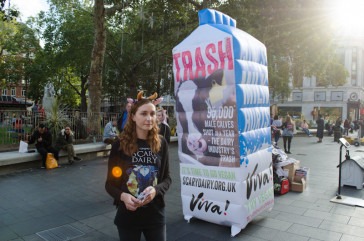 The best thing to do in order to stop supporting the cruel dairy industry is to try dairy-free! It's easy, healthy and tasty. You can still have chocolate, cake, yogurt, cream, milk and cheese alternatives!
Get all the practical help you need from our Going Vegan section and order your Everyone's Going Dairy-Free guide!
You might also like...
Scroll up