Kangaroo Campaign History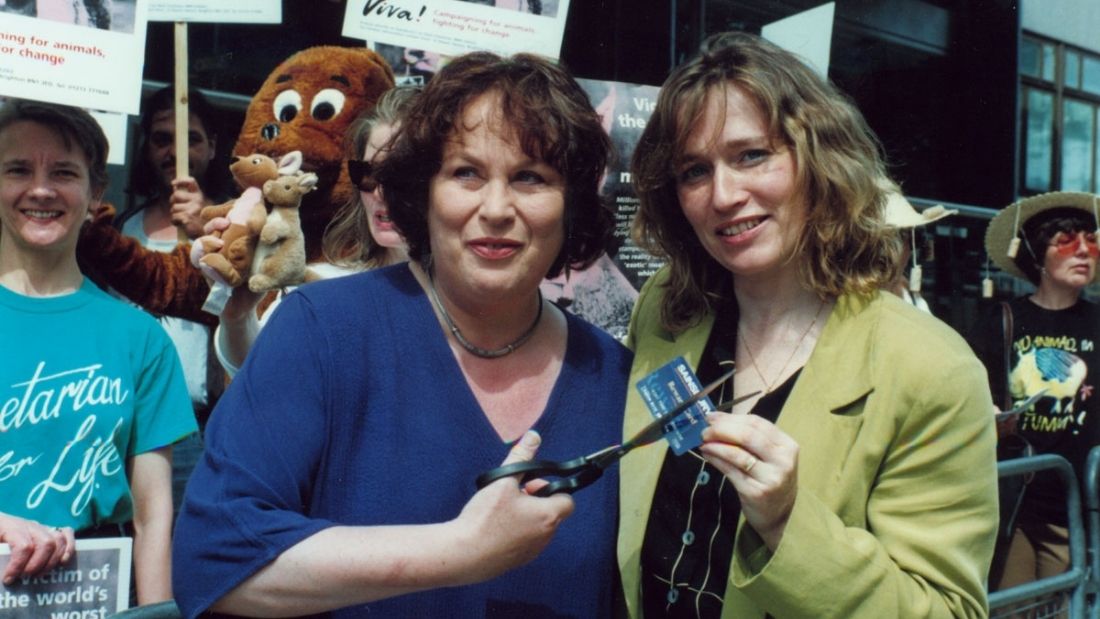 In 1994, shortly after the launch of Viva!, our attention was drawn to a new 'product' range in Tesco's meat chillers, simply labelled 'kangaroo steaks'. We discovered that this so-called delicacy was the product of the largest slaughter of land based wildlife in history – hunted at night in the vast outback, with powerful four-track vehicles and mesmerising search lights, the startled animals are shot, supposedly in the head.
We obtained video footage of a kangaroo shooter in action, exposing a cruel and barbaric blood bath. The footage showed animals being shot in the throat, their legs slashed open, a hook inserted and they were hauled on to the back of the vehicle, still gasping in agony. Large, still-conscious males were dragged up by their testicles. When females were shot, the first action of the killer was to search their pouches for babies. Having found one, he threw it to the ground and stamped on it, grinding his heel on the 'joey's' head. He walked away, leaving it writhing. Obviously, there is no justification for this wildlife massacre and our research revealed the excuses offered by the Australian government were lies.
Determined to stop this cruelty we targeted Tesco – persistently campaigning for two years to uncover the truth of the matter to consumers. We printed specific materials for their customers, organising hundreds of local groups outside their stores to distribute it, and supplied information to the media. The culmination was a double-page spread in the News of the World on kangaroo killing; Tesco dropped the trade four days later. That was 26 September 1997. As a result Somerfield also dropped sales, cancelling an entire frozen food range.
1998 – Pam Ferris joins the campaign
In 1998, Viva!'s director Juliet Gellatley was invited to Australia by various wildlife groups and created a storm of controversy – doing about 50 media interviews and a press conference at Canberra's Houses of Parliament  filmed live on national and regional TV news. She returned to the UK to reinvigorate the campaign – including a demonstration outside Sainsbury's supermarket's headquarters in London on 24 July 1998. Actress, Pam Ferris, cut up her Sainsbury's loyalty card in an act of defiance against the industry in front of Australian and British radio and TV cameras. It was followed the next day with 100 demonstrations in the UK outside Sainsbury's stores and in Australia at restaurants that sold the meat.
Representatives of the killing industry came to the Brighton demo, desperate to protect their markets. It did them no good because Sainsbury's also dumped 'roo meat, followed closely by all major supermarkets – 1,500 stores in all. It led to Juliet being presented with the Australian Wildlife Protection Council award for services to wildlife.
2001 – Juliet takes the campaign to Australia
Despite the victory in Britain, sales of kangaroo meat and leather continued in Australia and the global market was on the rise. In an attempt to forge bonds between Australian and European groups and garner support for a wider campaign to 'save the kangaroo' Juliet returned to Australia in 2001 to a wave of media and again in 2002 to film for the hugely popular 60 Minutes. During this prime-time feature Juliet exposed key issues with kangaroos being shot for their meat and skins and visited the home of a kangaroo shooter to debate the industry. Through building a collaborative network our hopes were to save these unique and wonderful animals from further persecution.
2006 – David Beckham ditches his kangaroo skin boots
The next round of good news followed in 2006 when, after a four year campaign by Viva!, David Beckham finally ditched his controversial kangaroo skin football boots in favour of synthetic ones! His new boots – Adidas Cardinal Red/Silver Absolutes, which he helped to design – were instead made from high-tech synthetic materials and promoted as the "most accurate, lightest and powerful" Predators ever, positively reinforcing our Save the Kangaroo campaign.
2008 – Booker Cash and Carry drop exotic meat
During 2008 Viva! congratulated Booker cash and carry for taking an ethical lead and dropping sales of 'exotic meat', including kangaroo, to help preserve species after a meeting in which we provided compelling evidence of the cruelty and unsustainable nature inherent in the kangaroo trade. This included a new report from the Australian Society for Kangaroos 'Decimation of an Icon', which showed several species of kangaroo shot in the wild for meat and leather on the brink of extinction. A second leading cash and carry company, Makro, removed sales of kangaroo meat due to similar concerns in 2009.
2011 – Kangaroo skin football boots hit the headlines
Kangaroo skin football boots made the headlines once again in 2011, after it was discovered that large manufacturers (such as Adidas) were moving away from using the leather due to pressure from Viva! and other groups. However, to this day the big four (Adidas, Nike, Umbro and Puma) still use kangaroo leather to some degree.
2013 – Supermarkets drop kangaroo meat
Kangaroo meat began making a resurgence in British supermarkets around 2013 when budget chain Lidl introduced a promotional burger range. We launched an ongoing campaign calling for an end to trade in kangaroo, which secured major press coverage in The Sun newspaper. It didn't stop there though as frozen food giants, Iceland followed suit in 2015 with the introduction of so-called 'exotic meats' – including kangaroo.
Another supermarket chain, Morrisons, was also slammed in the national media for putting consumers at risk by selling kangaroo steaks and recommending the meat be cooked "medium rare". Soon after the deluge of emails from Viva! supporters Morrisons too dumped the range, insisting the steaks were a "limited time promotion".
In recent years we've seen kangaroo meat return to both Tesco and Sainsbury's but our fast action to condemn them publicly led to both chains once again dropping sales. Only Lidl and Iceland persisted so we continued our campaigning and in 2018 claimed a double victory as Iceland announced all lines containing kangaroo meat had been removed from sale in response to feedback from customers, closely followed by Lidl after significant animal welfare issues and health concerns were forwarded to Lidl UK's Managing Director. As of June 2018 kangaroo meat products will have been removed from all UK supermarkets.
Despite our successes campaigning in the UK the situation remains grave. Population estimates from 2017 put the numbers of kangaroos in Australia at just over 46.1 million; down by over 11 million from 2001 when there was an estimated 57.4 million. Worryingly a drop has been seen in all four species that are hunted. Yet still, over six million kangaroos are earmarked for slaughter each year. This figure takes no account of the hundreds of thousands of baby 'Joeys', who are either left to die from starvation or are removed from their dead mother's pouches and clubbed to death with iron pipes.
2018 – Pets at Home drop kangaroo meat treats
As we continue our fight to Save the Kangaroo, appealing to companion animal supply chain Pets At Home to dump kangaroo meat, an extreme drought hits New South Wales. The kangaroo industry claims that the current lack of food and water caused by the drought has increased competition between kangaroos and livestock. In response to worsening conditions, the New South Wales government has removed many of the regulations protecting kangaroos. Landowners now have easier access to shooting permits – applying over the phone instead of in person. Many hunts will go unchecked as farmers will no longer have to tag dead kangaroos to keep a record of numbers killed. These policy changes will have devastating effects on the kangaroo population, rapidly increasing the number of kangaroos being needlessly and ruthlessly killed.
Although Pets At Home concede, setting a new precedent for companion animal supplies chain, there's still plenty of work to be done.
Scroll up