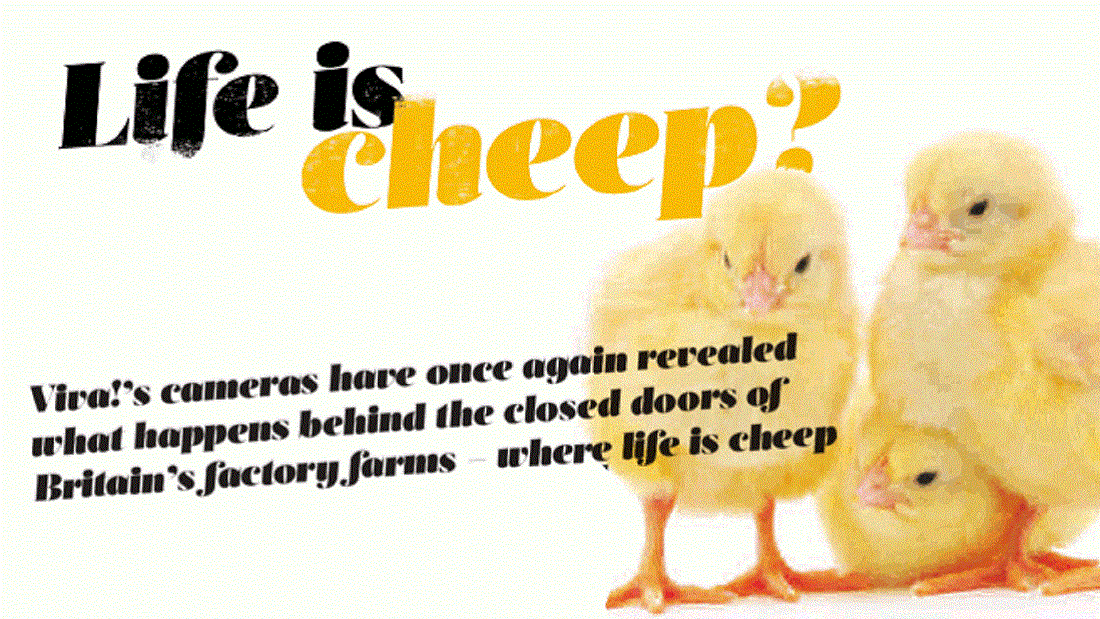 Every day in the UK 2.5 million chickens are cruelly slaughtered for meat – that's 30 deaths every second – each one an individual, each one a life lost.
Chickens are thinking, feeling animals who, like most birds, love and care for their young and enjoy dustbathing, nest-building and roosting in trees. They also form friendships and a complex pecking order.
Faccenda Farms
"Recently, I again accompanied our brave undercover teams to farms belonging to Faccenda. They are one of Britain's largest chicken suppliers and even though I have investigated twice before, nothing can prepare you for it. I always hope things have changed but they never have." Juliet Gellatley
Viva! filmed at a Faccenda intensive broiler unit near Sutton Benger several times over a three year period, most recently in late 2007.
The windowless sheds were crammed with thousands of broiler ('meat') chickens kept under artificial light – we estimated that there could have been up to quarter of a million chickens on that one farm alone at any one time.
Bio-security was so lax that we were able to legally enter through the same unlocked door on each visit. About a mile away from the sheds is Faccenda's factory, which processes 720,000 chickens a week.
Leg problems are common on chicken factory farms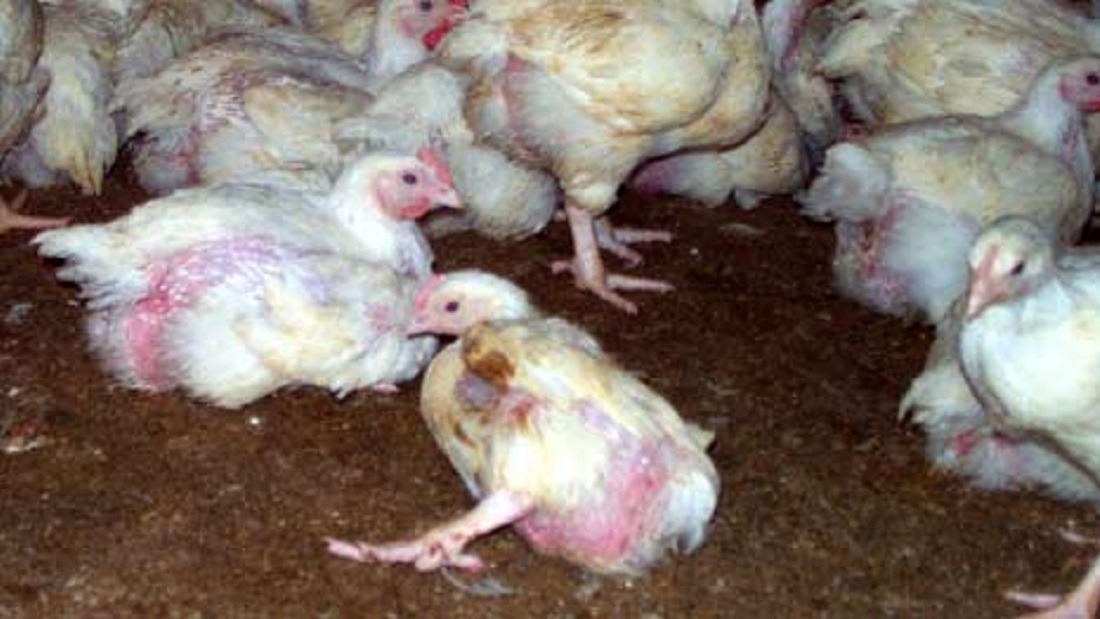 Our investigator describes the investigation
"We knew we were close to the farm when we picked up the usual cloying, fetid stench that emanates from all broiler chicken units. Making our way through a hedge of brambles and nettles, we came into a deserted clearing from where we could see rows of windowless sheds stretching away into the darkness. Above the muffled sound chickens clucking was the mechanical clatter of automatic grain feeders, grinding away remorselessly.
We walked around the huge complex, which covered the space of several football pitches, and eventually saw an open door. After dipping our boots in antiseptic solution, we went through it.
Through a haze of dust particles, we could make out the cavernous interior of the shed and were met with the babbling of 30,000 voices – three to four week-old chicks who literally carpeted the floor. Dotted around on the spongy litter were the little corpses of birds that hadn't managed to live even this long. Most of the living chicks looked dejected and dedraggled, with patches of bare skin showing through their feathers, a product of moulting caused by the oppressive heat. I watched as three chicks gathered around a shiny piece of red metal, fascinated by it – the only thing of interest in this barren space.
We returned to the same shed a few weeks later when birds were nearly six weeks old, and conditions had deteriorated. What little spare space there had been was now almost entirely gone. The birds were adult in size but their high pitched cheeps and blue eyes were unmistakeably those of chicks.
Moving around was like walking on a mattress – spongy excrement underfoot and the smell was now overpowering. We had only to spend a short time in here but it was home to the chickens. Everywhere we looked, birds with filthy, wet feathers huddled together seemingly seeking comfort from one another. Dotted around were lame, deformed and dying chicks who had no chance of escaping painful burns from the ammonia-soaked floor. Sadly, there was nothing extraordinary about this scene as it is repeated over and over again in identical windowless sheds the length and breadth of the UK.
As I crouched amongst them, the chicks eyed us with curiosity. Even in that short space of time, individual personalities shone through. Some circled me whilst others boldly pecked at my camera. As we left, the horribly sobering thought struck me that by the time the pictures were developed, all 30,000 birds be dead – their numbers contributing to the 860 million chickens killed for meat in the UK every year."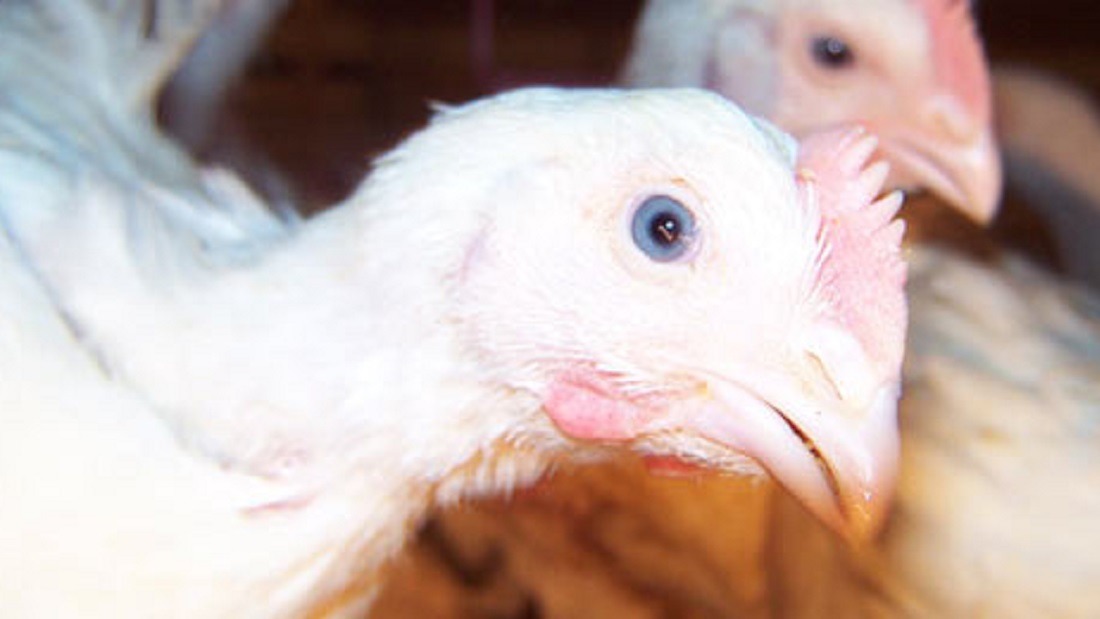 Surprised that you have never heard of Faccenda?
This company is so publicity shy they don't even have a website, and they sell onto supermarkets and other outlets but not under their own name. However, they are second largest chicken processor in the UK after the Grampian Country Food Group, and kill and process around 2 million birds a week from six facilities across the UK (1).
Chickens raised for meat in Britain live a pitifully short six or seven week life. The night we covertly visited a site outside Chippenham the birds were only a couple of weeks old, adorable little bundles of yellow feathers and exuberant energy. Yet even at this very young age, the problems were clear to see.
Scattered across the vast shed, some chicks lay still in the sawdust, unmoving in the sweltering heat. These were the early casualties. One particular chick caught my eye. He was lying on his back taking shallow breaths, eyes glassy and half-shut. It was obvious he was close to death.
Because the chicks were so small, they had space but we knew it wouldn't last for long. On our previous visits they were almost fully grown and almost everywhere we looked we saw birds with filthy, wet feathers, burnt from the ammonia soaked floor; some were lame, deformed or dying and huddled together perhaps seeking comfort.
In Wales, I went into a huge shed belonging to Hay Farms containing tens of thousands of birds so crammed together in a sea of white feathers that even the slightest movement caused a bizarre, involuntary Mexican wave.
Faccenda and Hay Farms are multi-million pound companies that do the dirty work for supermarkets, restaurants and food producers who sell these same chickens under their own brand names. And that's the way they like it – anonymous. Hidden behind fences and hedges down quiet country lanes, you might not even notice them but for the fetid smell that blankets the whole area.
We interviewed an ex-Faccenda chicken catcher and what he told us was shocking. Viva! collaborated with The Guardian newspaper in a telling exposé of Britain's dirty chicken business, revealing that 92 per cent of all chicken on sale is contaminated with faecal matter. No wonder that food poisoning from poultry infects almost a quarter of a million Britons every year, mostly with campylobacter.
Overall meat consumption in Britain continues to decline yet chicken sales grow, with 945 million birds slaughtered last year. 94 per cent of all farmed animals killed in this country are chickens and this breaks my heart. They are plucky, delightful little animals with similar cognitive abilities to higher primates yet are treated as commodities, devoid of hope, fear or pain. Spend five minutes in a chicken shed and you know that they are individuals with a lust for life, something I learned long ago when I had rescued hens. And this is why we are launching the 'Life is Cheep?' campaign – because we know it is anything but cheap.
Please help us take the message to people everywhere that chickens matter and they can break this chain of suffering by simply changing what they eat.
We recently held a Day of Action against Nando's – now one of the biggest chicken restaurants in the country. You can still order our eye-catching materials to encourage customers to choose the kinder options on the menu and tell them how rotten the poultry industry really is.
We are planning a media blitz, more investigations, a new film and 100,000 new leaflets. This doesn't come cheap, either. That's why we are asking your support for us to help the most abused animal in Britain. Hand on heart, we can't do it without you. Whatever you can spare will help us save lives and all will be gratefully received.
Yours for the animals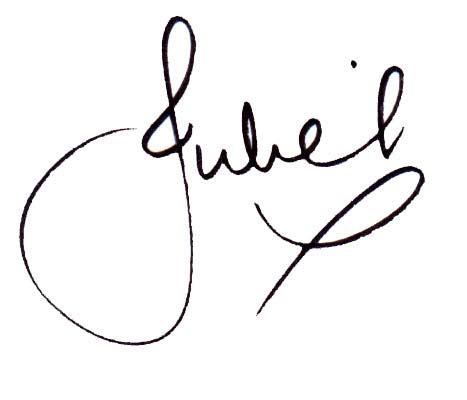 Juliet Gellatley returns to Dean Farm Animal Sanctuary to visit the chickens saved from a crash on the A40.
They are safe now, but would have been raised for meat and killed at just six weeks old. Broiler chickens are the most killed animal for meat in the UK. Juliet talks about the short, overcrowded life they would have led on one of Britain factory farms and the life they will now have in their forever home in the beautiful Welsh countryside.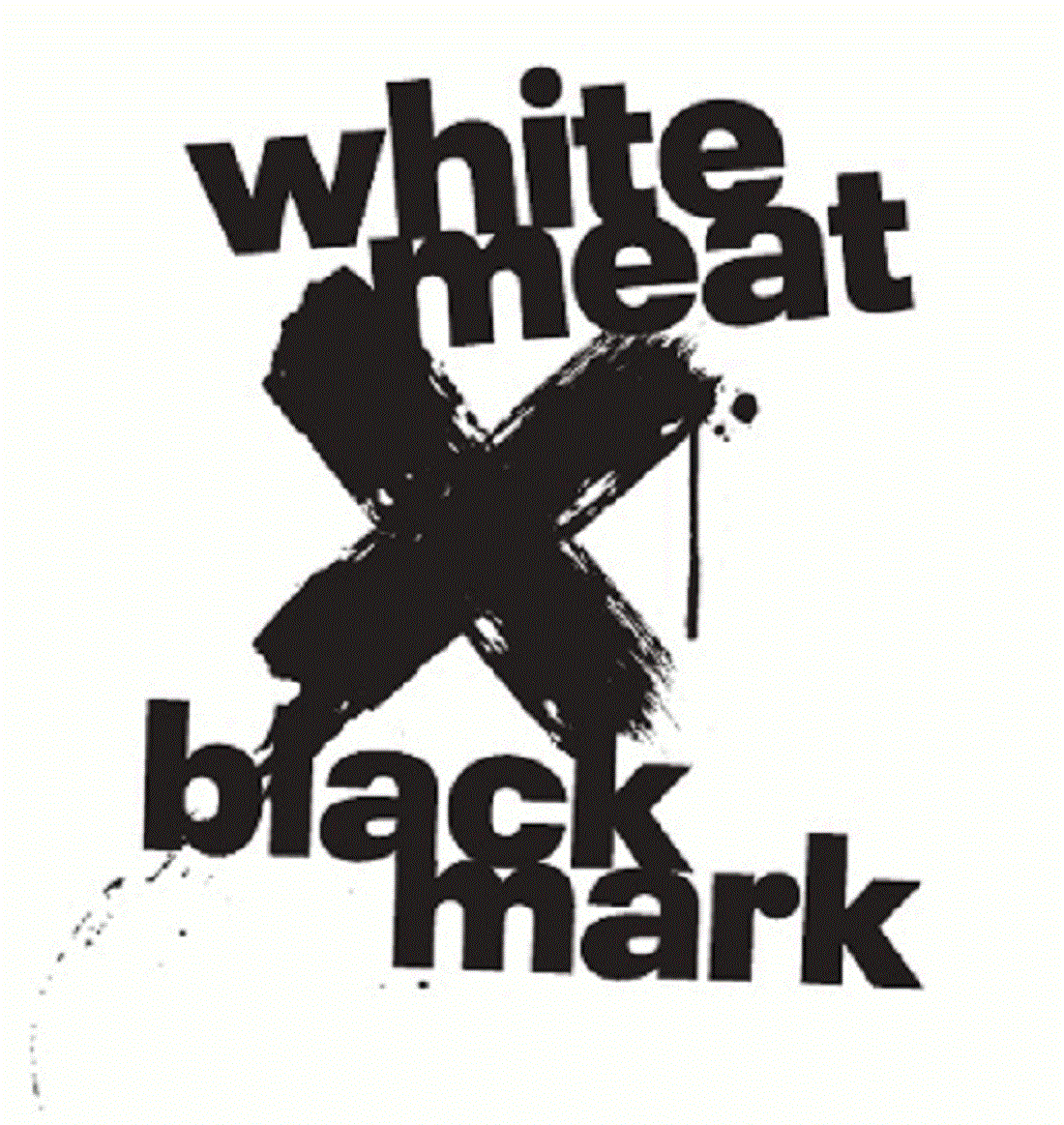 Big fat lies
Many people turn to white meat because of the belief that white meat is lower in fat than other types of meat. However, meat is mostly muscle and muscles are made of protein and fat. Fat is an inherent part of meat and even if you remove the skin and visible fat, you can't just magic away the fat inside the meat.
Moreover, when numerous samples of chicken meat (including organic) were analysed, it was discovered that it now contains more than twice as much fat as it did back in 1940, a third more calories and a third less protein.2Wang YQ, et al., 2004. Changes in protein and fat balance of primary foods: Implications for obesity. 6th Congress of the International Society for the Study of Fatty Acids and Lipids. Brighton, UK. The reason is simple – today's chicken farming means high-energy feed, little exercise and breeding for rapid weight gain.
We are what we eat
White meat is a great source of AGEs (advanced glycoxidation end-products also called glycotoxins) and heterocyclic amines (HCAs).
AGEs are toxins naturally produced by the body but we can also ingest them in food. AGEs accumulate in joints and contribute to arthritis,12Verzijl N, et al., 2003. AGEing and osteoarthritis: a different perspective. Current Opinion in Rheumatology. 15 (5): 616-22. they accumulate in the brain contributing to Alzheimer's disease13Münch G, et al., 1998. Alzheimer's disease – synergistic effects of glucose deficit, oxidative stress and advanced glycation endproducts. Journal of Neural Transmission. 105 (4-5) 439.; and in blood vessels, contributing to high blood pressure14Silacci P, 2002. Advanced glycation end-products as a potential target for treatment of cardiovascular disease. Journal of Hypertension. 20 (8) 1483. and atherosclerosis.15Stitt AW, et al., 1997. Atherogenesis and advanced glycation: promotion, progression, and prevention. Annals of the New York Academy of Sciences. 811 : 115.
When the amount of AGEs in common food items was measured, the highest amounts were found in meat products, including oven-fried chicken, McDonalds Chicken Nuggets and cooked chicken breast.16Goldberg T, et al., 2004. Advanced glycoxidation end products in commonly consumed foods. Journal of the American Dietetic Association. 104 (8) 1287-91.
The other group of compounds, called HCAs, are chemicals linked to cancer in humans (and officially recognised as carcinogens). They are produced when you cook animal products. The longer the meat is cooked and the higher the temperature, the more these compounds form.17Knize MG, et al., 1994. Effect of cooking time and temperature on the heterocyclic amine content of fried beef patties. Food and Chemical Toxicology. 32 (7) 595-603.
Some of the highest concentrations of HCAs are found in grilled meat, especially chicken. In independent laboratory tests, 100 grilled chicken items from restaurants including McDonalds and Burger King were all found to contain HCAs.18PCRM, 2008. Burger King Alerts Customers to Cancer-Causing Chemical in Grilled Chicken. Available from: http://www.pcrm.org/media/online/dec2008/burger-king-alerts-customers-to-cancer-causing
On top of that, cooked meats also contain a cocktail of cancer causing chemicals, including: polycyclic aromatic hydrocarbons, N-nitroso compounds, lipid peroxides, other pro-oxidative agents and fungal products.19Cross AJ and Sinha R, 2004. Meat-related mutagens/carcinogens in the etiology of colorectal cancer. Environmental and Molecular Mutagenesis. 44 (1): 44-55. All these have the potential to interact with our DNA and cause cancer.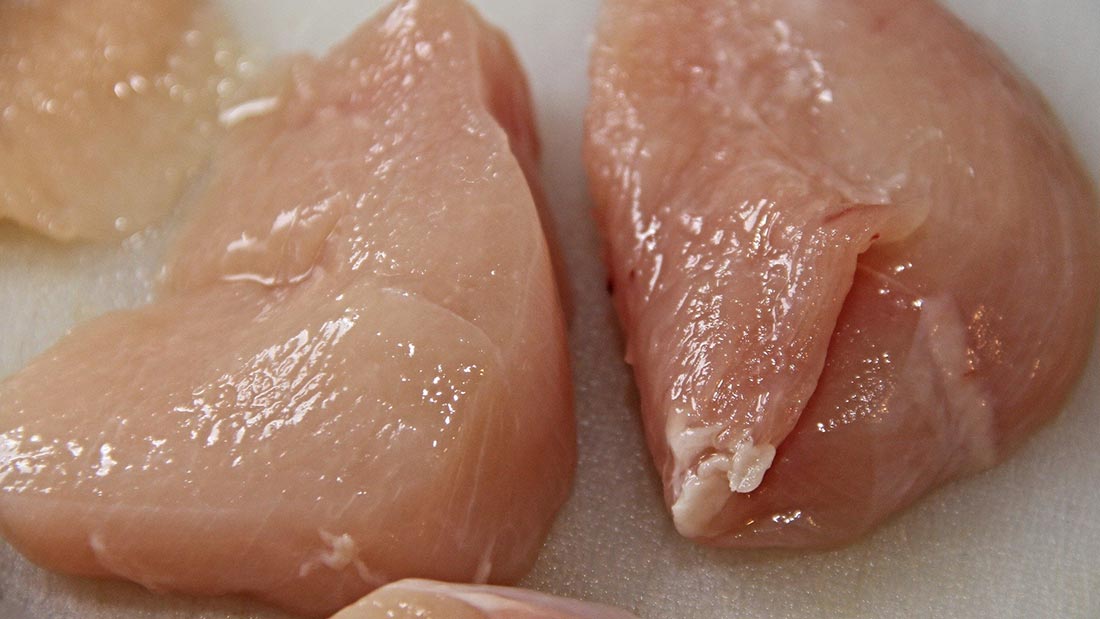 Most likely to make you sick
Poultry consumption is the major cause of food poisoning in the UK. Campylobacter is the main culprit responsible for around 280,000 food poisoning cases per year and around 100 people are thought to die as a result of food poisoning.23The Guardian, 2014. Revealed: the dirty secret of the UK's poultry industry [online] http://www.theguardian.com/world/2014/jul/23/-sp-revealed-dirty-secret-uk-poultry-industry-chicken-campylobacter
However, most cases are underreported and the actual number in the UK is estimated to be more than 500,000 per year.24MacRitchie, LA, Hunter, CJ, Strachana, NJC, 2014. Consumer acceptability of interventions to reduce Campylobacter in the poultry food chain. Food Control. 35(1): 260–266 Campylobacter causes severe abdominal pain, nausea and bloody diarrhoea and severe cases can be fatal. Complications associated with the infection include Guillian–Barré syndrome, arthritis and IBD (irritable bowel disease).
The temperature required to kill the bacteria (160ºF/71ºC) is the same temperature which produces carcinogenic compounds mentioned above so there is no 'safe' way to prepare white meat in that respect.
The Guardian investigation that Viva! was involved in revealed that two-thirds of fresh retail chicken in UK are contaminated with campylobacter.11The Guardian, 2014. Revealed: the dirty secret of the UK's poultry industry [online] http://www.theguardian.com/world/2014/jul/23/-sp-revealed-dirty-secret-uk-poultry-industry-chicken-campylobacter Campylobacter is carried in the intestines and faeces of chickens and evisceration is one of the key points in the processing chain at which contamination occurs. Large abattoirs run lines that process 185 to 195 birds a minute (nearly 12,000 an hour) and the investigation exposed problems that come with this speed – a factory floor flooded with guts, carcasses coming into contact with workers' boots then returned to the production line and other poor practices that increase the risk of spreading bacteria.
Insider sources say this is common across the industry and is even unavoidable given the way chicken is processed.
When researchers swabbed the outside surface of packages of raw meat they found Salmonella, Campylobacter and multidrug-resistant E. coli present.25Burgess, F, et al., 2005. Prevalence of Campylobacter, Salmonella, and Escherichia coli on the External Packaging of Raw Meat. Journal of Food Protection. 68 (3) 469-75. Even your toilet is cleaner and safer than handling raw chicken! Authorities now advise people not to wash chicken before cooking to limit bacteria spreading on the kitchen surfaces – if it's not safe to touch it, why would we want to eat it?
So, is white meat a good choice for health conscious consumers? Not by any chance! You can get clean lean protein from plants, it's not only safer but much healthier and the kindest possible choice.
Scroll up