Juliet's Story
Enough is Enough!
First, they ignored us. Then they attacked us. Now they're trying to silence us. Hogwood Pigs Are Still in Pain.
Against all odds, Viva! reinvestigates Hogwood Farm, to expose shocking conditions at Tesco supplier for the third year running. This time we leave hidden cameras…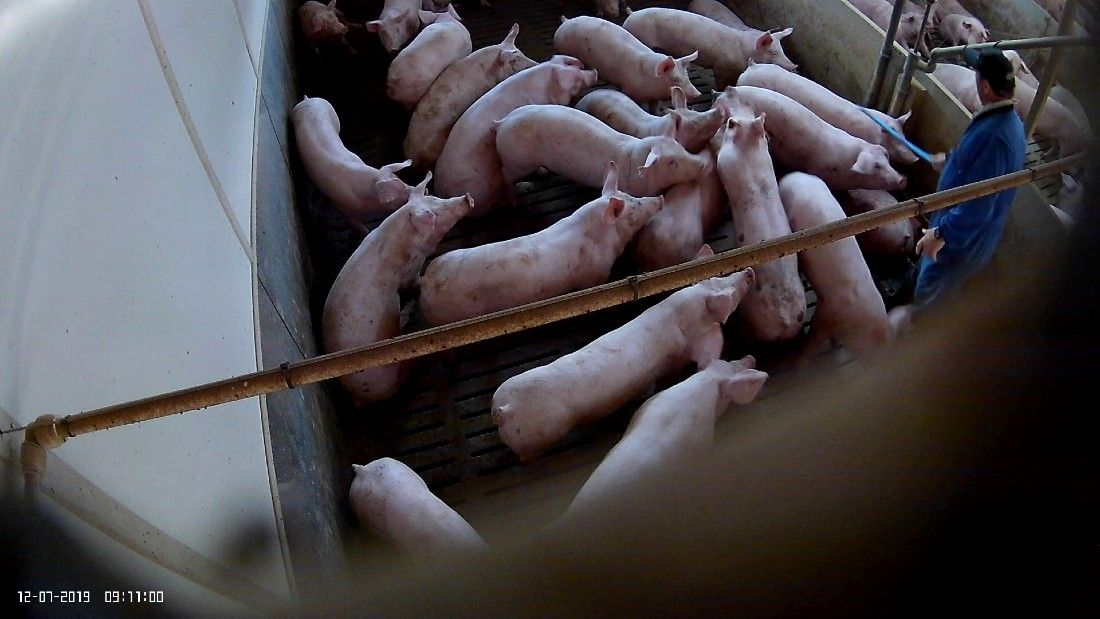 You know the story; we've told it twice before. Back in June 2017, I went inside one of Britain's largest pig farms. A farm I've come to know very well over the last two and a half years. It's a huge industrial unit located in Oxhill, Warwickshire called Hogwood and the horrors my team and I have filmed there are not easily forgotten. They should never be forgotten.
Hope Not Hell
The first shed I entered was colossal, with more tightly packed pigs than it is possible to imagine. I tried to step carefully through them but they swarmed towards me, keen to investigate my unfamiliar presence. They nibbled at the shoe coverings I wore for biosecurity purposes and tugged for my attention. They were inquisitive adolescents, about three months old and wide awake, despite the early hour.
In other sheds I found sick animals left abandoned in gangways; pig skulls, a jaw and a hacked off lower leg, all left to rot in what looked like years' worth of filth; a dead, blackened and bloated body of a pig being pushed and prodded by his cellmates, all covered in excreta; and mothers giving birth onto cold, unforgiving concrete, locked inside farrowing crates with little room to move forwards or backwards, let alone turn around.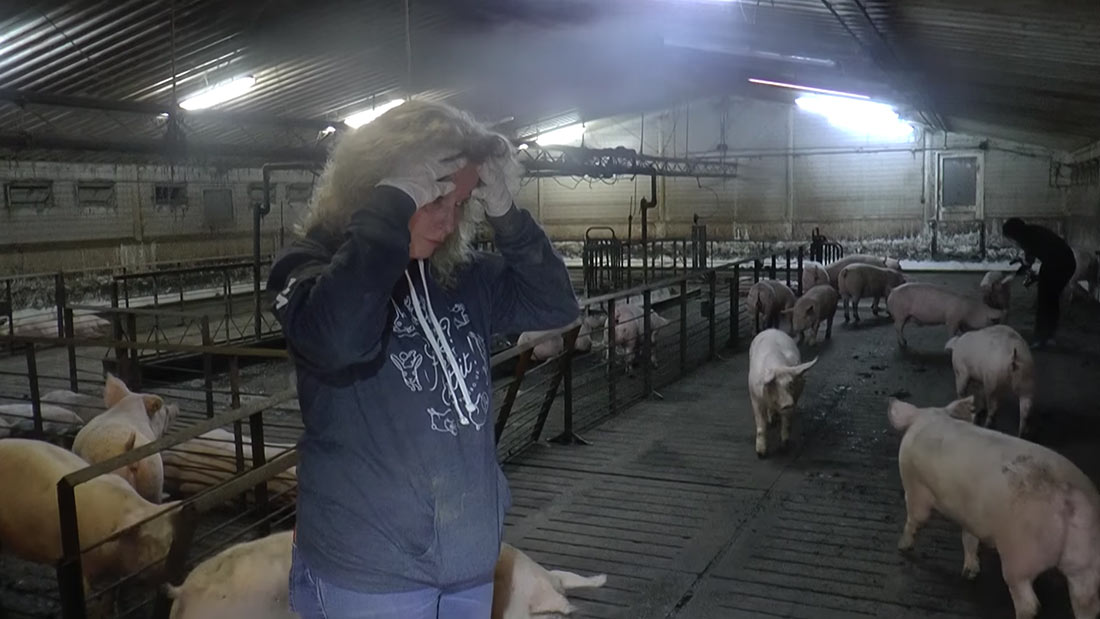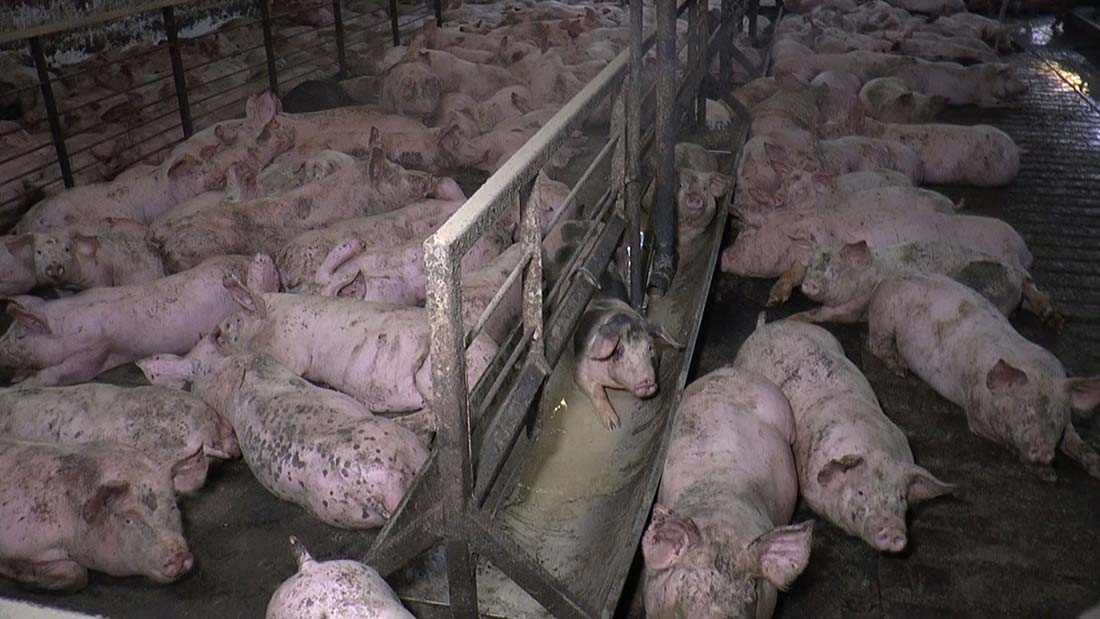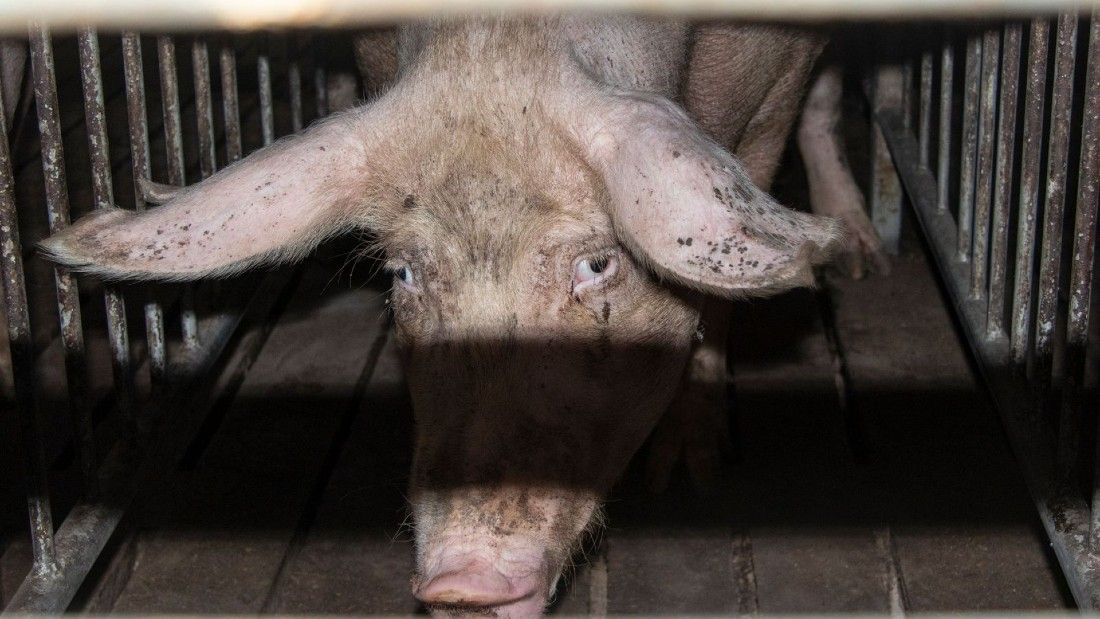 Every Little Hurts
Shortly after the Sunday Mirror published our first exposé we received a tip-off that the farm was dumping dead animals in nearby woods. So, together with Viva! supporters, we discovered piles of pig bones in a grisly woodland graveyard – ear tags, skulls and other remnants of these beautiful animals, discarded like trash on land registered to Hogwood Farm.
Hogwood Supplies Tesco!
It was during this visit that we found out this dump supplies Tesco! In a wave of support, people across Britain joined with us to ask Tesco to drop Hogwood. However, they responded unsympathetically, digging their heels in, stating "we work with our suppliers to improve their standards".
Horror at Hogwood
Since our first investigation, Hogwood has been surrounded with high fencing, barbed wire, CCTV and alarms but we made a commitment to Hogwood pigs that we would not forget them. With great trepidation our brave investigators followed in my footsteps one year later, entered many of the same sheds, stumbled down the same gangways and opened the same doors.
In one gangway we were shocked to find 10 pigs lying in a bloodbath. One was being eaten alive. In their desperation, these animals had turned on each other – something that is exceptionally rare in the wild.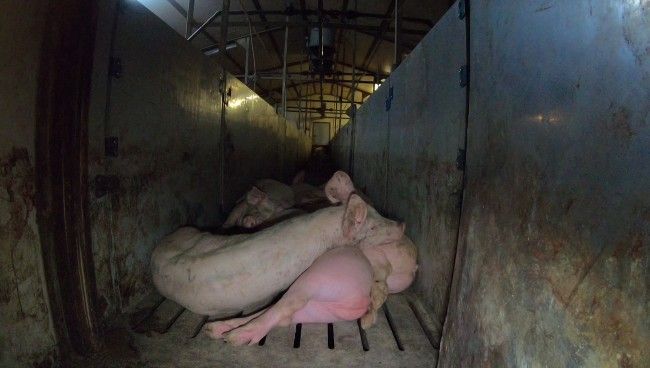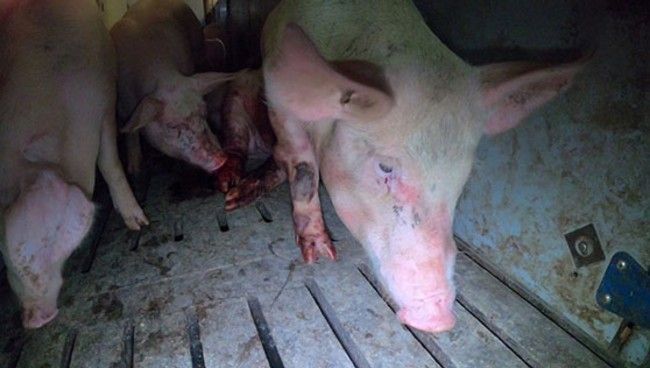 Worthless Assurances
Rather than leave unnoticed, I made the decision for our investigators to call a vet, the RSPCA and, of course, the police. At first the RSPCA refused to respond. It took two hours of back and forth for them to agree to send a local vet, who on arrival at 5am, declared she wasn't a pig specialist.
The next day we submitted an official complaint to the RSPCA, Animal and Plant Health Agency, Red Tractor and Tesco, who the farm continues to supply, and sprang into action calling on our supporters to help bring the plight of Hogwood pigs to the nation.
We orchestrated a week of action, culminating in a second Nationwide Day of Action against Tesco's utter failure to act responsibly. Thanks to you, it was our biggest yet with demonstrations outside a staggering 150 Tesco stores across the country. Later, representatives of Viva! Campaigns attended a prestigious industry awards ceremony to present Tesco's top executives with over 77,000 signatures to drop Hogwood Horror Farm once and for all.
Channel 4 Dispatches try – and fail – to discredit our Hogwood Campaign
Since our second investigation and Nationwide Day of Action we've hosted follow up demonstrations outside three London Tesco superstores as well as Red Tractor HQ, in response to the Channel 4 Dispatches episode called 'The Truth About Vegans', which aired earlier this year.
In the report, Dispatches made several allegations about Viva! and our investigations of Hogwood Farm, which I agreed to respond to on camera. My only condition was that we could film the entire interview ourselves to show if my comments were edited or taken out of context; however, because Dispatches refused, I declined to be a part of it. It was clear to me that the producers had a pre-determined agenda, since the bulk of the production had already been completed and Viva! had been positioned as 'vegan extremists' on the series schedule. The programme backfired and Viva! received an outpouring of support!
Pigs in Pain
In the programme, farmer Brian Hobill claims to have spent a lot of money on the farm, and that the conditions are good 24/7. He ludicrously goes as far as to say "I think we've got better conditions than most nursing homes" and quotes 27 inspections finding nothing wrong on the farm.
So in July 2019, our team set out once again to further expose the horrors of Hogwood; to obtain round-the-clock surveillance footage and catalogue the continuation of cruelty.
Three Years Three Investigations
I wanted to see whether sick and dying animals remain dumped in gangways, whether the farrowing sheds are as barren and filthy as before, whether severely overcrowded sheds are still festooned in cobwebs and whether the conditions Hogwood pigs live in are truly 'better than most nursing homes'. This time we wanted 24/7 access and that's exactly what we got!
During the week-long investigation our team installed five hidden cameras across three sheds. Ill pigs were again found dumped in gangways – terrified and ruthlessly kicked out of the way by farm workers, struck with metal riding crops and hand tools. In the artificial insemination shed another farm worker was filmed slamming the front end of a metal rape rack down onto a confined pig – she screamed out as she was administered with a painful injection before being hit over the head.
Where we found acts of live cannibalism last year, we filmed one panicked pig endure an extended attack – being bitten and bullied by the others locked up with her. She was unable to escape, leaving her body covered in excruciating wounds and lacerations in need of medical attention. Attacks such as this are unheard of in the wild but here they're certainly not uncommon, judging by the amount of scars on the other pigs our investigators filmed. When she was finally moved to the gangway, more than 24 hours later, a worker beat the other pigs out of the way with a slap stick while she struggled to stand.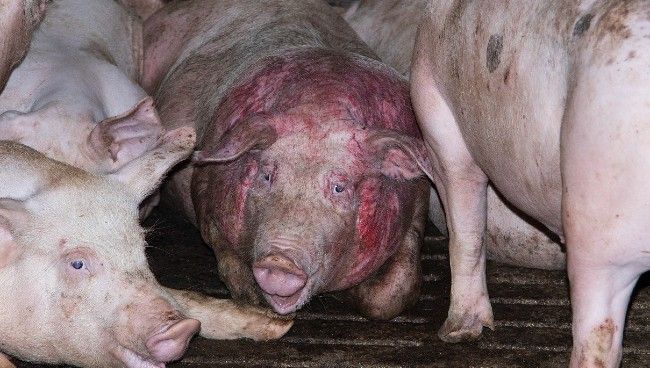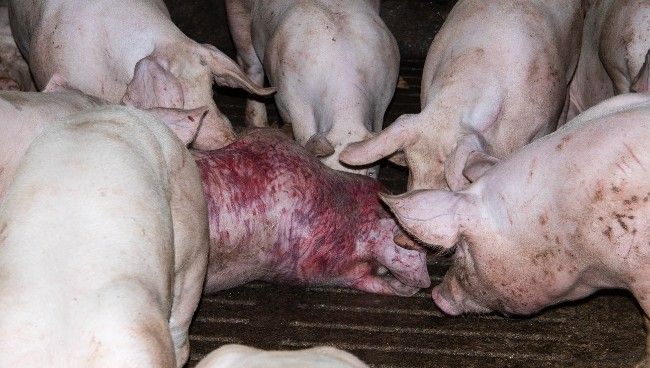 What our three investigations spanning the last three years show is that Hogwood pigs are still in pain, leaving me more horrified and heart-broken than I thought possible. Enough is enough! How much longer can Tesco refuse to listen? The industry doesn't care about these pigs, but we do!
Thank you, as always, for your incredible support. From the pigs at Hogwood, all farmed animals and everyone at Viva!.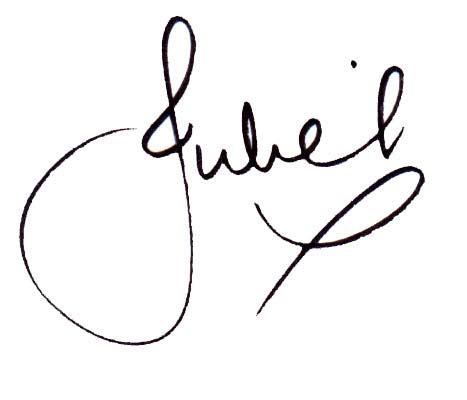 Juliet Gellatley
Founder & Director
You might also like...
Scroll up