2019: Viva! Review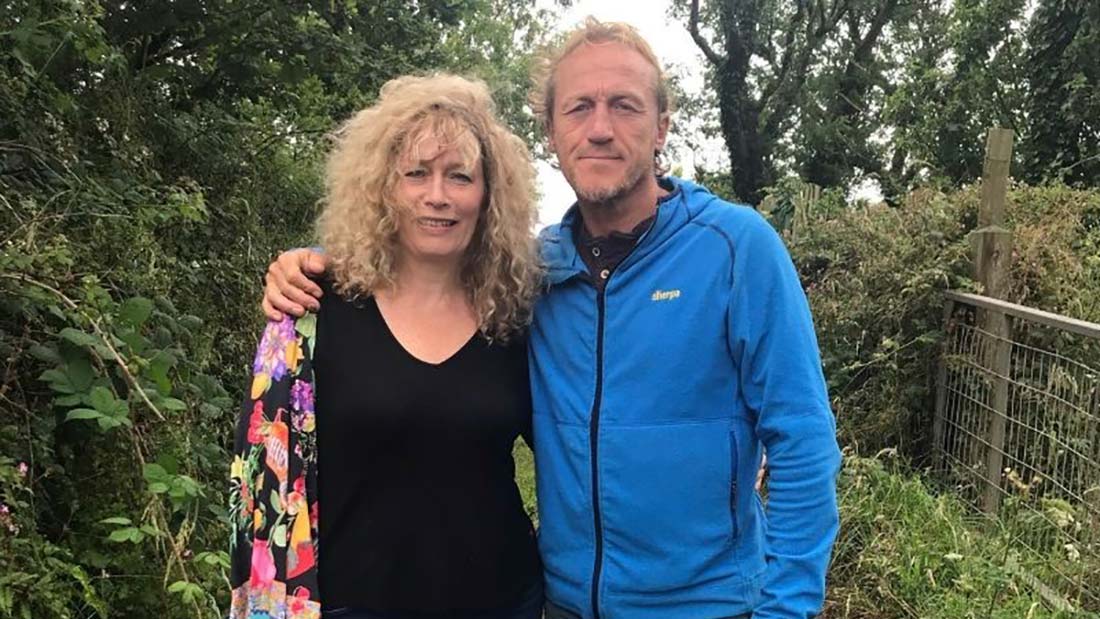 In 2019 we celebrated our 25th year with some huge victories – none of which would have been possible without YOUR continued support!
By Juliet Gellatley, Viva!'s founder and director
Pigs
For us, the year began on 2 January when an episode of Channel 4 Dispatches aired called The Truth About Vegans. In the documentary several false allegations were made about Viva! and our investigation of Hogwood Farm, so we immediately responded with our rebuttal and called a Day of Action outside Red Tractor HQ in London.
Accompanying us was a red tractor, which we adorned with the loud and clear message that you cannot 'trust the tractor', as well as a large digital video van playing our shocking footage from inside Hogwood Farm.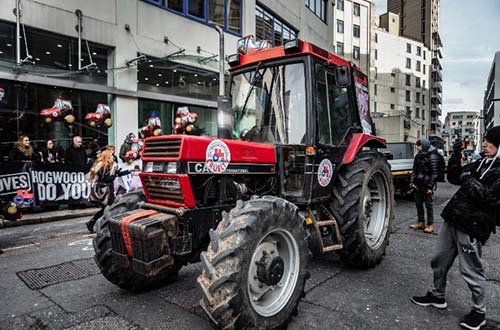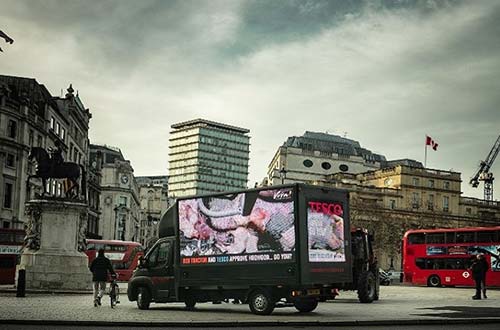 After more than two years of sustained campaigning, we returned to Hogwood Farm in July 2019 to carry out our third investigation and expose yet more shocking conditions. In a Mail on Sunday exclusive Red Tractor subsequently revealed its termination of Hogwood Farm's membership to its assurance scheme, with immediate effect. As a result, Hogwood was finally dropped by Tesco and Cranswick Foods.
This was a huge victory for Viva! and all of our supporters that have backed the campaign and so I just want to thank everyone once again that helped make this happen!
However, the story's not over yet. We are in the midst of producing a brand new documentary, narrated by Viva! patron Jerome Flynn, to tell the Hogwood story and further expose the realities of animal farming in Britain. Through our crowdfund campaign we raised a whopping £48,000 from you, our supporters, to make it happen – stay tuned for more news in 2020!
No Porkies
To bring a positive vegan message to the British public we launched our No Porkies campaign, accompanied by hot dogs, a colourful grill, and friendly staff and volunteers. We set up stalls in Birmingham, Manchester, London and Bristol to hand out free vegan hot dogs and circulated our brand new World's Smartest Sandwich leaflets that compare and contrast the natural behaviours of pigs with others confined in factory farms. We had queues of people throughout the four events, making it another huge success!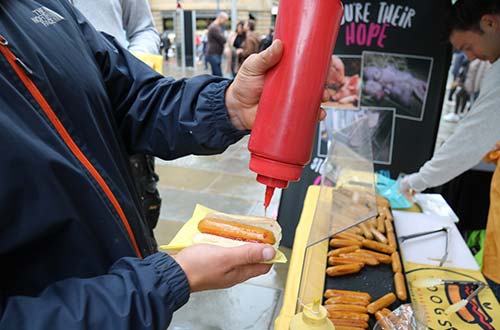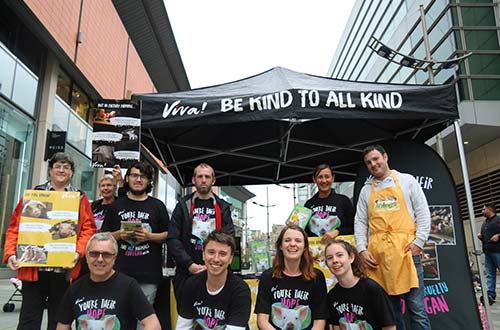 And some more good news for pigs – Viva! assisted Beneath the Wood Animal Sanctuary in the rescue of 53 pigs (which later turned out to be more than 80), who were going to be 'destroyed' by Pembrokeshire council due to severe neglect. Viva!'s senior campaigner, Laura Hellwig, and veterinary consultant, Dr. Alice Brough, were on hand to help bring them to the safety, where they could live out their lives in peace, without fear or pain.
Dairy
After a great response to our Viva!licious ice cream van tour last summer we decided to attack the winter months with a cappuccino coffee bike. Between January and March the Viva!ccino coffee bike visited Bristol, Birmingham and Leeds shopping centres to promote the benefits of plant-based milk, with free vegan cappuccinos supported by Oatly, and engage in conversations about the ethical, environmental and health issues linked to dairy.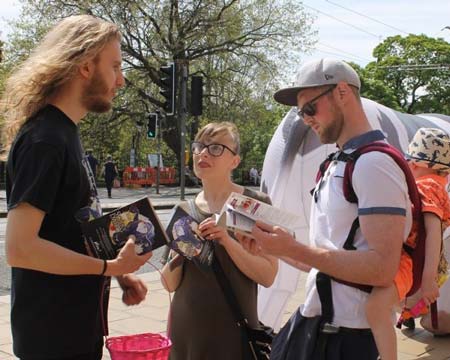 In May, dairy was still very much on our agenda as we launched another MooFree May month of action. Our campaigns team hosted Street Action events in Cardiff, London, Glasgow and Liverpool, while our comms team focused on maximising our reach with a brand new social media toolkit – featuring articles from Viva! Health, beautifully designed infographs on the environmental impact of dairy and lots of tasty vegan recipes from the Vegan Recipe Club.
With the introduction of three new campaigners to our team this year, we also branched out into more university activism. The 16-24 age category consistently ranks as the demographic most interested in veganism and we used the opportunity to reach thousands of new students by hosting events at university Freshers' Fairs.
As part of our Viva!shake tour we visited five universities in Sheffield, Nottingham, Manchester, Southampton and Cambridge, handing out dairy-free milkshakes along with our specially-designed Student Guide to Eating Vegan by Viva! food and cookery manager, Maryanne Hall. We reached more than 3,000 students – many of whom did not know the fate of male calves in the dairy industry, or that cows only lactate if they've had a baby, who is ruthlessly taken away from them for us to drink their milk. Needless to say, students were shocked, and many chose to ditch dairy there and then. So many conversations ended up being about how to implement veganism, rather than why, which really shows how the tide is changing among the young!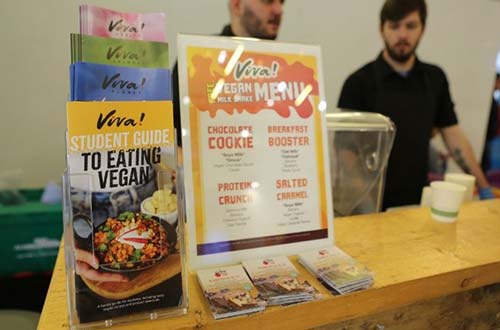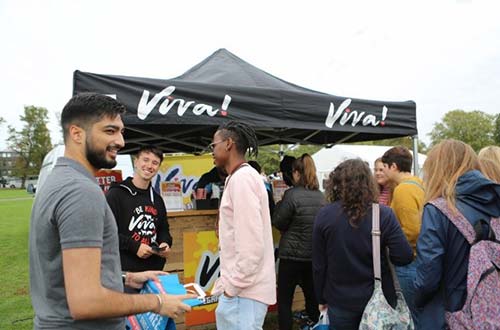 As over a quarter of the British public now prefer dairy-free milks over dairy, and as more and more people learn about the horrors of the dairy industry, it doesn't look like we're too far off a post-milk generation. Viva! will continue to be at the forefront of this mission until the cruelty ends.
Environment
Today's climate emergency identifies a staggering one million species at risk of extinction, and the rapid loss of ecosystems (crucial for the health of our world) means that it has never been more urgent for us to act.
In February our outstanding report Envirocidal was released, meticulously researched by Viva! Health manager and senior researcher, Dr. Justine Butler, with a foreword by Brendan Montague, Editor of The Ecologist. Bringing together the most up-to-date information from world-leading experts and papers, the report exposed the most critical issues we face today – all caused by our ruthless demand for animal products.
But it's not enough to just report it, we needed to make our voices heard, loud and clear! So on 23 September we hosted a panel debate to launch our Vegan Now campaign at the Labour Party Conference in Brighton! The full panel of experts included Dr. Joseph Poore, Dr. Josh Cullimore, Kerry McCarthy MP, Daniel Capurro, and of course Viva! associate director, Tony Wardle, and myself.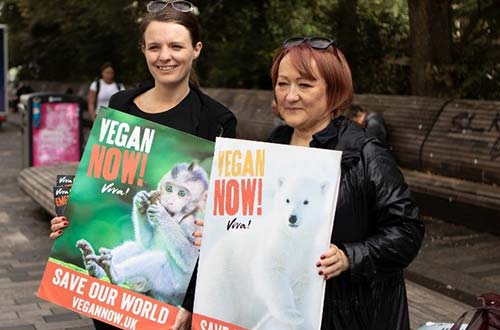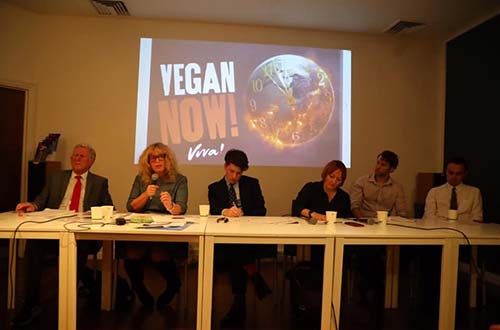 Fronting the media launch was Viva! patron and leading barrister, Michael Mansfield QC, who called for new legislation to prosecute Ecocide. The media went wild, triggering international debate! Michael's comments were covered by every UK national newspaper and over 100 other papers, including major columns in the USA and Russia. I also had the lead comment in the Daily Telegraph, gave 30 radio interviews – including BBC Wales, Ireland, London and Talk and debated with farmers' organisations on several national UK TV news programmes (including Channel 4 and BBC News, More 4 plus Radio 4 and Radio 5).
To draw more attention on the issue of wildlife loss we had Fearne Cotton front our World Vegan Day #GoVegan24 pledge, encouraging people to try vegan for one day to help save the world's wildlife.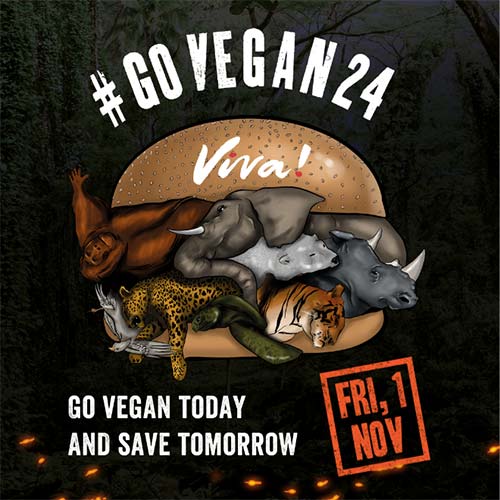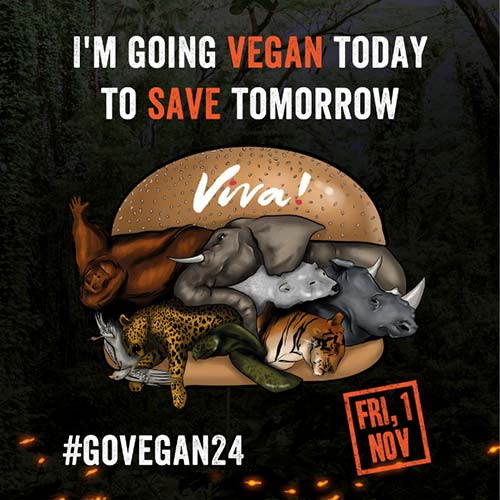 We also had stalls run by volunteers across the country on 1 November, World Vegan Day, and reached thousands of people on the street, raising awareness of how it is more than just the cow who dies when we buy animal products. A huge thank you to everyone who volunteered, and here's to working with you all again for World Vegan Day 2020!
Throughout October and November, we also ran our exciting vegan YouTube ad called 'Are you ready to change the world?' It went VIRAL, with more than one million views to date. If you haven't seen it yet, have a look below.
Turkeys
To round off the year we once again urged for British consumers to bring peace to all at Christmas and leave turkeys off their plates. Between September and November, we carried out a new undercover investigation on a turkey farm in Gloucestershire contracted to Avara Foods – one of the country's largest poultry processors supplying major supermarkets and food retailers.
Our hidden cameras revealed turkeys being brutally killed with a prohibited neck-crushing device and others suffering from festering wounds in overcrowded sheds. Once reported to Trading Standards, Red Tractor, the Animal and Plant Health Agency and the RSPCA immediate action was taken and Red Tractor terminated the farm's membership of their assurance scheme and reported the farm to the relevant government agency.
BBC News, The Sun, Daily Star, The Telegraph and The Times all covered the story – reaching more than 5 million readers! Our campaigns manager, Lex Rigby, also carried out 14 back-to-back radio interviews and appeared on BBC News Points West.
Although we congratulated Red Tractor on taking action against animal cruelty, we were once again left wondering why it is down to Viva! to continually expose the abhorrent conditions on factory farms. Our investigation into Avara Foods reiterated the fact that regulatory bodies such as Red Tractor are nothing but a façade for the horrendous, brutal and cruel reality of intensive factory farming in this country.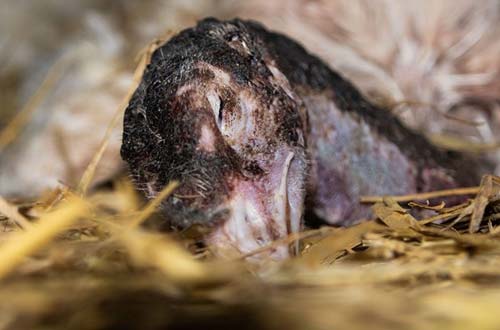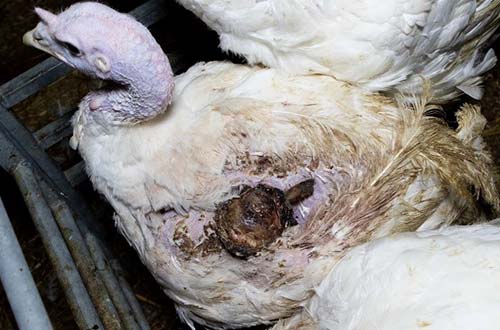 In order to effect more change in 2019, as a result of this investigation, we created the FIRST EVER vegan Christmas ad to expose turkey farming. The powerful ad played out every day in the run-up to Christmas.
University Outreach and street action network
Since expanding our campaigns team early in the year, we really wanted to make the most of promoting more university outreach and developing our Street Action Network – offering supporters more opportunities to get involved.
Our campaigner, Will Sorflaten, visited five universities – Keele, Warwick, Staffordshire, Portsmouth and King's College, London – with our Virtual Reality headsets, exposing the reality of animal farming to hundreds of students as well as giving talks on why veganism is so important today. We had a great response and are now busy writing up more plans for 2020.
A-Z of foods
In 2019 Viva! Health launched our brand new A-Z of Foods, revealing why a varied vegan diet is packed full of amazing, health-promoting foods! In the series we explain how berries are powerhouses of nutrition, why cabbages are king (not just in January!), what fab vitamins and minerals are hiding in pumpkin seeds and why seaweed is so special. Did you know quinoa is a seed rather than a grain? What makes mushrooms so chewy? Packed with useful info, the A-Z of Foods informs and entertains! Fun fact: avocado is technically a berry and its original Aztec name āhuacatl, which also means 'testicle'.
Accompanying our informative A-Z of Diseases and comprehensive A-Z of Nutrients, the brand new A-Z of Foods takes you through different foods one by one, explaining and exploring their benefits, unique properties and potential risks. The key to a healthy diet is variety and if you aim for a wide range of foods daily and eat enough, you can't go wrong!
Feeding you the facts
Viva! Health also produced a set of 10 new mini fact sheets. These brand new, double-sided fact sheets contain lots of easy to read information from the history of soya to the age-old question 'Where do you get your protein?'. All this and more are explained on these 10 beautifully designed A5 sheets feeding you all of the facts about:
Vitamin B12
Heart Health
Iron
Fat
Protein
Soya
Vegan Kids
Chicken/Red Meat
Calcium/Vitamin D
Cancer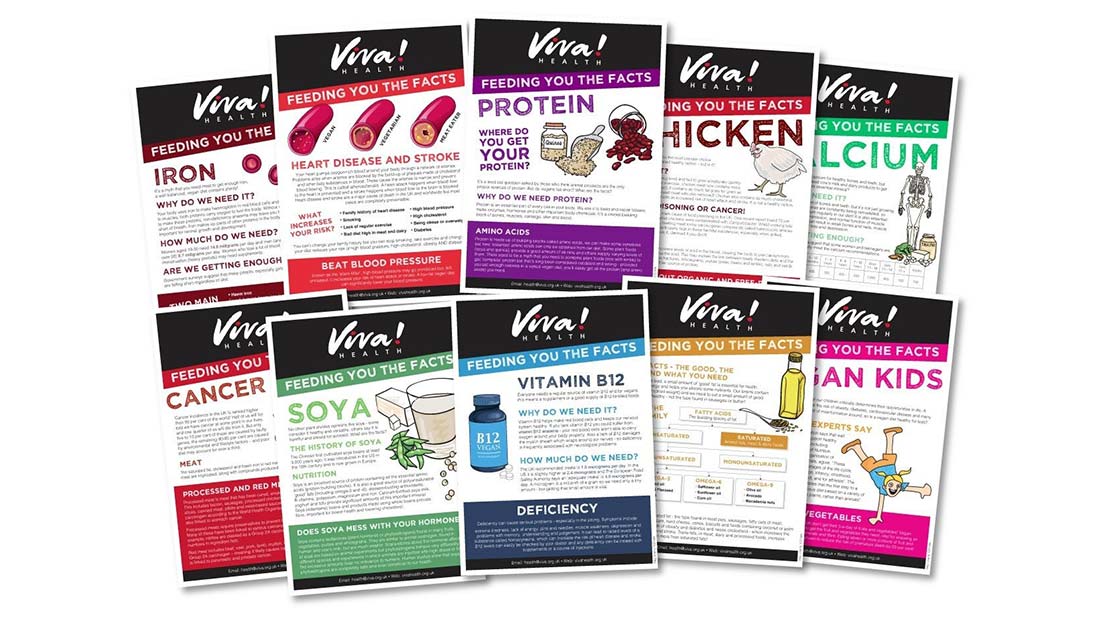 Vegan Camp Out
This year I returned to Vegan Camp Out and carried out not one, but two talks to a packed hall on the environment and our Hogwood campaign. Interestingly, not everyone at Camp Out was vegan, and we had a number of people come to our Viva! stall to tell us that my talk was their wake-up call.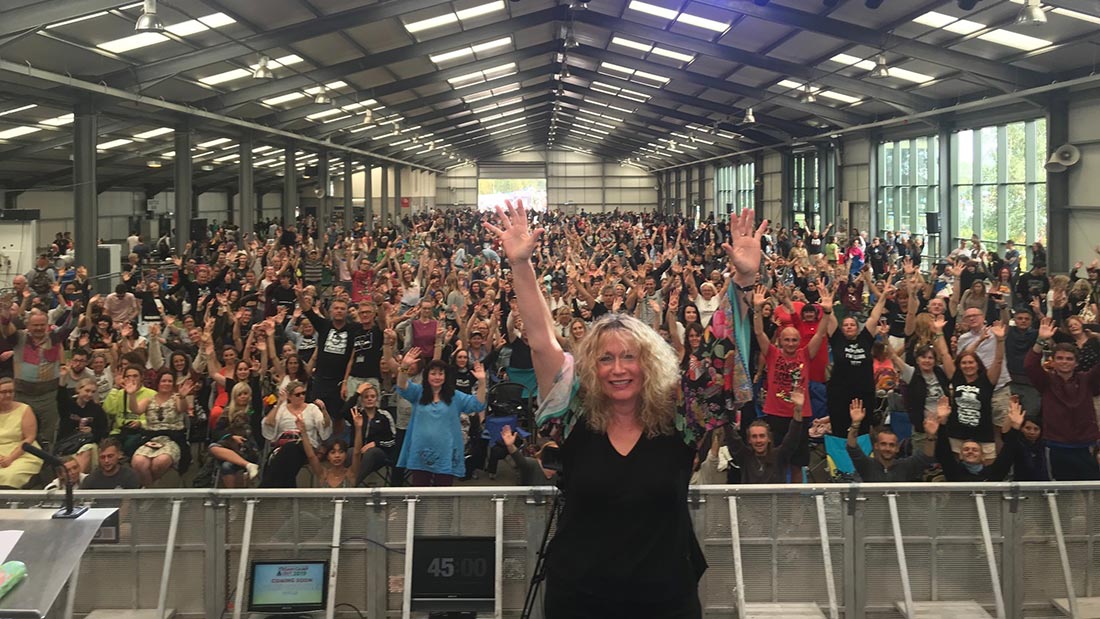 Our campaigner Will Sorflaten also gave a talk in the activism hall on how to be an effective activist to more than 500 people, empowering vegans to go the next step and reach out to promote a vegan world to everyone. We'll be back next year with Viva! campaigns manager, Lex Rigby, and our veterinary consultant, Dr. Alice Brough.
25 year anniversary
It's incredible to think that Viva! has been running now for a huge 25 years, and we celebrated that amazing milestone with some very special events.
In May we hosted a magic themed vegan festival, which was sprinkled with surprises. From the vegan-certified magician, Alec Shulz, to an audience with actor and vegan activist, Evanna Lynch – best known for her role as Luna Lovegood in Harry Potter — and cookery and makeup demos from pioneering businesswoman, Heather Mills.
In September, we took a cruise down the Thames, soaking in the iconic landmarks down the river. Some of our patrons joined us, including Heather Mills, Jerome Flynn, Peter Egan, Wendy Turner Webster and Michael Mansfield QC, as well as a hundred supporters for a delicious three-course meal, and a reflection on the work that we've achieved since starting up in 1994.
In October, we returned to Birmingham once again to host our first ever vegan comedy night with a stellar lineup of vegan comedians! Headlining was the fantastic Carl Donnelly with Adele Cliff and Chris Stokes as the supporting acts, and Matt Hoss as the compère. For our first ever comedy gig, it was a huge success!
Watch our summary of the last 25 years below.
In the news
As well as all our campaigns featuring across the news our pr and marketing manager, Roisin McAuley, joined a Roundtable on veganism's role in both health and the environment, alongside Maria Chiorando of Plant Based News; campaigner, Will Sorflaten, featured live on BBC News to explain how damaging the dairy industry is on our planet; and I was on the Sunday Morning Debate, along with Dale Vince of Ecotricity, illustrating how urgent it is that people move towards a vegan lifestyle for animals, our health and the planet.
Campaigner, Tayana Simons, also had an opinion piece featured on The Metro regarding I'm a Celebrity's Bushtucker Trials – which were later discontinued due to public pressure as a result.
Over 2019, Viva! Health contributed over 60 articles to magazines including Vegan Food & Living, Simply Vegan and PlantBased magazine on topics from antioxidants to how our evolution shaped us to be naturally vegan!
We wrote online blogs on Palm Oil, Coconut oil, Swine fever and Antibiotic resistance. We published online health features explaining the difference between lactose intolerance and cow's milk allergy, as well as White Lies, ahead of MooFree May, giving a whistle-stop tour of illnesses and disease linked to dairy.
Our news responses continued to counter the meat and dairy industry's increasingly desperate efforts to hold back the vegan wave. There's no stopping us as we enter 2020!
Everyone's going vegan
Everywhere, people are asking questions about changing their diet and our fully-updated Vegan Super Pack provides the answers!
Everyone's Going Vegan is an epic magazine that is part of our vegan campaign to change Britain's eating habits and change the world – featuring Game of Thrones legend Jerome Flynn. It's been packaged up with a variety of leaflets and the latest version of our fantastic handy wallchart, 'What I Need Each Day for Good Health' to get you started on your vegan journey. Enter VEGANSUPERPACK1X19 at checkout to get a FREE pack.
Going vegan has never been easier and our new four-part leaflet series not only shows you how to do it but more importantly why to do it. We cover all four of the most asked topics in 12 fantastic pages. Order a free set for our shop to learn all about going vegan to save animals, protect your health and to look after our world whilst testing out some of our delicious and cruelty-free recipes.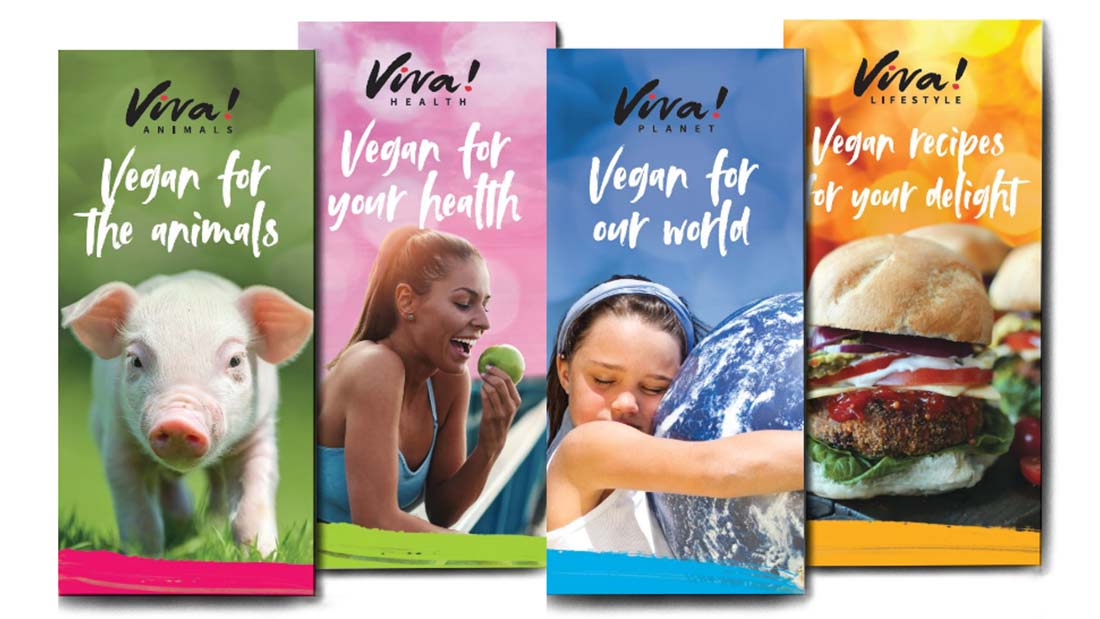 This year has been another huge year for veganism – it's clear to see that supermarkets and restaurants are bringing out more and more vegan products as the demand soars. We're getting closer to a vegan Britain, and we will continue to raise our voices loud and proud for animals everywhere into the new year.
For the animals,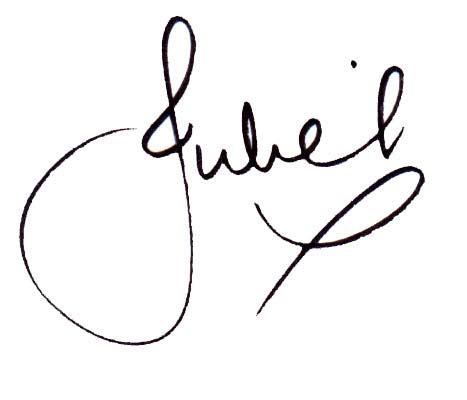 Scroll up