2017: Viva! Review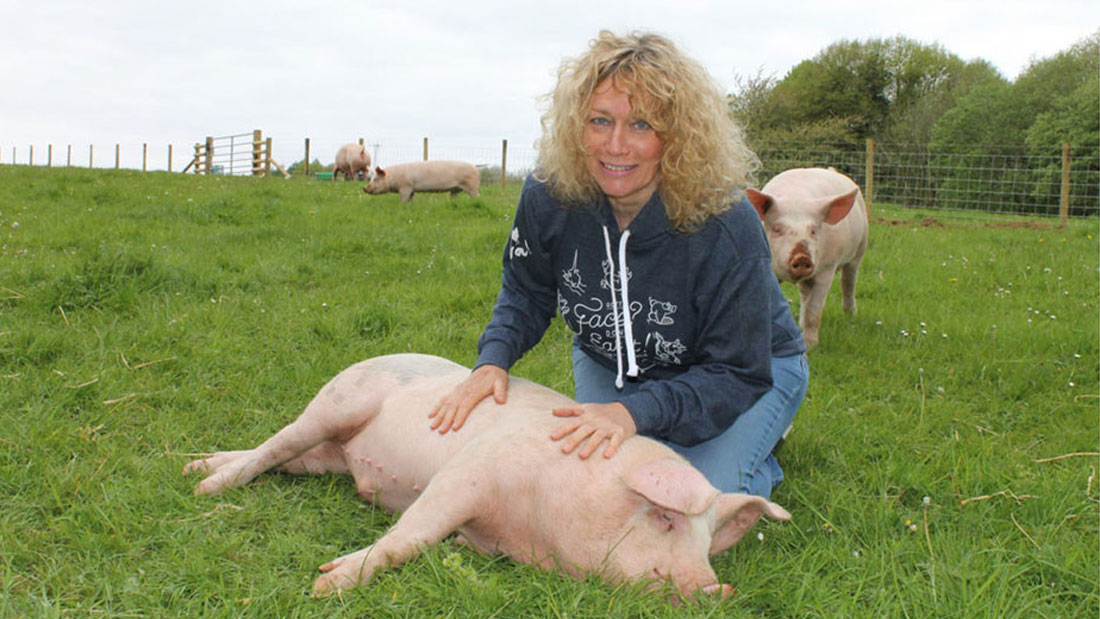 I had long wanted to rescue pigs after witnessing their suffering on Britain's factory farms (recently as part of Viva!'s Face Off campaign) – and to provide a juxtaposition of the life of rescued farmed animals to those on factory farms. The aim being to promote going vegan as the way to stop animal cruelty.
On a Tuesday in February we decided to rescue a mother sow and her six piglets (they were three and a half weeks old) and by the following Sunday we were at the farm that was closing its pig operation where the mum was about to be sent to slaughter and her babies sold on to be 'grown for meat'. Dean Farm Sanctuary offered space for the sow and her family – where they are now happily settled and safe for life.
Viva! supporters named Mum Hope Apple Blossom and her piglets Mia Snuffles, Lily Bubbles, Poppy Pig, Tom Rocket, Jack Wigglinson and Lucas Scamp. Later in the year we joined forces again with Dean Farm to rescue a pregnant sow named Dotty. She had five piglets: Patch, Stanley, Humphrey, Prudence and Clover.
Hope's Dance of Joy reaches millions!
The first time she went outside, Hope's dance was captured as she twirled and skipped on the grass, whilst being chased by her piglets! The 30 second clip becomes our most watched and shared video ever. The video was shared and watched by millions on our own sites plus The Dodo, Best Video You Will Ever See, BBC News Online, Daily Mail, many other animal groups and more.
Hope makes the big time!

Hope's dance was featured in a 40 second advert specially commissioned by Viva!. It was played ahead of major films at UK cinemas throughout December (to an audience of millions!); showing the juxtaposition between Hope's life on the sanctuary and that of sows on British factory farms. £100,000 was raised (£50,000 of it pledge matched by a high donor) as part of a crowdfunding campaign – 'Bring Hope to Millions'. It is the first ever advert advocating veganism at UK cinemas. Hope's advert made headlines and became one the most read and watched stories of the day on the main BBC news website. Hope got her very own website and new leaflet: Hope Not Hell (which asked consumers to look at the difference between her life on the sanctuary and that of factory farmed pigs).
Hogwood Horror Farm
After a tip-off, myself and colleagues visited a giant pig farm in Warwickshire (the same county where Hope and her piglets were rescued from). It quickly gained the nickname 'Hogwood Horror Farm' as it was one of the worst places I have ever seen. The heart-breaking footage revealed a catalogue of pain and suffering that could not be ignored – extreme overcrowding inside vast, barren sheds housing thousands of pigs, routine tail mutilations, cruel farrowing crates, filthy and waterlogged floors, sick and dying pigs left in a gangway and shed, no meaningful environmental stimulation and piles of decaying and maggot-infested piglets left to rot in a wheelbarrow. We reported our findings to the authorities.
The Sunday Mirror published two double page spreads detailing our shocking findings. There was a local media blitz, too. We held a peaceful vigil at Hogwood Farm and were joined by Warwick Animal Save and around 50 local activists. After the vigil we made a gruesome discovery of pig remains in woods near the farm after another local tip-off – again featured in the The Sunday Mirror.

Warwick Animal Save continue to hold vigils outside the farm and were joined by fundraisers Walk for Hope to maintain pressure. We also joined with Animal Saves nationwide with a special joint leaflet to highlight the suffering of Britain's factory farmed pigs.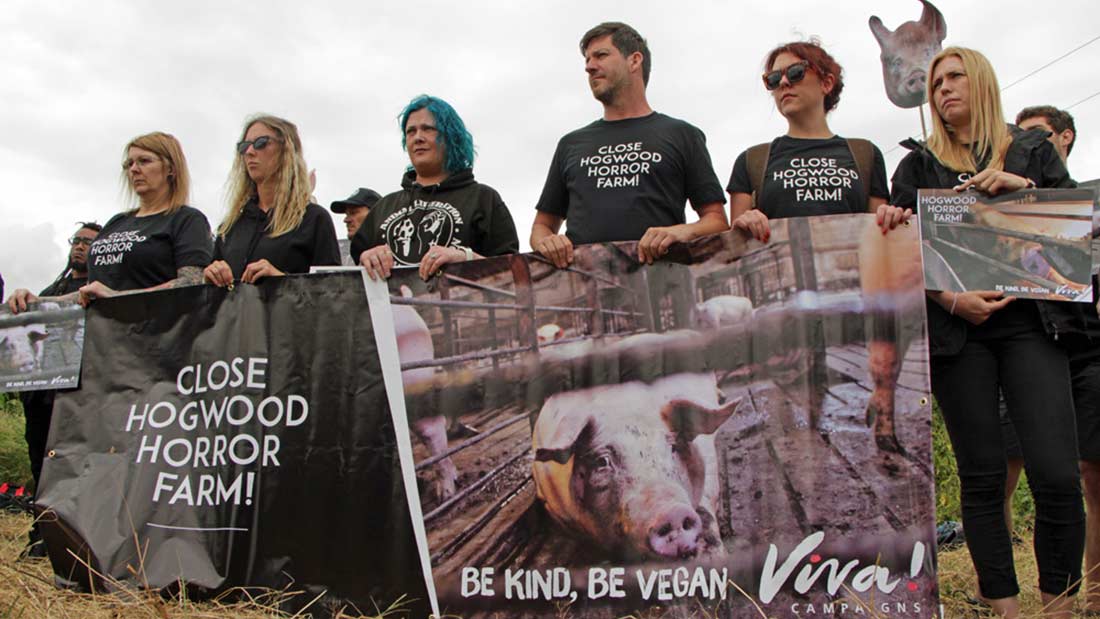 Viva! hosted our largest EVER Day of Action against Tesco urging them to drop Hogwood Farm as a supplier – but, more importantly, talking to customers across the UK about dropping meat and going vegan, with an almost entirely positive response. Around 450 stores were included in the Day of Action in August. Hundreds more took part in a follow-up Day of Action around Halloween. We dressed up as skeletons and took prop coffins to attract press outside the nearest Tesco and Hogwood Farm.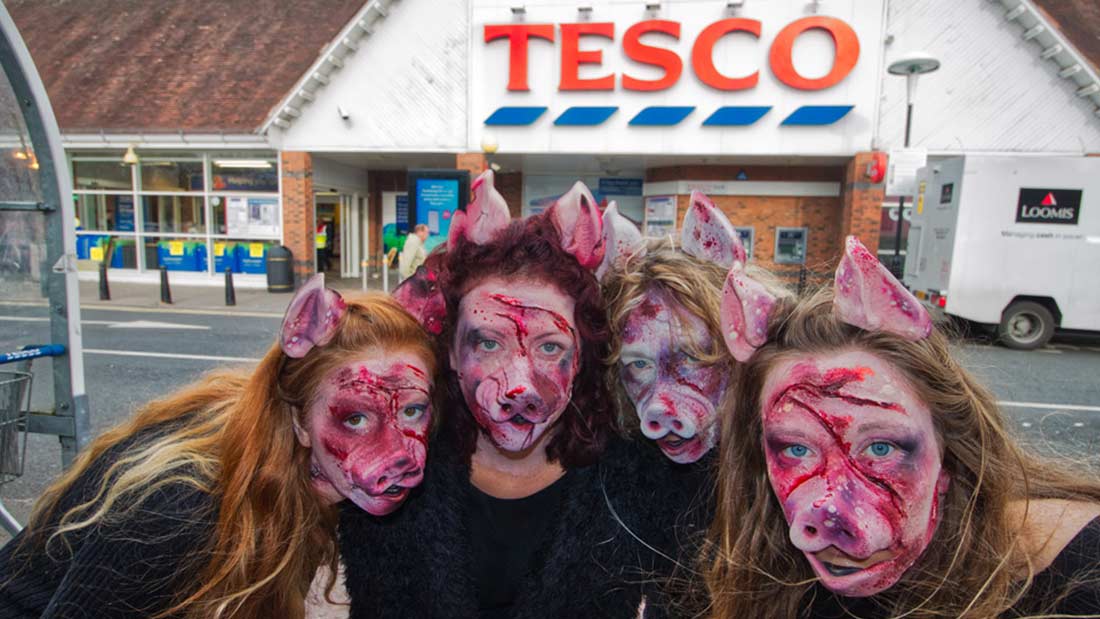 Another undercover investigation made the headlines after the Daily Mail published Viva! Campaigns' investigation into a pig farm linked supplying so-called green energy. It was also featured on the BBC news.
Tour of Hope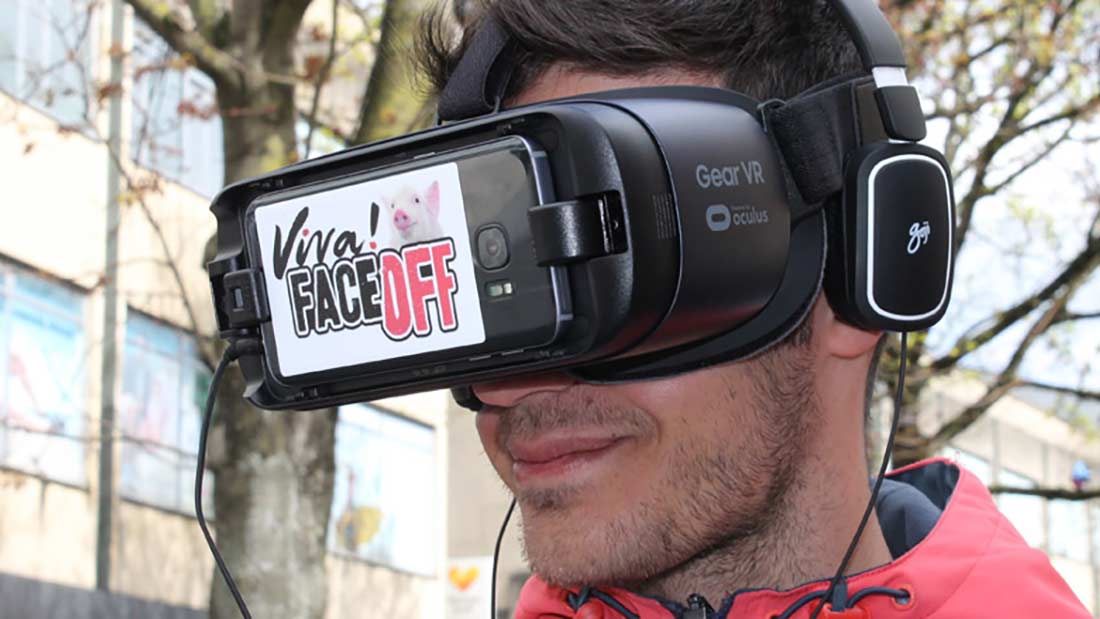 Our groundbreaking virtual reality film taken inside Hogwood Horror Farm (first ever 3D footage of its kind!), combined with footage of Hope and family at the sanctuary, toured the high streets and festivals across the UK. Our video van tour showing our comparison footage visited seven of the biggest cities, Bristol, Bath, London, Birmingham, Brighton, Oxford and Coventry.
Pig Sick of Awards
Myself and colleagues were joined outside the Lancaster Hotel in central London by actor Peter Egan to protest the National Pig Awards. Our hard-hitting investigation images were shone onto the venue, along with the words 'Shame of Britain'. Peter and myself gave a speech outside whilst holding a prop '1st Prize, Shame of Britain' trophy – much to the embarrassment of the pig industry!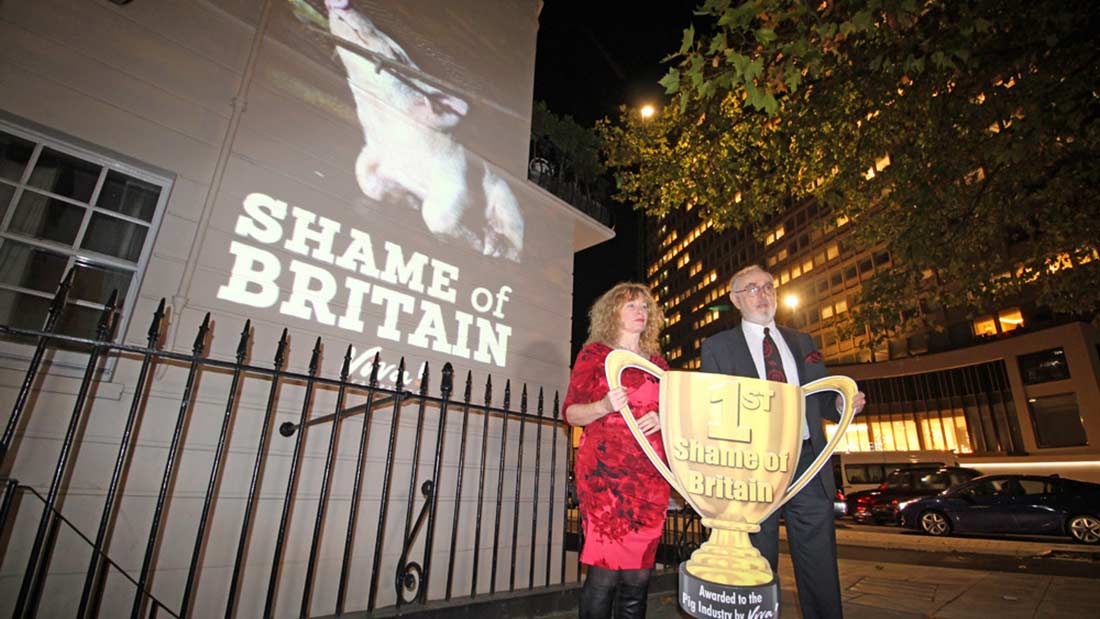 We held another large protest in London earlier in the year, after a road crash where many pigs were injured and Waitrose ignored calls to allow the injured ones to go to local sanctuary. Viva! organised (with Surge and Animal Save UK) a demo outside of John Lewis HQ (Waitrose's parent company) and a London Waitrose store. We held a peaceful demo inside both premises. Around 70 people attended.
Meat the Truth report released

Meat the Truth by Dr Justine Butler – was published by Viva!Health. It reveals ground-breaking scientific evidence that red meat, white meat and processed meat offers no health benefits and is linked to heart disease, diabetes, cancer and many other diseases. Going vegan is the answer!
Scary Dairy
Viva!Health launched 250 anti-dairy bus adverts in London (200) and Bristol (50). The adverts were placed inside the buses as headliner panels.

In March we held a Week of Action for Britain's Hardest Working Mother – the dairy cow. In August we held another national Week of Action to persuade consumers to dump dairy for good – including giving away free vegan ice cream! Hundreds took part and we distributed over 75,000 leaflets and 6,000 dairy-free guides. We also worked with other national groups to promote the first World Plant Milk Day.
Mirroring the life of a hen
For Easter, we took our new six foot, mirrored display boards that put shoppers inside the so-called enriched cages that house around half of all egg laying hens in Britain. The display toured several British cities and Viva! supporters distributed free materials exposing the truth about egg farming and encouraging consumers to try vegan instead.

This followed the release of our major new report, Laying Hens: The Inside Story, an in-depth, illustrated report featuring findings from our 12 month investigation into the egg industry. Read it and find out what the industry would prefer you didn't know! Our findings were featured in The Guardian newspaper and the investigations featured in several newspapers.
We also launched Eggs and Your Health mini-campaign on Viva!Health website – with our new Cracked guide and egg fact sheet (also covering the welfare implications) – which completed our range of resources on all major foods (meat, dairy, eggs, fish, vegan foods).
Talking Turkey on the Streets
We took another projection to the streets ahead of Christmas, where we showed shocking undercover Viva! Campaigns' footage taken on British intensive turkeys farms to shoppers. Our dedicated door-dropper army distributed over 100,000 of our new leaflets urging people to choose kind for the festive season.
Kangaroo off the menu in Sainsbury's

Britain's second largest supermarket put kangaroo meat back on the shelves 18 years after we first persuaded them to drop it. They should have known our reaction wouldn't be different this time. Thousands of Viva! supporters complained and the national press covered our campaign, including The Telegraph, The Sun and The Daily Mail. Sainsbury's bowed to pressure and removed kangaroo once again. Job done!
30 Day Vegan relaunched
Our ever popular hand-holding introduction to going vegan got a makeover in 2017 – and is now bigger and better than ever! The new website offers 30 days' worth of meal plans, delicious recipes, inspiration and tips for trying vegan. We also launched a new and popular section – Can't Cook, Won't Cook!

Viva!'s amazing food and cookery whizzes, well, whizzed up even more delicious recipes and treats throughout the year and took their kind kitchen on the road to events across the country. They also published our wonderful new Here Comes Summer recipe guide. Grab your copy here.
Show keeps rolling!

Vegan events are becoming ever more popular – and Viva! continues to be at the forefront of the vegan revolution! In 2017, we attended about 60 Festivals and partnered with existing events, such as The Northern Vegan Festival (Manchester) and Winterfest Leeds, and ran our own successful events in Brighton, Birmingham, Cardiff, London, Coventry, Nottingham, Liverpool and Bristol. Viva! sponsored and I spoke to an audience of about 600 at the phenomenally successful Vegan Camp Out. Testament at how popular these events now are is that attendance is often triple what it was even a few years ago! The likelihood is that we will be coming to a town/city near you in 2018. We could not have attended so many events without the help of our wonderful volunteers.
On the radio – and dealing with fake news!
Viva!'s media presence got ever bigger in 2017! Of the many appearances, I debated veganism with the National Farmers Union. I also did back-to-back radio interviews to educate and publicise our anti dairy campaign broadcast on about 50 stations, as well as 17 radio interviews publicising Hope's big screen advert.
Sadly, 'fake news' became a buzzword for lazy journalism and mistruths in 2017 – especially when it came to health-related stories. Thankfully, the Viva! Health team were on hand to debunk and set the record straight. Veganism is the future!
The writing is on the wall – for the meat and dairy industries!
Viva! and Viva!Health have also become fixtures in many leading magazines, such as Vegan Food & Living and Cook Vegan, on health, animals and more.

We also published three more issues of our supporter magazine Viva!Life (the best vegan mag out there!), which is free if you join us.
Podkind
Viva! Podcast is our monthly podcast that takes you into the very heart of Viva! – with interviews with staff and celebrities. Also, the very latest vegan news, reviews and more and coordinated by Kris Townsend. It continues to attract more listeners with every episode.
Team Viva!
More of our amazing supporters got active this year than ever before and raised money for our lifesaving campaigns. Among them, Avocado Man ran 10k; Diana Yeoman shaved her head on her 70th birthday; Guy Harper went silent for a month and the fantastic Roger Roberts cycled the whole length of Britain – a whopping 969 miles. You are heroes one and all! Find out how to join Team Viva!.
Viva! is reliant on all our fantastic supporters for our work and we thank you all so much for everything you do to help Viva! and our campaigns.
Yours for the animals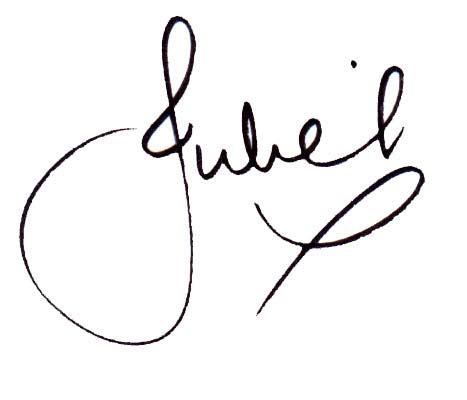 Juliet Gellatley
Viva! founder & director
Help us to continue to help them… Please consider signing up to give monthly.
Scroll up