2008: Viva! Review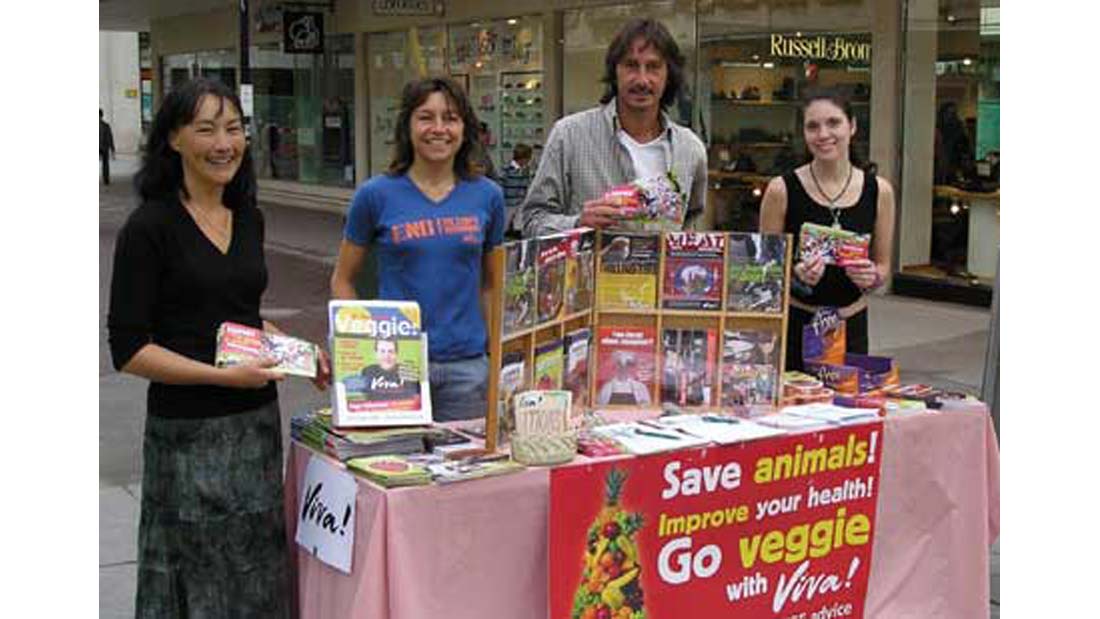 2008 was an incredibly busy year for us, and below are just some of the things that we got up to. 2009 promises to be even busier – as we keep fighting for the animals and continue in our mission to turn Britain veggie!
January
Viva! coverage in The Independent on why it is wrong-headed to think that eating kangaroos can ever be a way of ending global warming.
February
Fortnum & Mason drops (duck) foie-gras. This comes after our protest outside their London store prior to Christmas.
Viva! press releases that Prince Charles is against foie-gras (after a supporter contacted him). Results in major news coverage in British and foreign press.
March
Viva! National Day of Action on dairy "Mothers Want Their Babies Back!". 500+ supporters took part around the country.
Viva!'s press release to lend support to campaign to stop killing kangaroos in a disused military base in Australia causes major press furore around the world!
Viva!'s Incredible Veggie Roadshow at Northampton's Guildhall draws in the crowds (over 1,200 people!).
April
Viva! uncovers the dark side of British pig farming, and sends the press information about the pig farm investigations in the North East. This results in major local press coverage.
Ken Livingstone provides Viva! with a quote saying that he is anti-foie-gras.
Lidl drop hare meat after being contacted by Viva! about cruelty and population concerns.
Viva!  interviewed on Channel 4 news about the UK veal trade.
Viva! patron, Wendy Turner-Webster and Gary Webster launched foie-gras free Staffordshire in Stafford (Wendy's home county). Great local radio and newspaper coverage. Three businesses dropped foie-gras because of Wendy's involvement!
May
Viva! announces that meat sales have slumped – with 9 million fewer land animals being killed for meat in the UK than the previous year.
Martin Shaw agrees to become a patron of Viva!.
Viva! continues to give talks around the country on the environment. Talks are extremely well attended. Also, Viva! comments on how individuals can make a difference by going vegan, including Five Live with Richard Bacon.
Viva! launch a campaign to show that a typical meat eater is responsible for 1.2 tonnes more global warming gases being produced annually compared to someone eating a vegan diet. This was represented in the photo call as meat eater holding 197 red balloons and a vegan holding 1 green balloon to show more emissions daily.
June
Viva! organises the 18th School Speakers' Training Day in Birmingham.
National Rally for the Badgers (outside the Welsh Assembly's Debating Rooms). A great success with excess of 300 people there calling on the Assembly to drop plans for a badger 'cull'. BBC coverage, as well Welsh papers. Assembly receive nearly 12,000 postcards from Viva! supporters against the 'cull'.
Hilary Benn abandons plans for a badger 'cull' in England. This follows pressure from Viva! and supporters.
July
The Nottingham Incredible Veggie Roadshow attracts 1,600 people!
Viva! join forces with The Australian Society of Kangaroos to publicise that kangaroos are now at quasi-extinct levels in some areas of Australia.
August
Viva! produce the magazine Green Your Life – to highlight the environmental damage caused by eating animals.
September
Viva! holds a Welsh Day of Action to save badgers, with 200 people across Wales taking part. Coverage in Wales on Sunday, BBC Wales online and BBC local radio.
The Incredible Veggie Roadshow in Portsmouth is our 6th best ever attended with almost 1,800 people coming through the doors.
Viva!'s Justin Kerswell attends Ecologist debate on the environment – arguing that veganism is the answer to saving the planet.
September was Viva!'s annual veggie month – this year the theme was bio-diversity and how meat consumption in Europe was destroying the habitat of animals in the rainforests. Hundreds took part – with stalls and door-dropping happening across the country.
October
Viva! success: Booker Cash and Carry remove from sale all so-called 'exotic meats' after Viva! raise concerns with them.
Viva! criticise new report from Defra that says ducks do not need access to water for swimming.
November
Viva! mascot Piggles visits Dorchester after a Viva! investigation into local pig farm there. Korean TV film protest and it makes front page of Western Gazette.
Viva! new leather report Not Your Skin printed and available online www.thebigcoverup.org.uk.
Viva! investigate a Freedom Foods turkey farm in the Midlands for the Christmas campaign and find terrible suffering.
December
Viva! month of action for turkeys!: new turkey door-dropper produced, and sent out to tens of thousands in the run-up towards Christmas. Also produced turkey pledge which was very popular. Plus, a giant pledge that invited people to 're-feather the turkey' was taken out onto the street.
Independent publish Viva! story on Ikea selling reindeer meat and Viva!'s campaign to stop them. Story goes around the world.
Viva! held its annual fundraising dinner to raise money for our pig campaign, which was attended by supporters and patrons Wendy Turner-Webster and Rose Elliot.
Local Viva! campaigners demonstrate outside of the restaurant chain owned by Michael Caines who is selling foie-gras.
Viva!'s Justin Kerswell appears on the BBC1 The One Show, extolling the virtues of a veggie Christmas!
Scroll up