2007: Viva! Review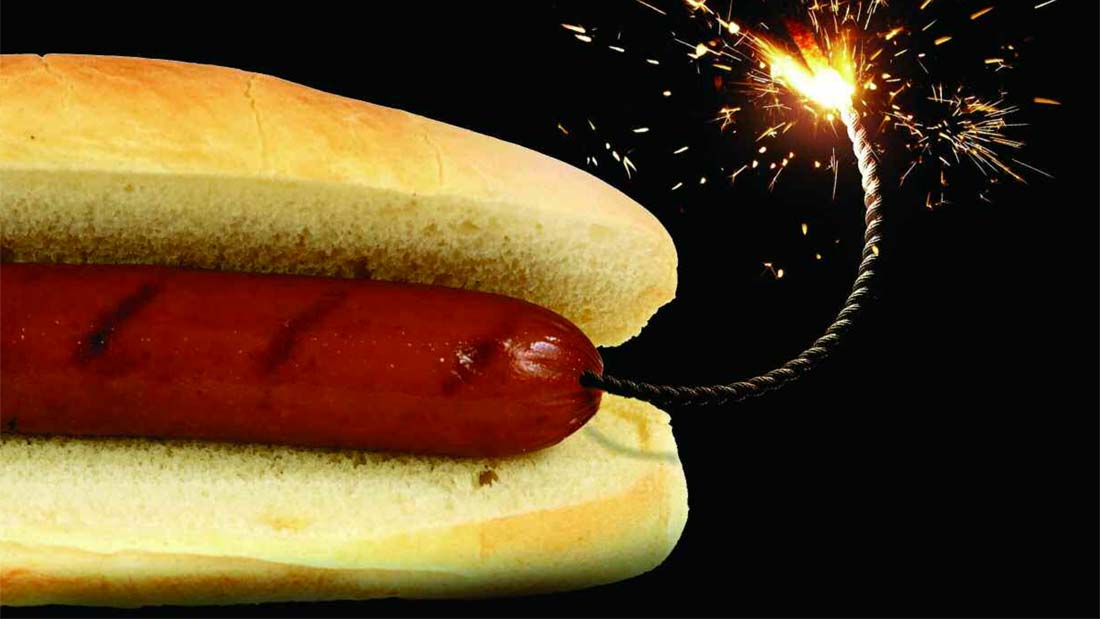 Viva!'s work for animals is never done! 2007 was an incredibly busy year for us, and below are just some of the things that we got up to. 2008 promises to be even busier – as we keep fighting for the animals and continue in our mission to turn Britain veggie!
January
Viva! give a talk about the organisation and our investigation into British pig farming to over 60 members of East Anglian Animal Rights.
February
Our campaign against exotic meats gets a boost, when Uig Hotel on the Isle of Skye tell us that they are removing it from the menu.
Petersfield becomes a foie-gras free town after both restaurants selling it take it off the menu following a Viva! exposé in the local paper. The Sunday Telegraph also covers Viva!'s campaign to make Britain foie-gras free.
Viva!'s founder and director – Juliet Gellatley – gives the talk Why You Don't Need Dairy to a packed house in Manchester.
March
Viva! launches the campaign to ban the farrowing crate. Viva! patron Heather Mills joins us for an undercover investigation into a lareg industrial pig farm in Somerset. Heather joins Kerry McCarthy (Labour MP) to launch the campaign outside Parliament – which attracts a media blitz. Heather then moves on to protest outside the Marks & Spencer store on Oxford street. The launch is featured with our undercover pig footage on GMTV (twice), BBC News, BBC South East News, BBC Live 24, Channel Five News, Sky News, ITN News (as well as on major channels in the States). The campaign features in a double-page spread in the Daily Mail on March 15, and receives wide local press and radio coverage.
On the day before Mother's Day – nearly half the Marks & Spencer stores in the UK have peaceful protests outside for a Viva! Day of Action against the store's use of the farrowing crate. Over a thousand people take part in the day; tens of thousands of leaflets are given away to a shocked public. M&S eventually pledge to phase out the crate – but did not give a timescale on this
Children's Liver Disease Foundation drop foie-gras (itself diseased liver) from their gala dinner after Viva! contacts them. The People newspaper also run a major piece on our foie-gras campaign.
April
The first Incredible Veggie Roadshow of 2007 is held at The Renaissance Reading Hotel on April 21. Over 750 people attend.
May
A leaked email to Viva! from the Environment Agency saying that a vegan diet helps reduce global warming leads to huge press coverage, including  major stories in the Daily Mail and Daily Telegraph and TV interviews including Channel 4 news (with a debate against the NFU), More 4 News and BBC 24 News.
Viva! publishes the latest of our ever popular local guides: The Vegetarian & Vegan Guide to Bristol & Bath.
June
Viva! holds a second national – The Incredible Veggie Show – which takes place in London, at the Lawrence Hall and Conference Centre, Royal Horticultural Halls. 3,500 people attend despite unrelated bomb threats and traffic chaos. Cookery demos are held by Heather Mills, Rose Elliot and Andrew Sartain; speakers include Dr Michael Greger, Jane Plant, Justin Juice Master and Rebecca Edwards plus Juliet Gellatley and other Viva! staff. The Show attracts widespread pre-event publicity.
Viva! launches the new guide, Get Healthy with Heather. Packed with recipes and tips on how to go dairy-free.
Viva! organise a series of talks on Stopping Cancer Before it Starts by American expert Dr Michael Greger.
July
Viva! hold a Turtle Day of Action Against Tesco. There are around 200 peaceful demonstrations outside Tesco stores demanding they end the sale of live turtles in China. The issue is widely covered by the UK press, much to the embarrassment of the chain. Tesco drop one type of turtle (the red-eared slider) after Viva! announce the Day of Action.
Viva! launch the Vegetarian & Vegan Guide to Chepstow at the Incredible Veggie Roadshow held in the town on the 28 July.
Supermarket chain Makro remove foie-gras from their shelves after Viva! contact them about the inherent cruelty behind its production.
August
Harvey Nichols remove foie-gras from their shelves. This follows Viva! demonstrations in Edinburgh and Manchester. The decision receives widespread media coverage, appearing on the BBC, The Independent, Evening Standard and others.
September
Viva! hold one of their School Speakers' Training Day in Manchester to help train supporters to talk about animal welfare and vegetarian/vegan issues to school children.
The Glasgow Incredible Veggie Roadshow on 29 September attracts a whopping 1528 people.
October
Juliet Gellatley launches translated versions of the youth books, The Livewire Guide and Going, Being and Staying Veggie in Croatia.
November
Many of the staff in Lush stores go meat and dairy free for the day to celebrate World Vegan Day with the help of Viva!
Viva! launch their new national campaign to help save the environment – HOT! Its central theme is that the most effective action individuals can take to reduce global warming and other environmental catastrophes is to change their diet – move away from meat, dairy and other animal products and move towards a vegan diet.
A photocall is held in Hyde Park with Heather Mills to launch the campaign, who also featured in two leaflets and two billboard ads. One concentrates on meat-eaters' role in causing global warming and carries the headline: "Hey Meaty, you're making me so hot!" Another is aimed at people – and organisations – who call themselves environmentalists but still eat meat, fish and dairy. It has the headline: "You haven't got a leg to stand on!". The resulting publicity propels veganism and the environment into headlines around the world.
Viva! also launch Tony Wardle's report, Diet of Disaster, much of it based on the United Nations Food & Agriculture Organisation (Livestock's Long Shadow).
The Incredible Veggie Roadshow comes to Leeds.
December
Viva! attend the National Climate March in London. Thousands of leaflets are handed out and our huge banner gets across the message that veganism is the only way to save the planet!
Viva! launch our new online film – The Wonderful World of Gavage – which shows the reality behind the production of foie-gras.
Viva!'s new giant duck mascot (Jake) takes a flying tour of places selling foie-gras, including businesses in Exeter, Manchester (Selfridges), London (Fortnum and Mason) and Bath. We also launch our campaign to persuade Bristol Council to go foie-gras free.
Viva!'s third Day of Action of the year is part of our campaign to make Britain Foie Gras Free. Over 400 supporters take part in peaceful protests around the country. The campaign attracts the support of West End star Josef Brown as well as some of Britain's biggest indie stars.
Scroll up