Senior Campaigner/Campaigner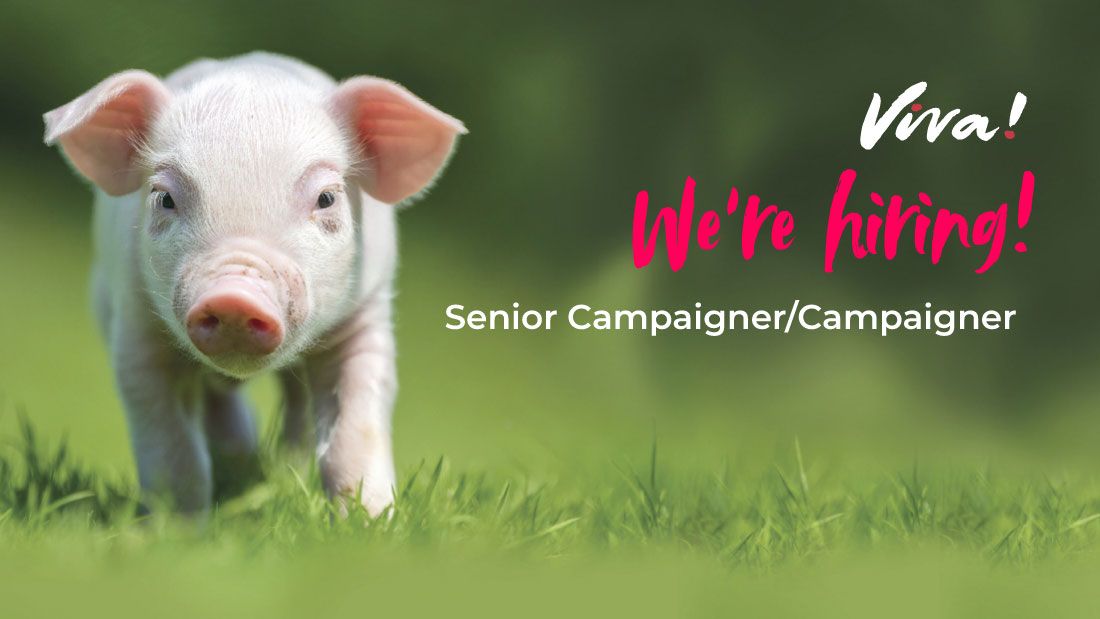 Job summary: An exciting, rare opportunity to be part of an expanding and dynamic vegan campaigning charity.
About us: Viva! is the UK's leading vegan campaigning charity, specialising in undercover investigations and high-profile animal and environmental campaigns. Founded in 1994 we have spent 27 years creating a kinder, more sustainable world for humans and animals alike. We focus on four key areas: Animals, Planet, Health and Lifestyle.
Location: Bristol HQ (full-time office-based position)
Hours: 35 per week
Holidays: 4 weeks plus at least 5 days at Xmas (plus usual bank holidays), increasing with length of employment
Salary (depending on experience):
Senior Campaigner £25,000 to £28,000
Campaigner £22,000 to £25,000
Closing date: 19 August 2022
Interviews date(s): 5 & 6 September 2022
Reports to: Campaigns Manager
Contract type: Permanent role
Experience: Experience in a public-facing role like campaigning, activist work, PR, media, marketing, journalism, education or similar.
The Campaigner role is suitable for graduates preferably with some work experience in a related field. Candidates with solid experience in a campaigning role or similar will be considered for the Senior Campaigner role.
Are you a driven campaigner and passionate about Viva! and our aims?
The Senior Campaigner/Campaigner will be working closely with the rest of the Viva! team on high-impact public pressure and awareness campaigns to increase veganism in the UK and educate the public on why to go vegan for animals, the planet and our health. They will be part of Viva!'s vibrant campaigns team and report to the Campaigns Manager. The role involves working with other team members to develop and deliver powerful campaign strategies. We're seeking a proactive and energetic individual with a creative mindset, who has the ability to work both autonomously and as part of a team.
This is a busy role and will offer the right candidate an excellent opportunity to utilise their passion and campaigning skills to help Viva! bring veganism to the masses.
Job Description
Become an expert on all things vegan, particularly relating to animals, the environment and why to go vegan
Develop, coordinate and lead campaign activities including street actions, photo-calls, stunts and other events
Create, develop, project manage and implement new and exciting campaigns
Be an active spokesperson for Viva! on national TV, radio and other press opportunities
Research all aspects of campaigns as necessary; produce written and fully referenced background reports
Research all aspects of how animals are used by humans, including those that are eaten/worn, maintaining and updating this information as appropriate
Write features, blogs and news items for Viva!Life magazine and external publications and websites
Produce campaign updates, evaluations and write-ups to share with the director, team and supporters
Work closely with volunteers to maximise their involvement in campaigns
Due to the nature of this role, out-of-hours work will be required
Skills and knowledge
Experience in campaigning (grassroots, local or national), activism or advocacy
Ability to come up with creative ideas
Engaging and motivating personality
Ability to deliver high-quality work quickly, in a dynamic organisation under time pressure
Excellent verbal, written and visual communications
Self-motivated and self-managing with ability to take initiative
Strong public presentation and media communications skills (training provided)
Working with people and organisations to achieve objectives
Creating compelling resources/materials both on and offline
Confident and articulate
Strong team player
Proactive, can-do attitude
Excellent attention to detail
Commitment to the objectives of the organisation
Valid UK driver's licence
How to apply
To apply please email your CV and a covering letter explaining why you want to work for Viva!, how your experience fits this role and what you can bring to Viva!.
Important – your CV must contain two referees, including your current (or most recent) employer who will only be contacted if you are offered the job, and your current (or most recent) salary.
Please send your CV and covering letter with the role you're applying for in the subject line to Jess Nagji-Nunn, Executive Assistant to the Director, at jess@viva.org.uk
PLEASE NOTE CV APPLICATIONS WILL NOT BE ACCEPTED UNLESS ACCOMPANIED BY A COVER LETTER
Scroll up