PR Manager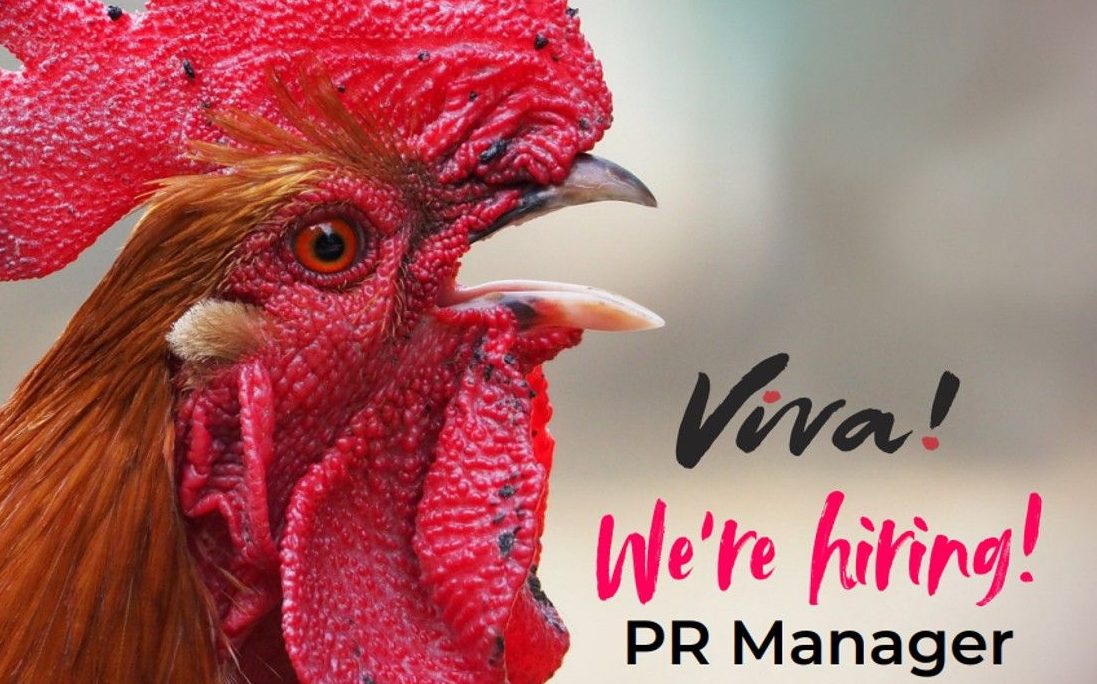 Job summary: An exciting, rare opportunity to play a key role in an expanding and dynamic vegan campaigning charity.
About Viva!: Viva! is the UK's leading vegan campaigning charity, specialising in undercover investigations and high-profile animal and environmental campaigns. Founded in 1994 we have spent 27 years creating a kinder, more sustainable world for humans and animals alike. We focus on four key areas: Animals, Planet, Health and Lifestyle.
Location: Bristol HQ
Hours: 35 per week
Holidays: 4 weeks plus at least 5 days at Xmas (plus usual bank holidays), increasing with length of employment
Salary: £27,750 to £33,500, depending on experience
Closing date: 31 January 2022
Reports to: Head of Communications
Permanent role
Experience: several years' experience in PR roles, either in-house or agency. Proven media relations success on both national and regional levels is crucial. PR and media management experience, including both online and traditional PR.
Are you an experienced PR professional and passionate about Viva! and our aims? The PR Manager will initiate and organise Viva!'s PR, as well as have a key input into Viva!'s marketing, campaigns and communications initiatives. The PR Manager will report to the Head of Communications and work as part of the communications team. Responsible for overseeing all of Viva!'s media, this role plays an integral part in promoting both the charity and veganism in general. From securing national media coverage for Viva!'s campaigns to promoting events and writing news responses, the PR Manager will be able to create compelling and engaging content, whilst also building strong and lasting relationships with journalists. They will identify new PR opportunities for Viva!, build relationships with national media and ensure the organisation gains maximum exposure.
This is a busy role which offers an excellent opportunity to use your skills to help Viva! break through to the mainstream and promote veganism to the masses!
Job Description
Manage all incoming press enquiries
Actively seek PR opportunities for all of Viva!'s key areas; Animals, Health, Planet and Lifestyle
Manage and respond to journalist requests service
Write and respond to relevant news relating to veganism and Viva!
Be an active spokesperson for Viva! on national TV, radio or any other press opportunity
Organising and overseeing media interviews with agencies
Pitching Viva! spokespeople to the media
Develop and manage Viva!'s celebrity engagement
Seek media opportunities for key Viva! staff, including the Director
Work closely with Viva! departments to ensure all of Viva!'s campaigns/ projects are promoted
Ensure Viva! Health's media responses are shared with national media
Strong ability to identify new outlets/ media/ topics of interest whereby Viva! can be promoted
Gain coverage for Viva!'s undercover investigations in national media
PR crisis management
Due to the nature of this role, occasional out of hours work will be required
Skills and knowledge
Strong interpersonal skills and the ability to forge relationships with journalists/media
Up to date understanding of PR and social media developments and trends
Experience working with media and developing strong newsworthy stories positioned relative to the target audience
Understanding of the workings of local and national media
Experience preparing and delivering persuasive and engaging content, including writing media releases, media briefings, articles, blogs, op eds
Excellent IT skills including knowledge of content management systems, social media tools, media monitoring portals and email marketing
Experience of editorial processes and management including content planning, copywriting, proofreading, design and production
Able to support video production
An ideas person with experience creating new PR concepts
Confident and articulate
Strong team player
Proactive, can-do attitude
Excellent attention to detail
How to apply
To apply please email your CV and a covering letter explaining why you want to work for Viva!, why you want this role and what you can bring to Viva!.
Important – your CV must contain two referees, including your current (or most recent) employer who will only be contacted if you are offered the job, and your current (or most recent) salary.
Please send your CV and covering letter to Jess Nagji-Nunn, Executive Assistant to the Director, at jess@viva.org.uk
Scroll up