Food & Cookery Social Media Coordinator (With opportunities for general marketing)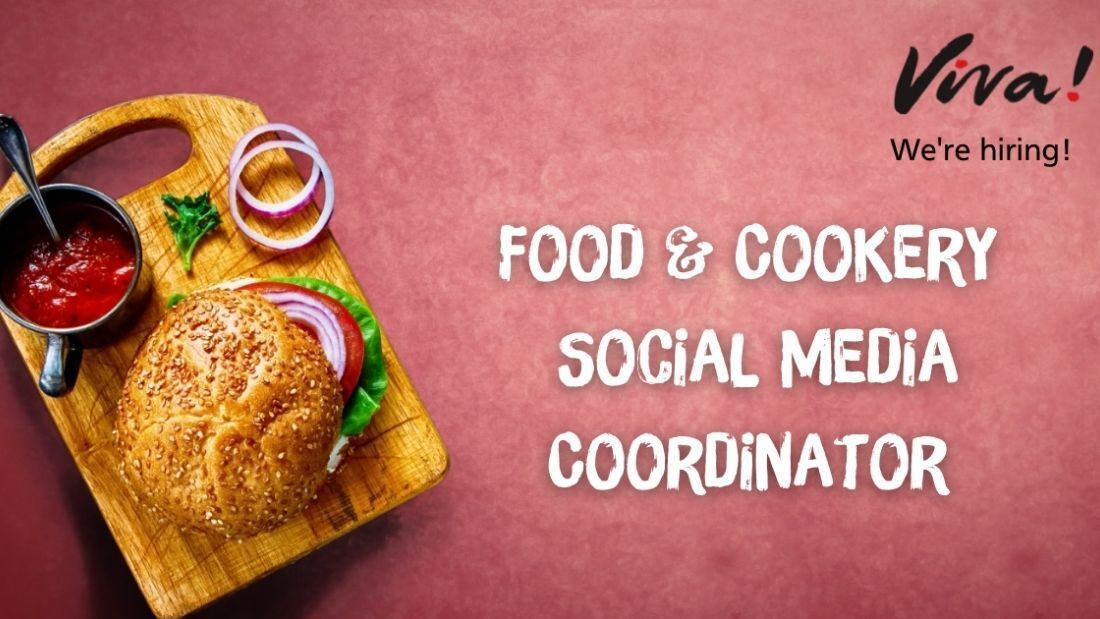 The Food & Cookery Social Media Coordinator will assist all marketing and communications initiatives relating to the Vegan Recipe Club (VRC), other food and cookery initiatives, retail activities and events. This will be across all digital platforms, such as social media and email. Social media content and creation being particularly crucial in this role. They will also assist in the uploading and proofing of web content and in the production of the monthly VRC e-newsletters.
They will be involved in traditional PR, scanning our PR software for promotional opportunities and directly contacting journalists and bloggers to place recipes in the media. They will identify new promotional activities and organise the promotion of VRC through blogs, print magazines and inserts. They will also reach out to influencers via social to promote the VRC site and app and assist in the development of a strong brand identity for VRC, firmly establishing it on social media in its own right and making clear the connection to Viva!.
Reports to: Food & Cookery Manager
Salary: £22,000
Application Deadline: 20th August 2021
Skills
Strong copywriting
Strong time management
Excellent proof-reader
Digitally savvy
Attention to detail and adherence to brand guidelines
Preferably experience with Canva and Mailchimp
Plus
Knowledge and love of vegan cookery
Job Description:

Social Media Management
Managing the social media calendar – schedule one recipe and two engaging posts every day on eClincher on all platforms (Facebook, Instagram, Twitter, TikTok). Rearrange the calendar to ensure breaking news and updates go out in a timely manner
Creating food/recipe videos to share on Instagram (reels) and TikTok (aim to share weekly)
Building and executing social media campaigns – create food-related social media content to coincide with Viva! campaigns and events
Scheduling the monthly paid social media ads – create/schedule the campaign content using Canva, WordPress, and eClincher
Reporting – effectively report on and analyse social media to create a monthly report, and weekly reporting on paid adverts performance
Grow the social media pages – effectively grow the VRC social media channels each month. Stay up-to-date on algorithm changes and best practices to keep ahead of marketing trends and implement these effectively
Content Creation
Create engaging content and graphics for key foodie dates and days of awareness
Write and schedule engaging captions on all posts using relevant hashtags and emojis with impeccable grammar and spelling
Use the VRC monthly marketing budget to buy new vegan food and post photos and engaging captions on VRC social media channels to encourage conversation
Stories – create regular and engaging stories for Instagram and Facebook. These should be a mix of content to encourage conversation. Utilise story features including polls, 'ask me anything' and gifs
Proofreading – you will be responsible for proofreading your own captions, and will support other team members by proofreading blogs, graphics, videos, web copy and email copy
Upload new recipes onto VRC Pinterest and find ways to increase followers and engagement on Pinterest
Community Engagement
Comments and messages – daily check of all comments and messages on Facebook, Instagram and TikTok. Hide any comments that breach our community standards, reply to all messages and as many comments as possible to create a strong sense of community on our pages
Stories – re-share any stories we are tagged in on IG and thanking everyone who tagged us in DMs
Encourage people to engage with our content through polls, questions, competitions etc.
Influencer Marketing – build up rapport with identified influencers who we can ask to share VRC's content in the future. This includes regularly engaging with their content and encouraging them to the same
VRC Marketing
Producing regular email newsletters to promote our recipes and resources
Updating old content on the VRC website
Testing and improving web and app functionality, giving feedback to the web team to improve user experience and user journeys
Identifying new ways to collaborate and promote VRC
Responding to Response Source enquiries and contacting journalists, bloggers and other relevant influencers about VRC to place recipes in the media
Assisting with the VRC newsletter
Assisting in the promotion of Viva!'s V7 and V30 programmes
Assisting in the development of blogs, graphic and videos
Assisting the communications team in other areas as needed – on occasion crossing into the wider Viva! brand. This may include event support, press inbox monitoring for Viva! and assisting in campaigns or investigation marketing
We will provide training in WordPress, eClincher, MailChimp and Canva.
How to apply
To apply please email your CV and covering letter of no more than two A4 pages outlining how your experience is appropriate for this role and why you want to work for Viva!. Your CV must contain two referees, including your current (or most recent) employer who will only be contacted if you are offered the job, and your current (or most recent) salary. Send to Maryanne Hall, Food & Cookery Coordinator at maryanne@viva.org.uk.
Scroll up